The tiny, creepy hitchhikers move soundlessly in the night to feed on your blood.
In the morning, the only evidence you may see are small bites. Meanwhile, the almost-invisible invaders lurk near your bed waiting to dine again.
The bed bugs cause headaches for landlords, homeowners, renters and travelers across the Quad-Cities.
The number of bed bug cases began to increase around the turn of the century. Quad-City exterminators report that bed bugs are a daily challenge that often require multiple treatments and present continuing issues.
Treatment is expensive, and in some cases dangerous, such as a building fire last year in Moline. But without full treatment, the household pests tend to persist. Here's what you need to know about preventing and treating those bed bugs that just won't leave the Quad-Cities alone.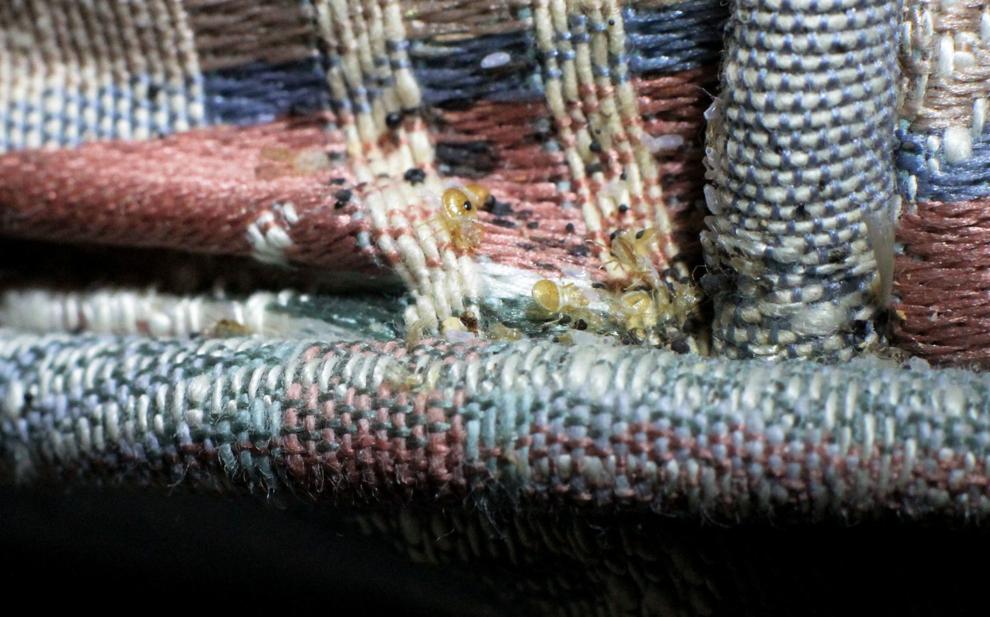 'We have a crisis.'
Around the turn of the century, Iowa saw a huge increase in the number of bed bug infestations, said Professor Donald Lewis, an Extension entomologist at Iowa State University in Ames. But much like the rest of the country, that number has stagnated in the past five years. The stubborn pests have settled in the region, and won't go anywhere without proper treatment and prevention.
"Bed bugs are good hitchhikers and can be transported in suitcases, furniture, mattresses, boxes, purses, backpacks and clothing," Lewis said. "The public is more knowledgeable than two decades ago," Lewis said. "The public appears to have learned that bed bugs are here and not going away and that professional treatment will eliminate the population."
Entomologist Richard Cooper, senior director of service at Terminix Commercial, described 2010 as "the year of the bed bug." That, he said, was when they were introduced to high-traffic areas such as office buildings and movie theaters, and spread through human activity.
"We have a crisis in this country with bed bugs," Cooper said.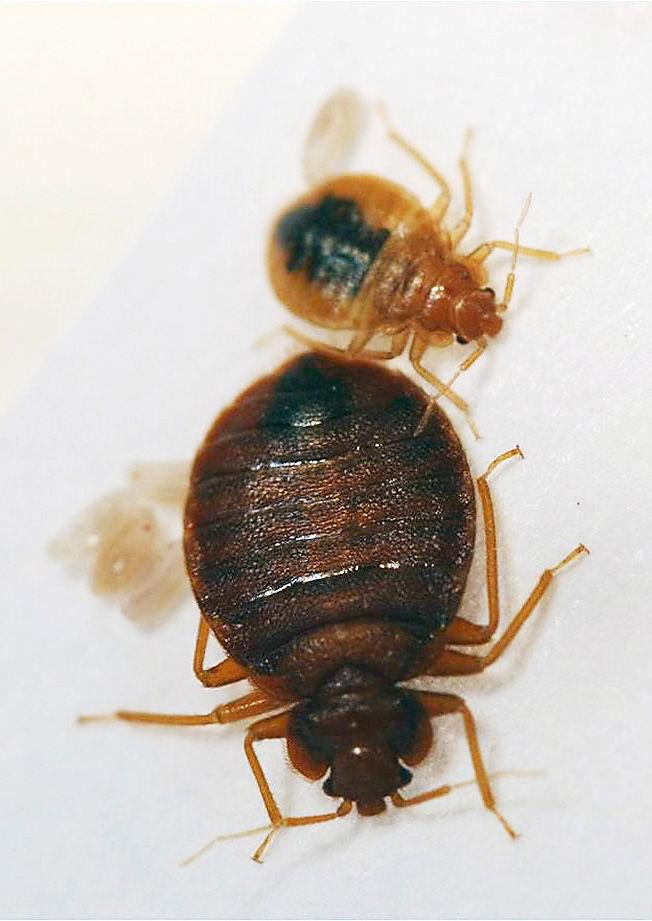 The resurgence of bed bugs in the United States in the late 1990s-2000s is sometimes blamed on the elimination of DDT (scientific name dichlorodiphenyltrichloroethane), a compound originally developed as an insecticide that was eventually banned because of its negative impact on the environment).
But Cooper said that blame is misplaced.
"The elimination of DDT really has nothing to do with the rise of bed bugs," Cooper said. By the late 1950s, bed bugs had already developed a widespread resistance to the pesticide. And today's resurgence is not limited to the U.S. It also includes Canada, the United Kingdom and Australia.
Bed bugs exist in all 50 states, and are prevalent throughout the nation.
No one can say for certain why bed bugs have re-emerged, but contributing factors could include their resistance to modern-day pesticides. Another major factor is that when bed bugs were first introduced, a lack of public awareness existed. They were like the boogeyman or a monster under the bed, Cooper said.
They hide in areas where they aren't detected. Primarily nocturnal, they come out at night to feed on blood. Their bites typically are painless.
They then retreat back to their secretive niches.
But there is no uniform remnant of a bed bug bite. They look different on different people, so the bites are often misdiagnosed as something else.
'Very traumatizing'
Amanda Hoeg, of Moline, had the unwelcome pests in her home about three years ago when she lived in Davenport. And she wants others to know that clean people can get them too.
"I thought they were ticks at first," she said. But as she found them in her bathroom on the wall behind the toilet, she wondered why she would have ticks in a home that had no trees nearby.
She and her husband, who were expecting their first child, were not bitten, she said.
"I caught one, and I put it in a baggie, and I took it to the landlord, who identified it."
At first, Hoeg tried natural remedies to combat the pests. "I didn't want my newborn baby to be around the chemicals," she said.
She scoured the internet and tried a concoction that included cayenne pepper and black pepper, and she scattered bay leaves around her home. She doused the apartment with the spray, which burned her eyes. She put all their clothing in plastic bags and kept the bedding in the freezer.
At one point, she retrieved her daughter's fleece jacket from the floor, and when she picked it up, there was a bed bug on it.
Eventually, she and her husband left the apartment and moved to Moline. "That was very traumatizing for me," she said.
'One pregnant female is all it takes'
As more and more homes became infested over the past decade, children took the bugs to school, and adults took them to work.
The best way to eliminate them is through education, Cooper said. "Think about the way we live. We spend a lot of time on our computers." Children do homework on their beds, and the book bag is on the bed or leaning against the bed. If people set their backpacks or computer bags in the kitchen or by the front door, that would dramatically reduce the spread of bed bugs, Cooper said.
"Bed bugs do not infest people. Bed bugs infest structures, and the content of structures," he said.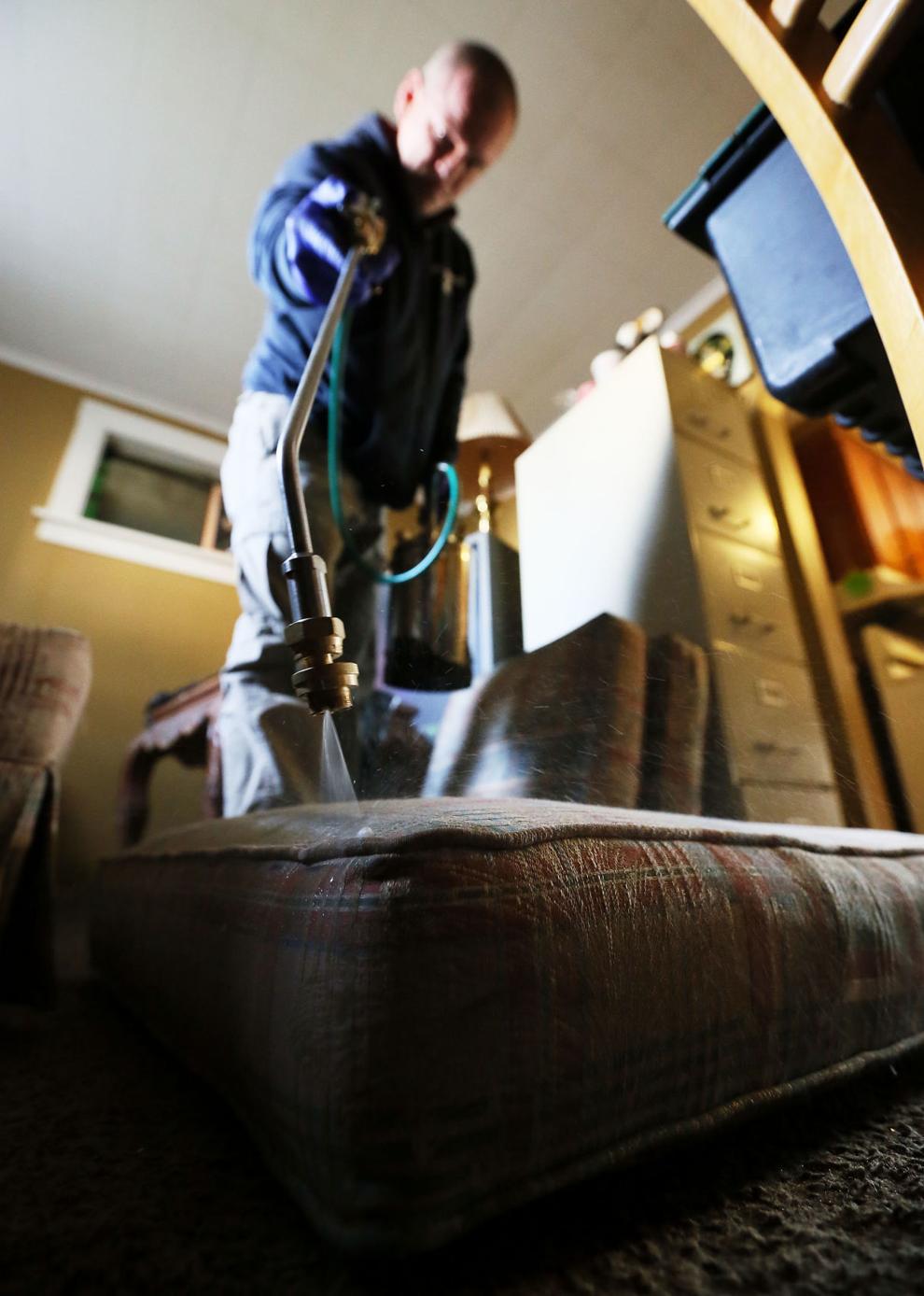 Bed bugs really aren't a public-health pest. "Ticks are far more dangerous," Cooper said. But having bed bugs can take an emotional and psychological toll. They don't fly and they don't transmit diseases, but they can be embarrassing and annoying, Lewis said.
Adult bed bugs are about the size of an apple seed, said Tony Arguello, of Ace Pest Control in Davenport. It isn't unusual for him to treat for bed bugs in a mobile home, house or apartment two or three days per week in the Quad-Cities. Baby bed bugs are about the size of a grain of salt.
"They can be difficult to detect," he said. Bed bugs can be picked up anywhere people gather. They can travel on or in luggage or clothing. He knows of one family that brought them back from a trip to Europe.
Not all itching or bites is caused by bed bugs, Lewis cautions, so the presence of bed bugs can't be determined by bites or skin reactions. He encourages people to look for adults, nymphs (young) eggs or dark excrement stains in hiding places along with shed skins and empty egg cases.
Monitors, interceptors and traps are available to homeowners or from pest-control experts, he said.
"Bed bugs, like roaches, are a 365/24/7 menace," said Leander Mohs, of Pestfree QC, Davenport. "One pregnant female is all it takes."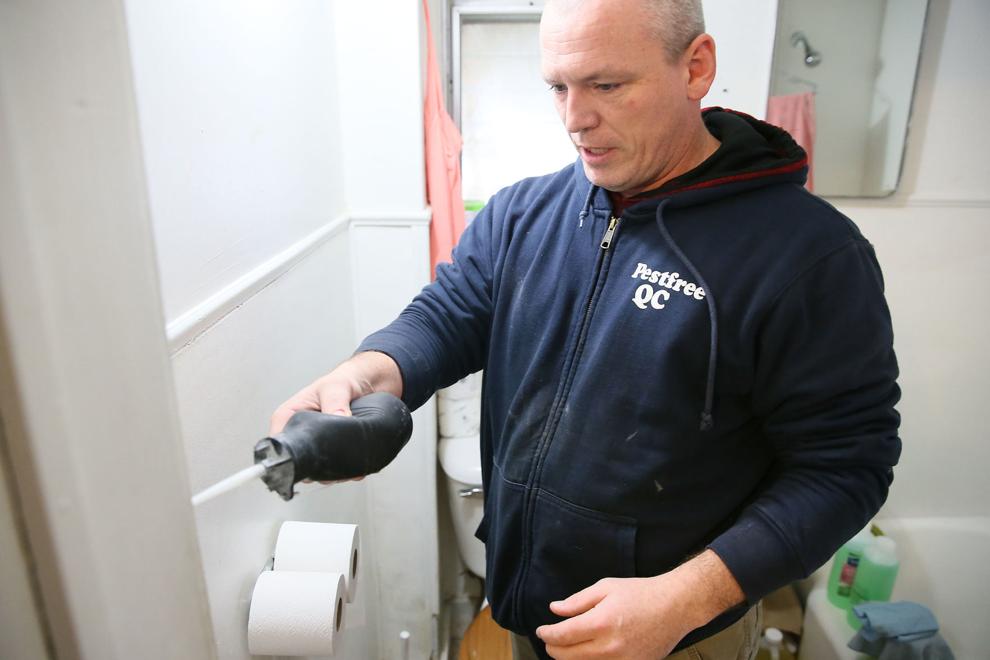 He agrees with Lewis that people are becoming more aware of and vigilant. But even when people realize what they have, they often try home remedies that aren't as effective as professional approaches.
One approach for treatment, he said, is diatomaceous earth, which is essentially crushed-up dead coral. The substance abrades the exoskeleton of the bed bug. Heat treating or steaming is another means, he said.
Although anyone can get bed bugs, they tend to be more prevalent in multi-unit living facilities, Mohs said.
Mohs encourages people to inspect furniture, bedding and linens before bringing them into your home. "If there's one thing I really want people to understand about these things, there's probably a very good reason (used furniture) is sitting there (on the curb). "You have to have it inspected thoroughly." Otherwise, Mohs said, when you get it home and you find you have bed bugs, "It's no longer a free piece of furniture."
'You brought them in'
Even when bed bugs are detected, it's often difficult to determine how they got into the dwelling.
Licensed Realtor Shannon Lough, of the Quad-Cities Rental Properties Association Inc., said bed bugs and their origins often are a topic of landlord organization meetings.
"It's a hot topic at (association) meetings," he said, coming up in four of the last 12 meetings. All landlords deal with it on a regular basis."
"The biggest issues we have is who's responsible for the cost," he said. "From the landlord perspective, we often say the tenant is responsible."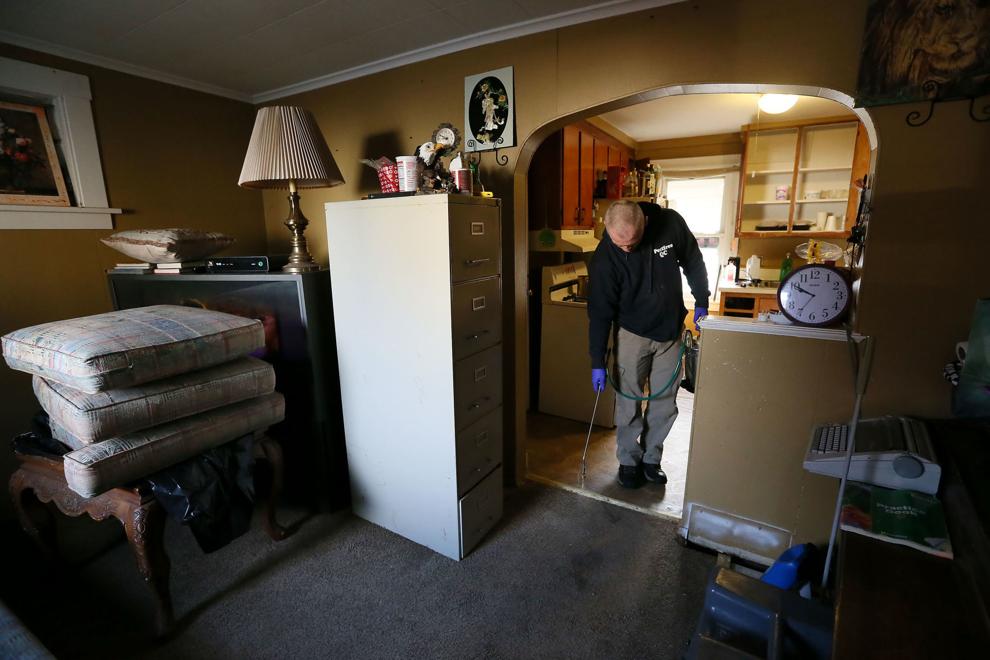 In a single-family house, for example, a landlord might tell a renter "The bed bugs weren't here when you got here. You must have brought them in."
Some leases spell out who is responsible – the landlord or the tenant – for pest removal, but other contracts don't include that, Lough said. Usually, "If a tenant imports it to us, we'll split the cost (of extermination) 50/50," he said.
A renter's liability, like the bugs themselves, can spread if improperly contained. If someone in one apartment has bed bugs, then bed bugs are discovered in the apartment next door, for example, Lough said the renter of the first apartment can sometimes be held responsible for both.
For a landlord, the best time to get rid of bed bugs is when a property is vacant. Although bed bugs live in all climates, infestations seem to come in waves, Lough said.
"They're hitchhikers," he said. "Anytime you travel, you've got to be careful."
Mattresses: Resting place or feeding ground?
The first thing travelers should check upon arrival, Lough said, is their mattress.
Katie Golde, with www.mattressclarity.com, said bed bugs are good at hiding. "It's not always obvious that your mattress is housing them if you do just a quick look," she said. "Bed bugs like to hide during the day in the seams and piping of your mattress, so it's best to look there and near the tag area."
A common belief is that if people put a fitted sheet-style protector on their mattress it will prevent bed bugs.
"That only covers five sides of your mattress and not the bottom side that faces your box spring or bed frame," Golde said. "This open side leaves your mattress vulnerable to bed bugs. You need to look for an encasement mattress protector, especially one that says it's 'bed bug proof' to make sure you're really protecting your mattress."
When you inspect a mattress, you may see a live bed bug if your infestation is bad enough," Golde said. "You may see hints of them from red rust-like stains on your bed sheets if you roll over on them overnight. You may also see little black dots that are their excrement or even eggs or eggshells."
Sometimes, if you get a bed bug bite and scratch it, "You may find some of your own blood on the mattress cover as well."
Most importantly, be careful if you're buying secondhand furniture, mattresses or other used items in which bed bugs can hide and travel.
What works?
Like Hoeg, exterminators also try different products to eradicate bed bug infestations.
Arguello rotates professional products to avoid the resistance that bed bugs build to chemicals. Exterminators use chemicals or heat, depending on preference and what tenants, landlords or homeowners want to spend. The most expensive treatment, he said, is heat.
Chemical treatment for one room costs about $750 for three rounds of treatment. Heat treatments often start at about $2,000.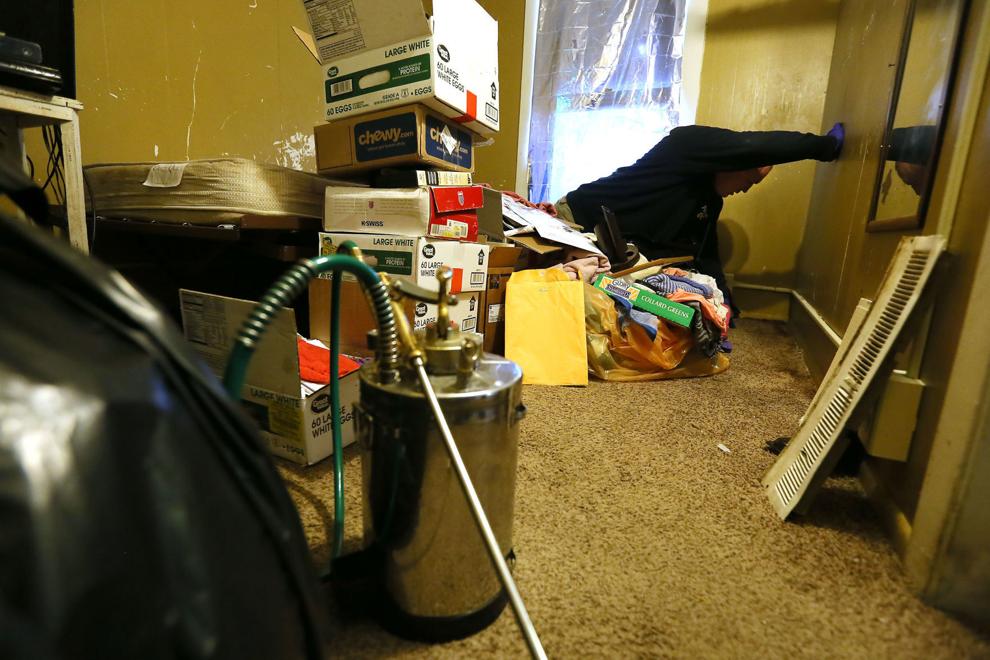 Rusty Boruff is the executive director of One Eighty, a nonprofit, faith-based organization that has residential facilities that help people in crisis, poverty and addiction. Like many other property managers, he regularly uses heat to treat his properties.
"We have dealt with bed bugs off and on," he said. "About three or four yeas ago, out of nowhere, it was ridiculous, like an epidemic. There were years where we would spend $15,000 just on our own properties with exterminators," he said. "I finally looked into it and decided to buy one of the heat-treatment machines. Now it is one of our number one calls with our businesses."
Boruff has now had the machine for about 18 months; With his role in One Eighty, he attends a lot of meetings where he speaks with representatives from schools – that's where he heard about the bed bug issue on a larger scale.
Because One Eighty partners with some schools in the Davenport district, Boruff offered to treat the homes of students in partner schools at little or no cost.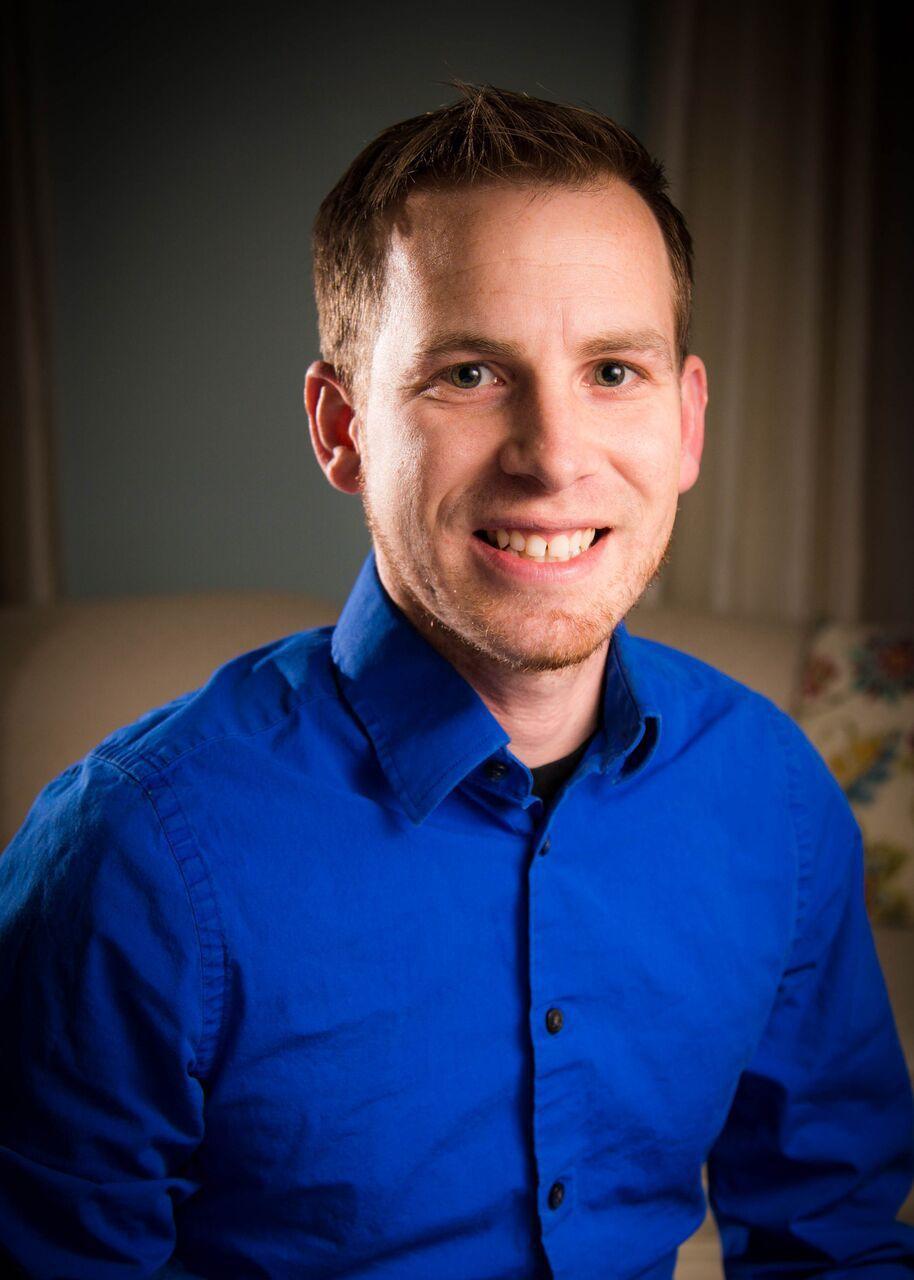 The One Eighty crew also treats homes in other parts of the Quad-Cities. Before 12:30 p.m. Wednesday, Boruff received two calls – one from Davenport and one from East Moline – about treating homes.
An entire house generally takes two days to treat, so that means the One Eighty team treats seven or eight a month, he said.
The advantage of heat treatment, he said, is it kills both the bugs and their eggs.
"When you start with chemicals with bed bugs, it's like using pesticides on corn. They eventually will grow immune to it."
The heat machine uses a massive propane tank that runs off propane and starts like an engine or generator. "It has these long plastic tubes, like duct work, that are expandable. You clip them together, and you heat that room up to about 130 degrees."
The treatments get rid of all the bugs – "fleas, cockroaches – you name it," he said. "A bed bug is going to stay within a three- or four-foot radius (of where people are).
"Once in a while you'll be able to see them dead. They come out of the headboards or you might see them on a mattress."
Workers bring in specially designed propane heaters to heat a room to temperatures that reach about 130 degrees Fahrenheit.
Boruff said the machine is running nearly every day. "There is very rarely any downtime," he said. "We'll get rid of them, but all it takes is one kid bringing it home from day care, and later the place is infested again.
Heat treating for bed bugs can also be dangerous though – at least one heat treatment resulted in a fire in the Quad-Cities last year.
On April 23 the Moline Fire Department responded to a structure fire just before 1:30 p.m. in the 2100 block of 16th Street. Crews saw smoke and fire coming from the rear of the building, and extinguished the fire in 15 minutes.
The building was a mixed-use commercial and residential building with two apartments in the rear and a storefront facing the street. A contractor who was working in the building called in the fire, which started in a first-floor bedroom. -
One Eighty now uses all-metal beds, with no wooden bed boards, along with two-in-one mattresses that have no box springs or wood to keep the bed bugs away.
Many people who have bed bug issues don't get them treated because it costs so much, he said.
"We have treated homes, apartments, trailers, duplexes … you name it, we've done it," Boruff said. "Working with Davenport schools, we're finding out how much of a need it is."
The cost: Beyond extermination
Silent, pesky bed bugs might still be taboo in public, but they're no quiet matter for Quad-Citians who have had a residence infested.
Bed bugs can cost homeowners, landlords and tenants thousands of dollars in extermination, discarded items and doctor visits.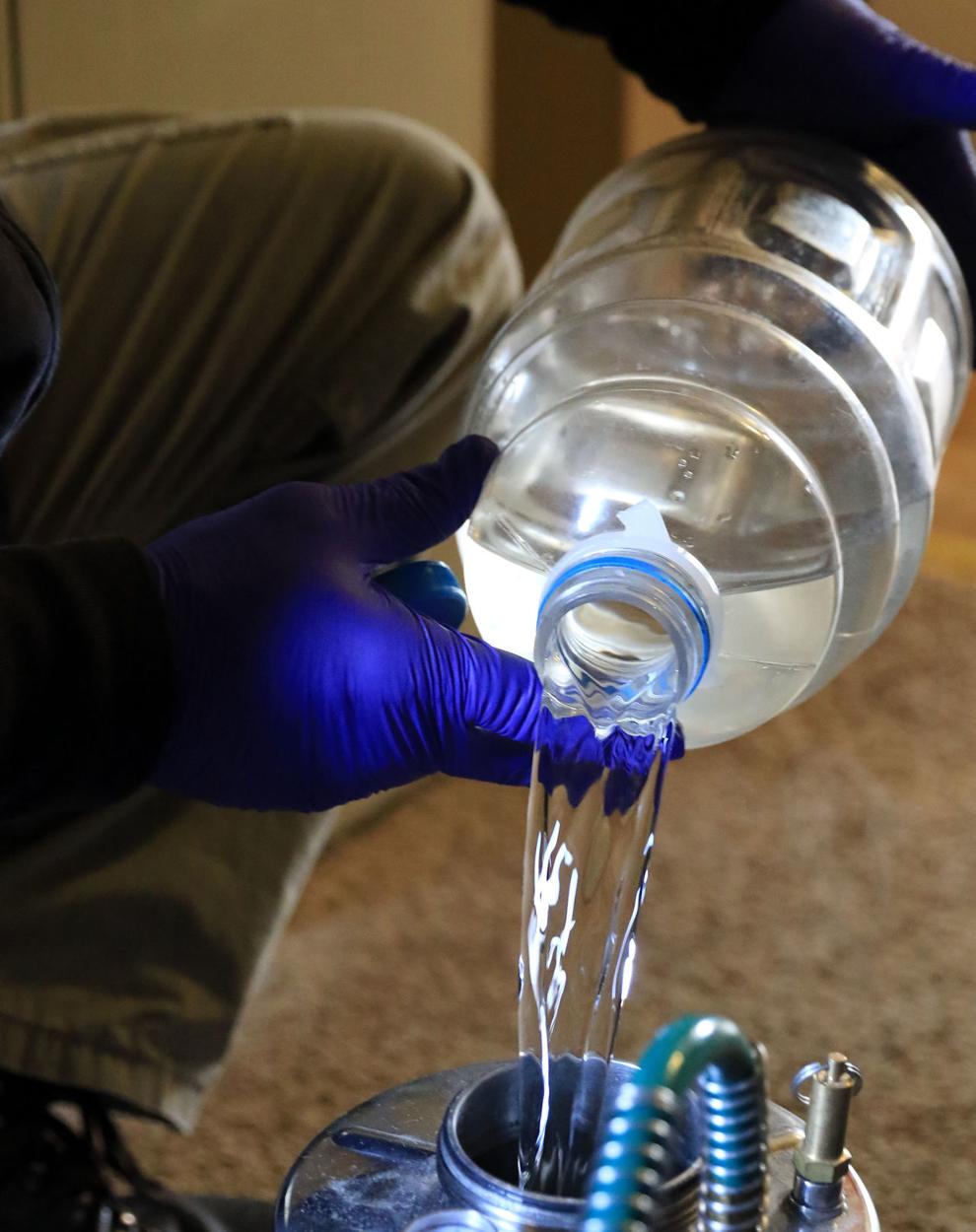 "People will come in and say, 'We have to start completely over,'" said Jeni Braun, manager of Bruce's New & Used Furniture, Davenport.
"It's very costly," she said, as bed bugs infest beds, sofas and carpet.
She said bed bug replacement seems to come in waves. "A month or two will go by, and then you've got people rolling in again."
She emphasized that customers replacing items come from all walks of life, rich and poor, dirty and clean – "Anyone can get them."
Unwelcome hitchhikers: Bed bugs persist in the Quad-Cities
011319-qct-fea-bedbugs-001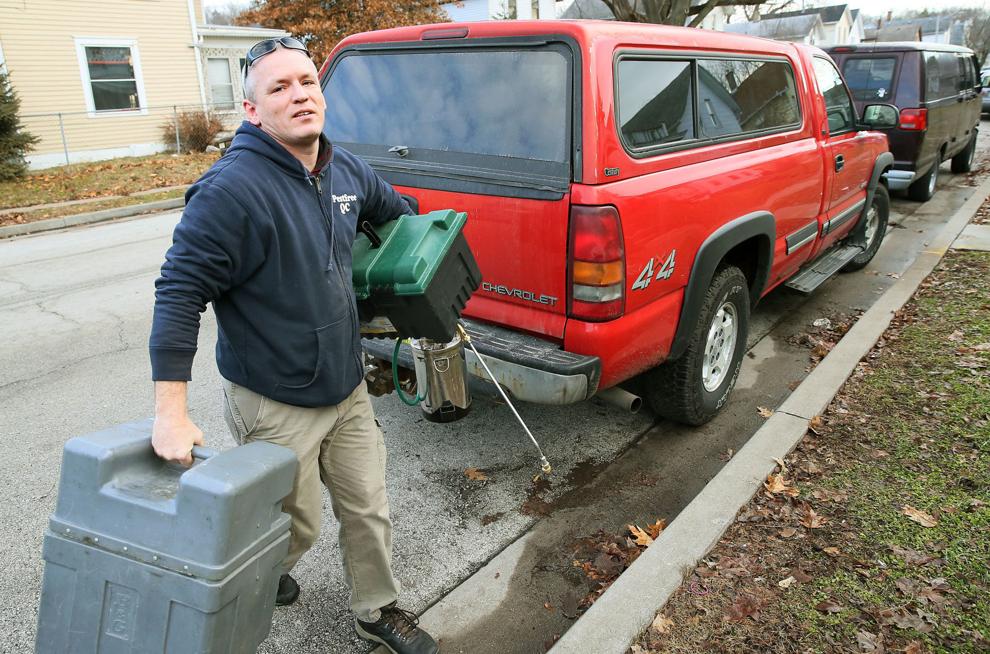 011319-qct-fea-bedbugs-017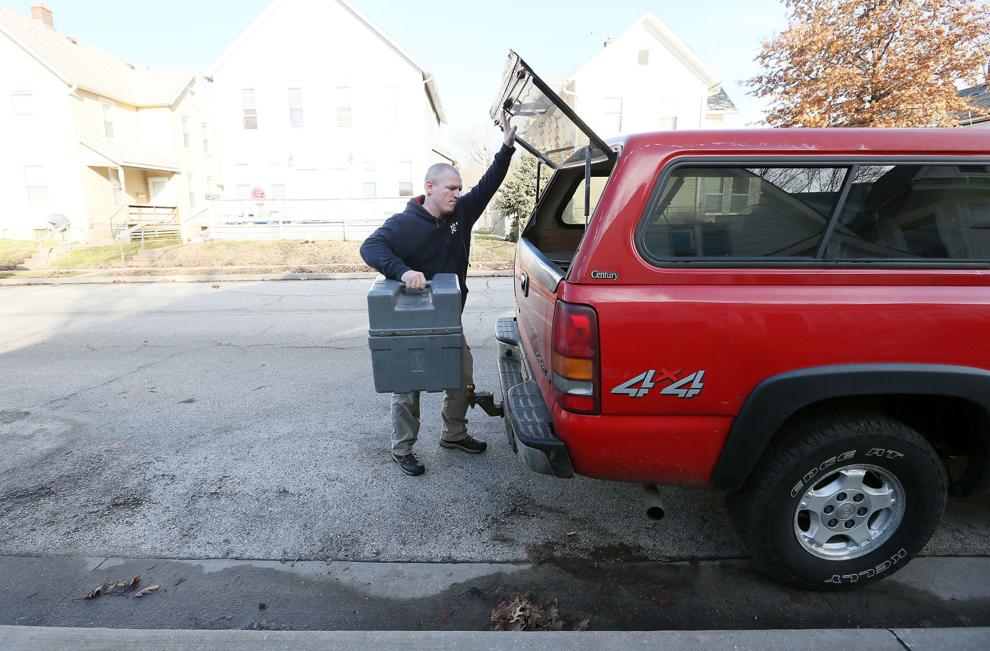 011319-qct-fea-bedbugs-016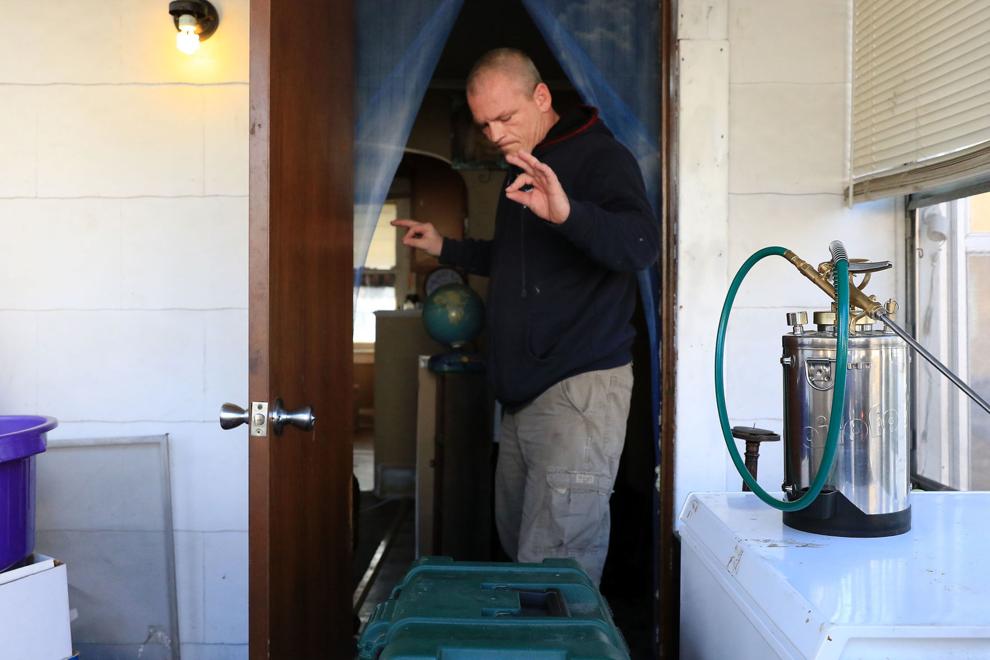 011319-qct-fea-bedbugs-013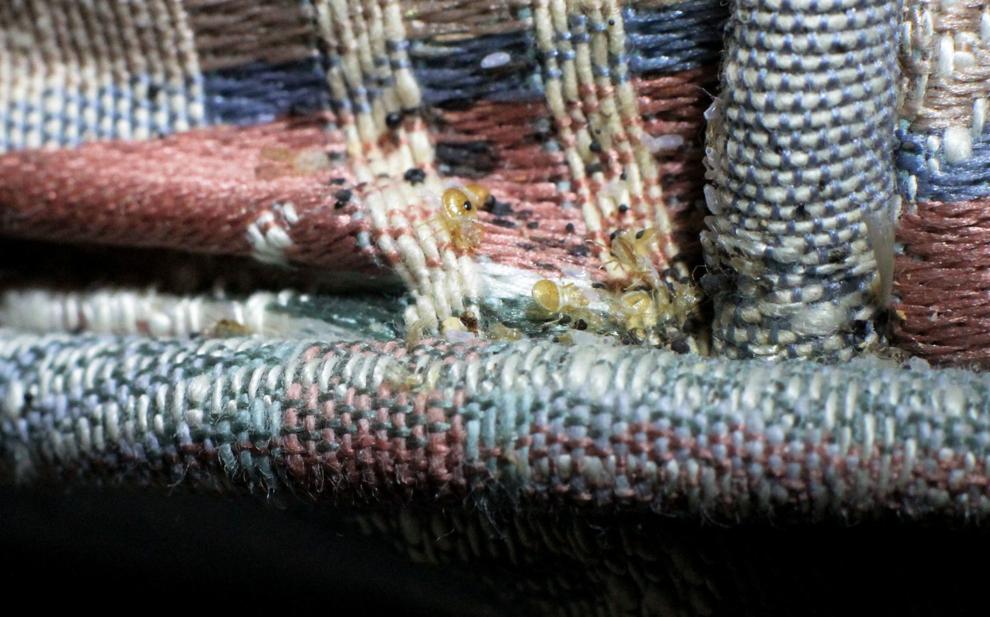 011319-qct-fea-bedbugs-012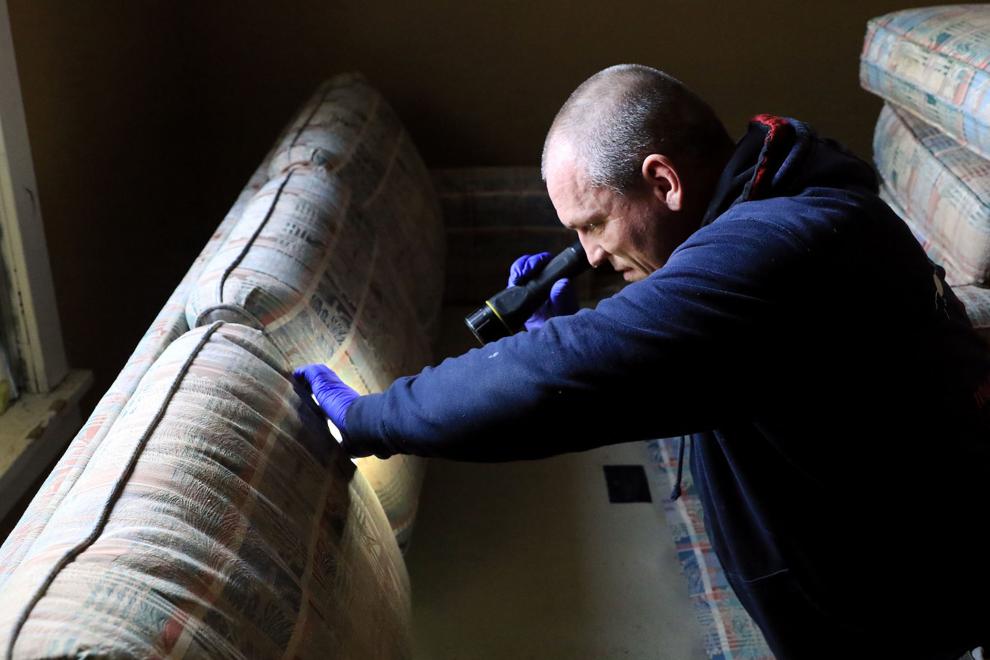 011319-qct-fea-bedbugs-011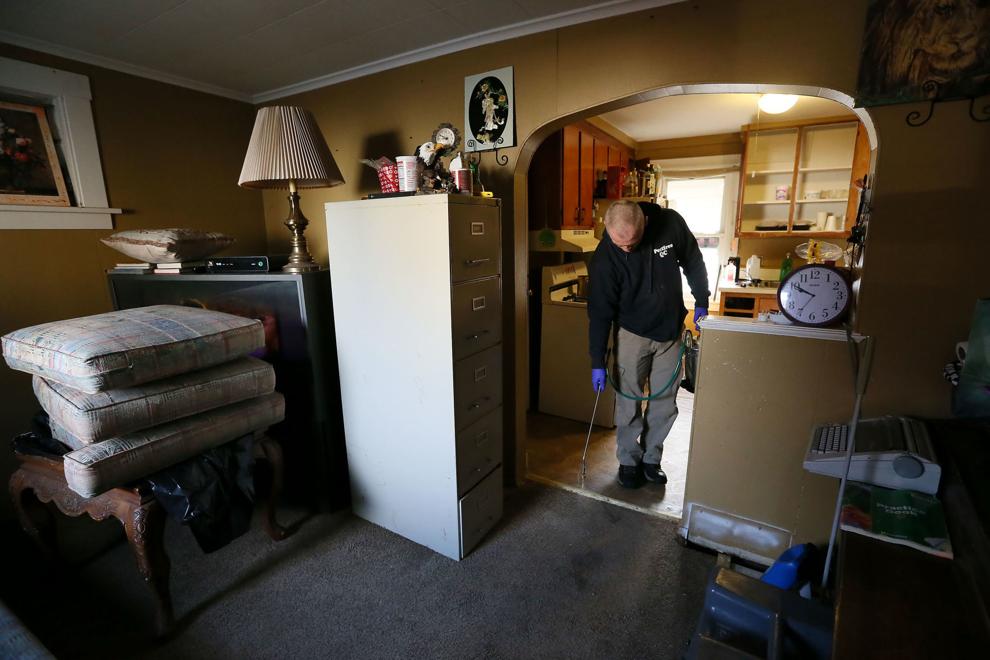 011319-qct-fea-bedbugs-010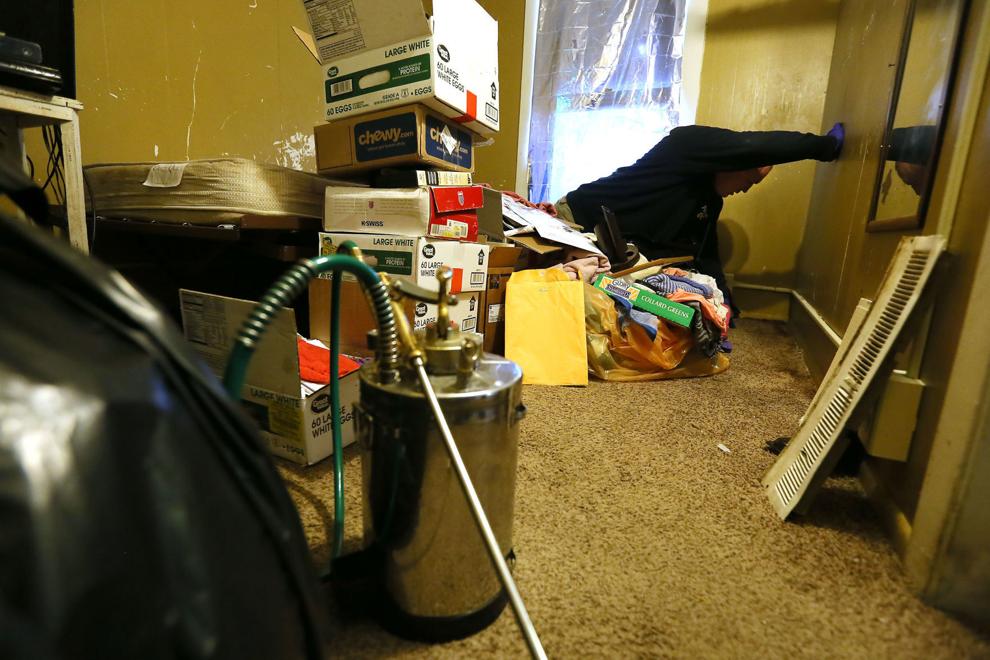 011319-qct-fea-bedbugs-009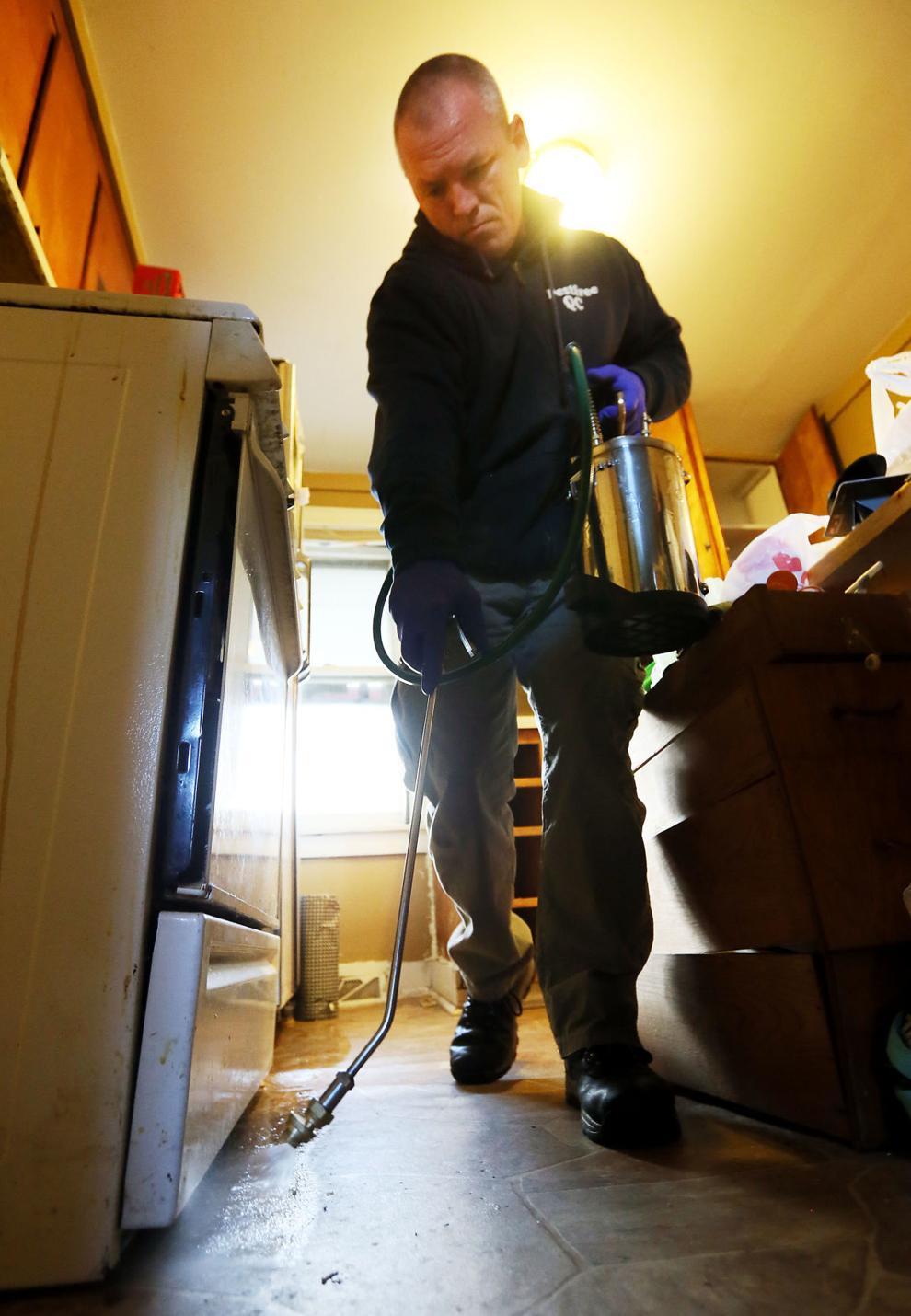 011319-qct-fea-bedbugs-008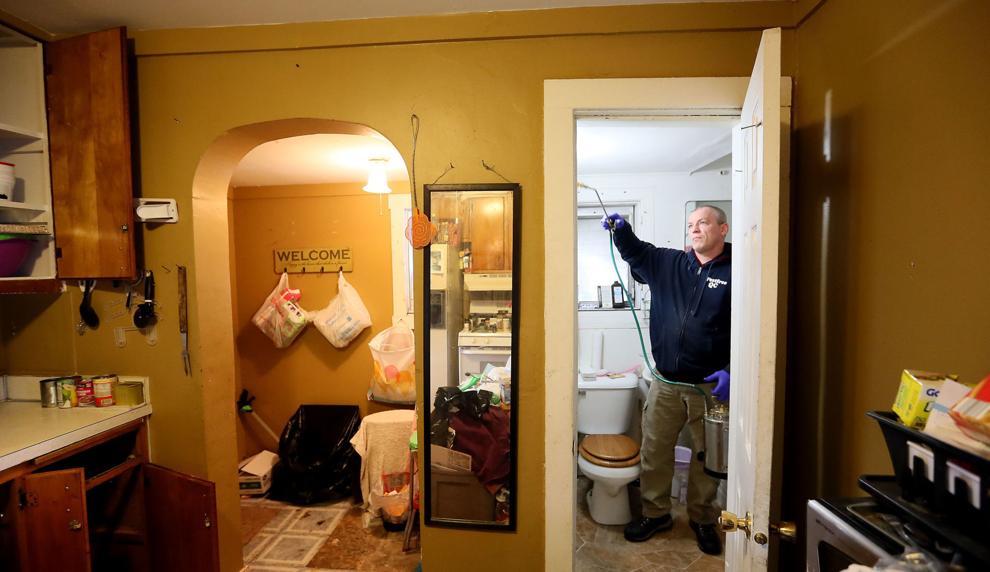 011319-qct-fea-bedbugs-007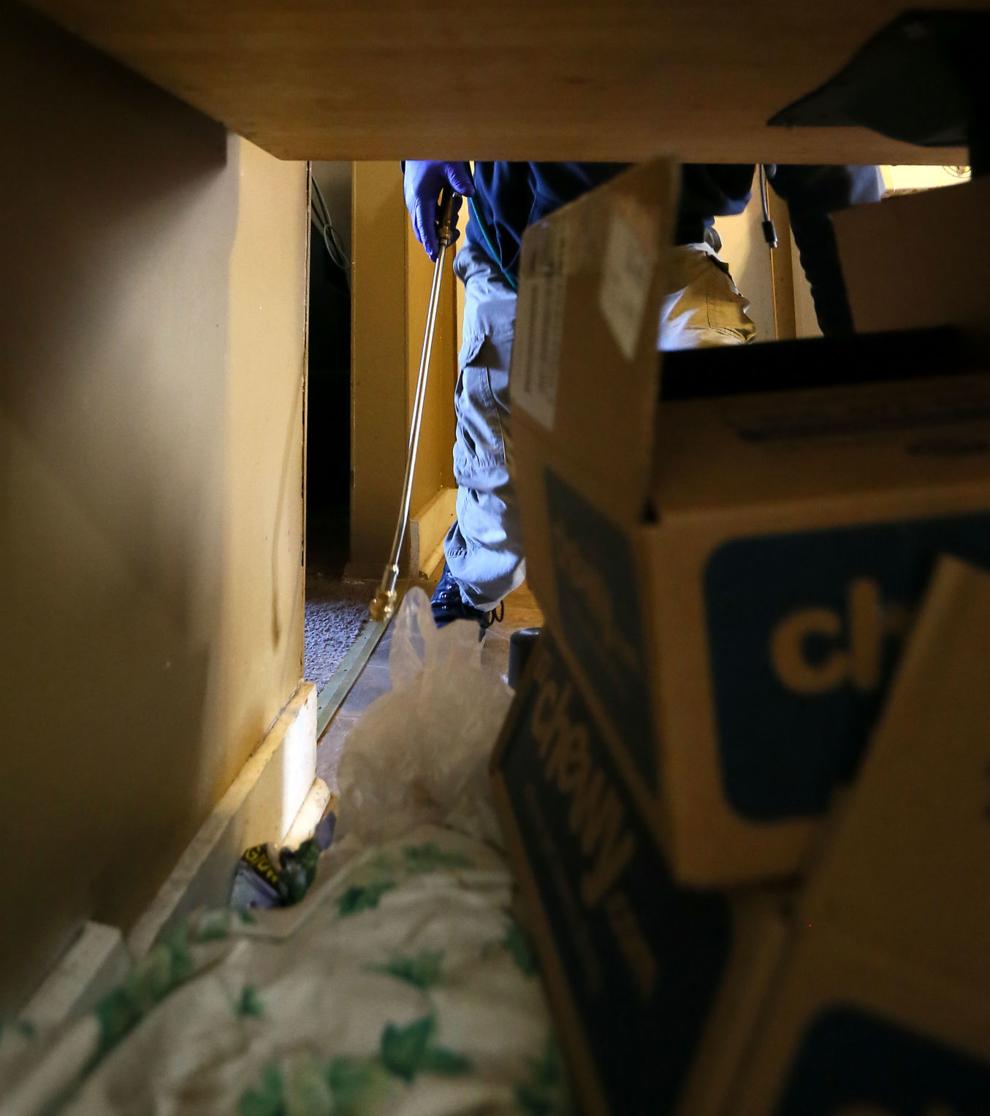 011319-qct-fea-bedbugs-006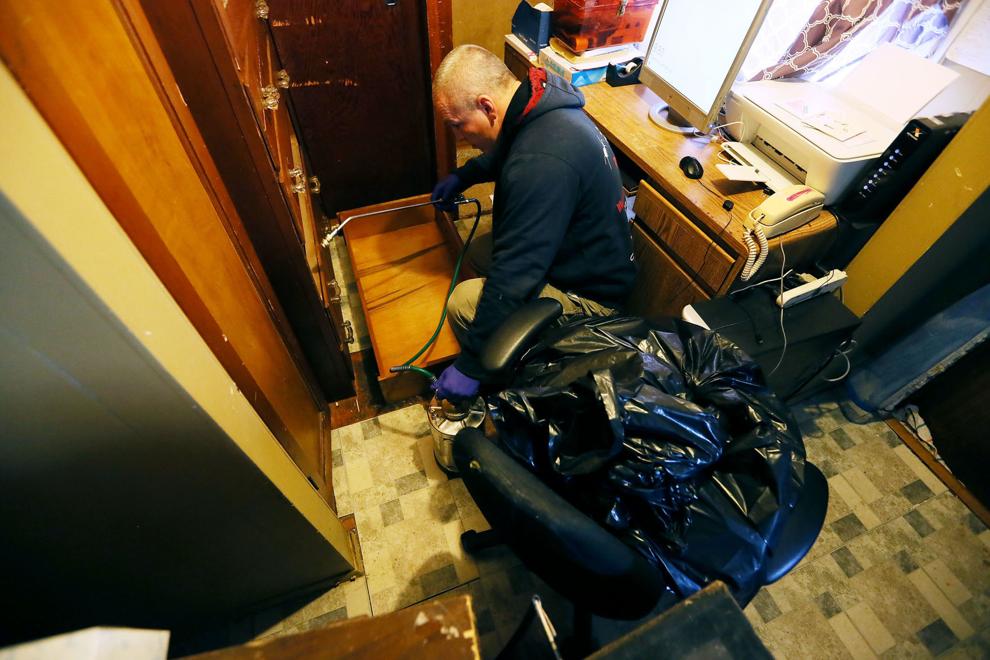 011319-qct-fea-bedbugs-005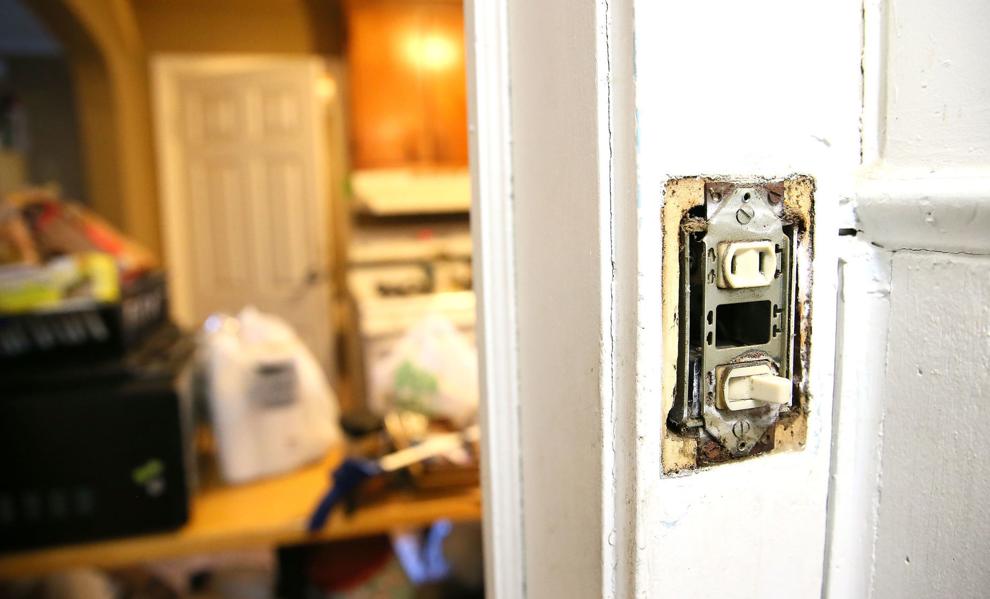 011319-qct-fea-bedbugs-004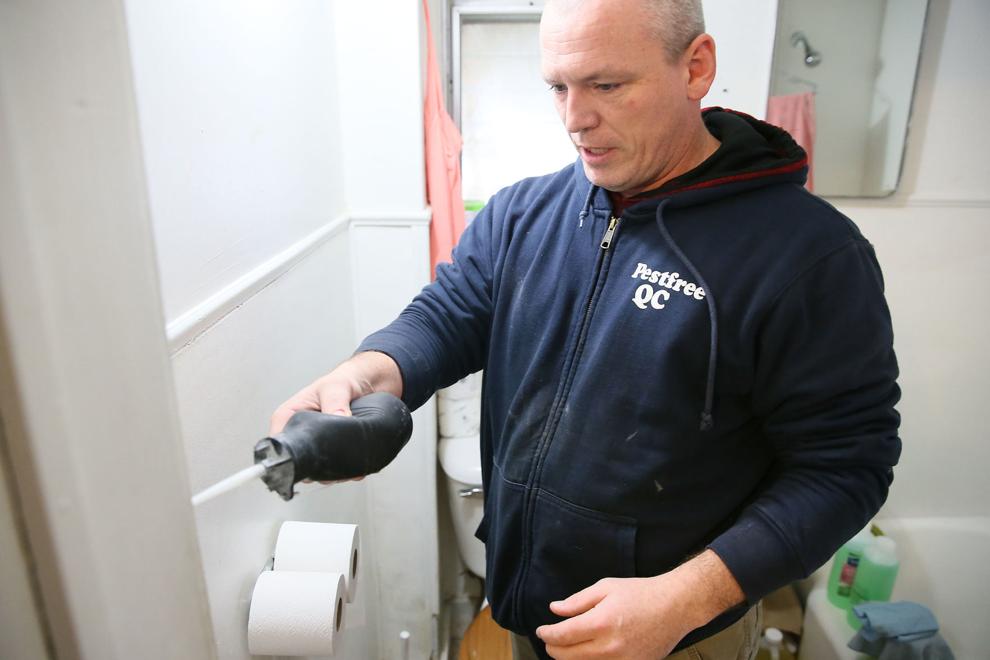 011319-qct-fea-bedbugs-003
011319-qct-fea-bedbugs-002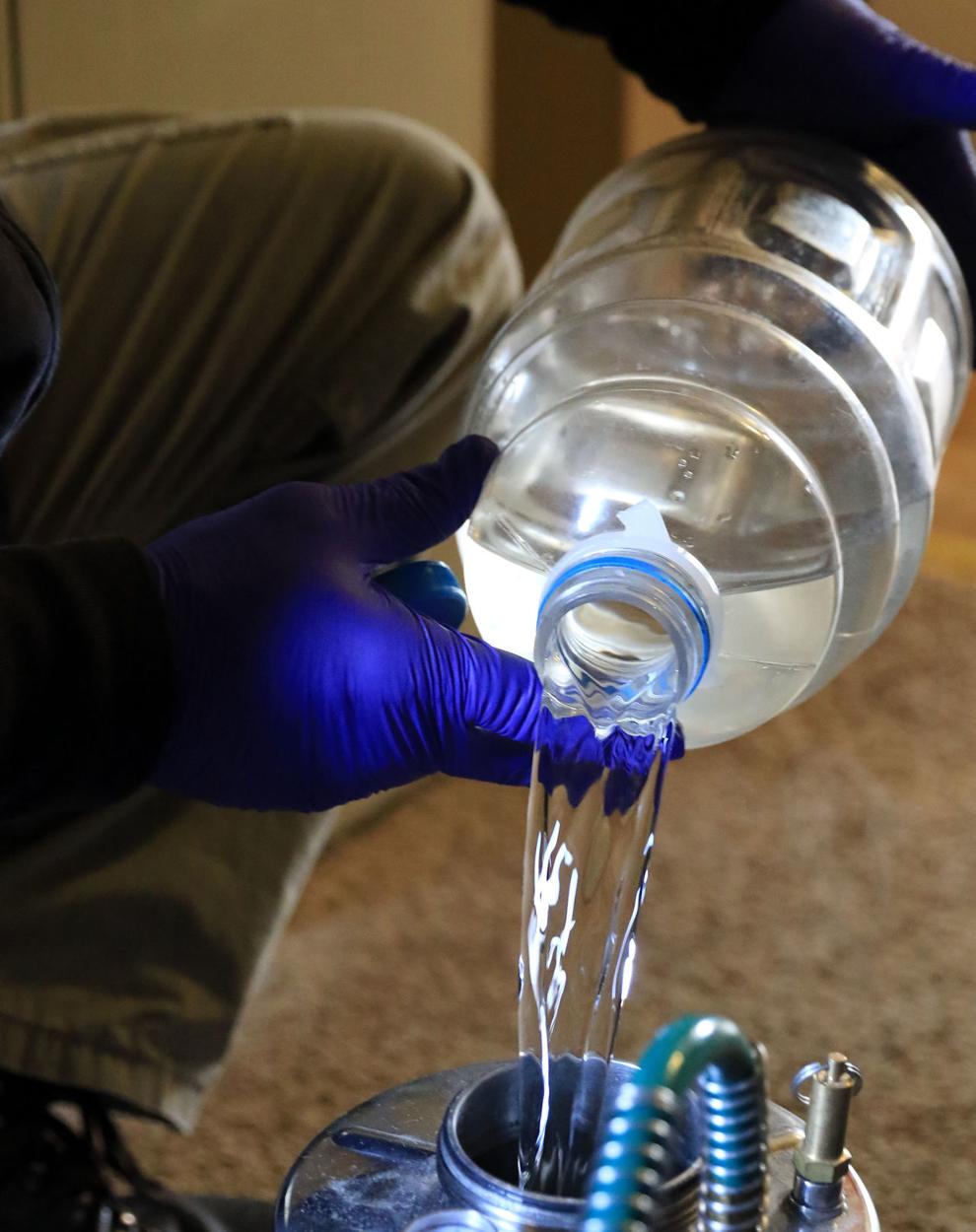 011319-qct-fea-bedbugs-018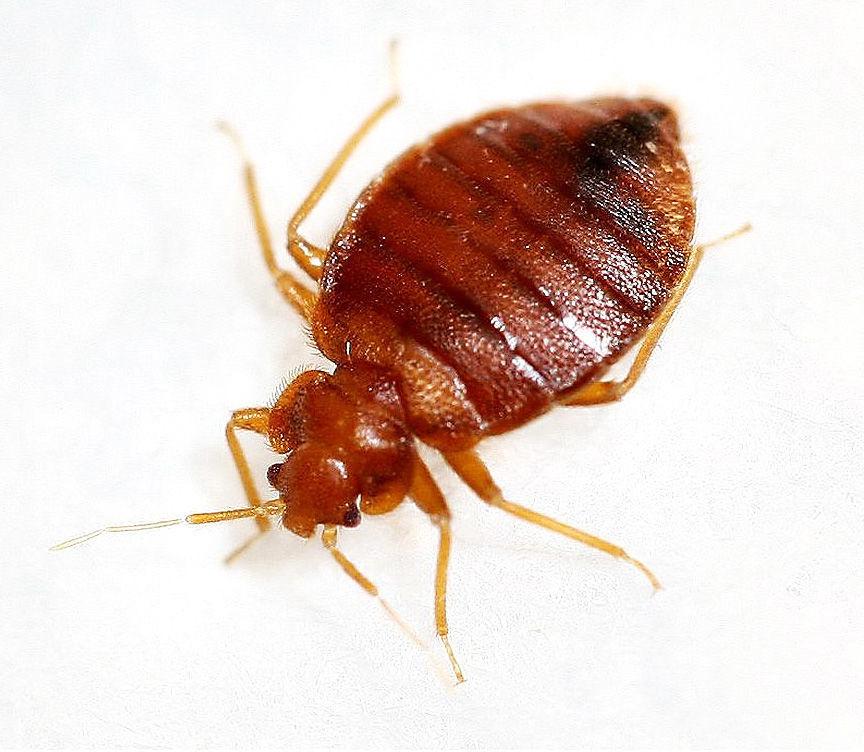 011319-qct-fea-bedbugs-019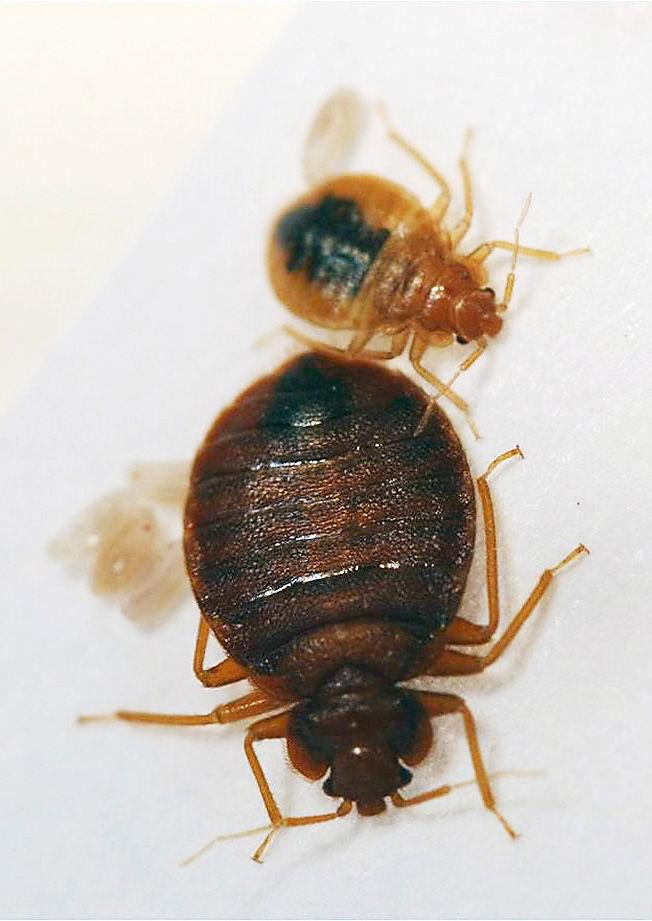 Graphic: Where do bed bugs bite?