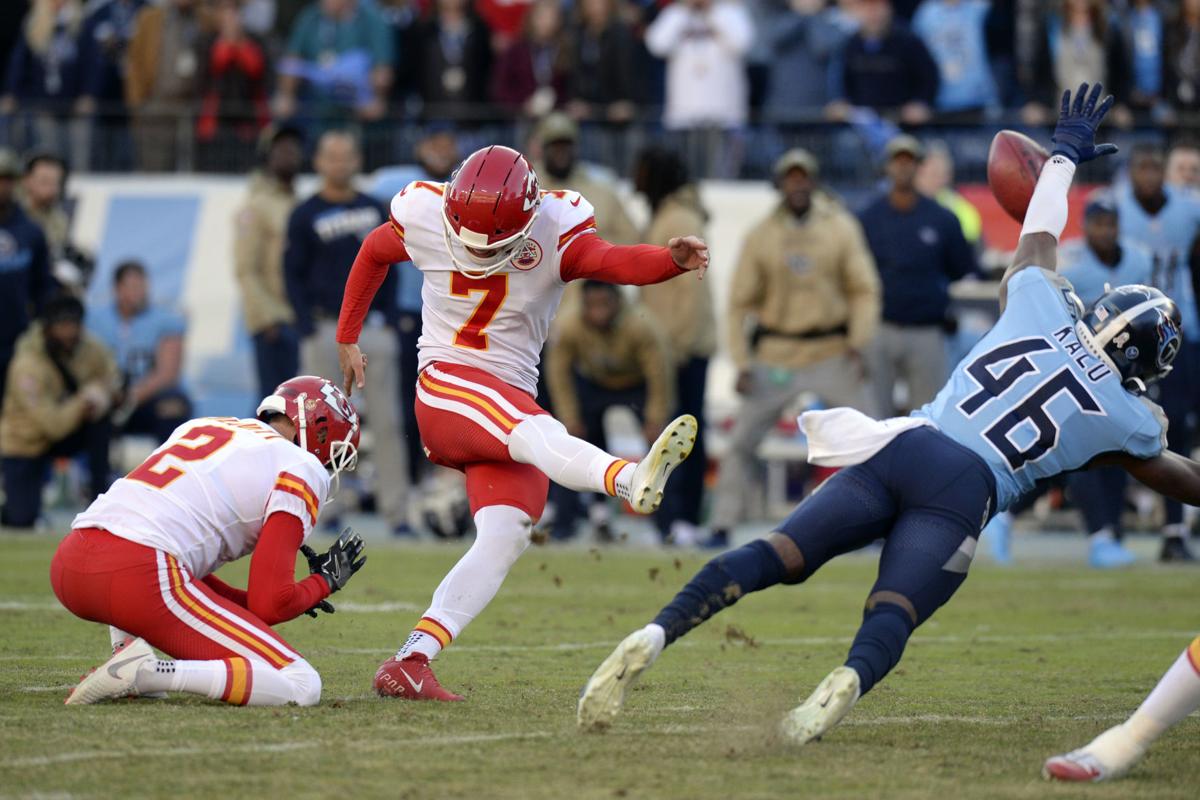 NASHVILLE, Tenn. — Ryan Tannehill threw a 23-yard touchdown to Adam Humphries with 23 seconds left, and the Tennessee Titans blocked a last-second field goal attempt to beat the Kansas City Chiefs 35-32 to spoil the return of NFL MVP Patrick Mahomes.
The Titans (5-5) only had a chance to take the lead after a bad snap by the Chiefs on Harrison Butker's fifth field goal attempt of the day. The snap caught holder Dustin Colquitt by surprise, and he threw the ball away in desperation for an intentional grounding call, setting the Titans up at their own 39.
Tannehill scrambled for 18, hit Anthony Firsker for 20 yards and then found Humphries who ran in for the TD. Tannehill also ran for the 2-point conversion for a 35-32 lead.
The Chiefs (6-4) had a final chance with Mahomes. He drove them down, setting up Butker for another field goal try from 52 yards.
Joshua Kalu blocked the kick with his left hand, and the Titans poured onto the field to celebrate.
Derrick Henry ran for 188 yards, including a 68-yard TD that put Tennessee up 20-19 with 5:58 left in the third.
Vikings 28, Cowboys 25: Dalvin Cook ran for 97 yards, including the go-ahead touchdown on fourth down, and had another 86 yards receiving to set up three other scores for Minnesota. Cook, the NFL rushing leader, easily outplayed two-time rushing champion Ezekiel Elliott as the Vikings (7-3) beat a winning team on the road for the first time in almost two years.
Falcons 26, Saints 9: Matt Ryan passed for two touchdowns and Atlanta ended its six-game slide with a victory that stopped New Orleans' six-game winning streak. Atlanta's defense stunningly dominated New Orleans' normally stout offensive line, recording six sacks.
Browns 19, Bills 16: Baker Mayfield threw a 7-yard touchdown pass to Rashard Higgins with 1:44 left and Cleveland Browns snapped a four-game losing streak — and took some pressure off first-year coach Freddie Kitchens — with a win over Buffalo. Cleveland survived when Buffalo kicker Stephen Hauschka's 53-yard field-goal attempt was short with 22 seconds left.
Ravens 49, Bengals 13: Lamar Jackson threw for three touchdowns in a near-perfect passing performance and added a sensational 47-yard scoring run, Marcus Peters got his third pick-6 of the season — this one off rookie Ryan Finley — and Baltimore won its fifth in a row, routing winless Cincinnati.
Steelers 17, Rams 12: The Steelers forced four turnovers — including a 43-yard fumble return for a touchdown by safety Minkah Fitzpatrick — in an ugly victory that pushed their winning streak to four games and dealt the Rams' chances of chasing down Seattle and San Francisco in the NFC West a serious blow.
Buccaneers 30, Cardinals 27: Jameis Winston threw for 358 yards and one touchdown, helping Tampa Bay rally to snap a four-game losing streak with a victory over Arizona. Matt Gay kicked three field goals and Peyton Barber scored on a 1-yard run to finish a 92-yard, game-winning drive.
Jets 34, Giants 27: Le'Veon Bell scored a go-ahead 1-yard touchdown early in the fourth quarter after a 33-yard pass interference penalty on DeAndre Baker, and the Jets rallied and held on to beat the Giants. Saquon Barkley had the worst game of his young career, finishing with just 1 yard on 13 carries.
Dolphins 16, Colts 12: Ryan Fitzpatrick scored on an 11-yard run in the first half and Miami made a late stop to preserve a victory over Indianapolis. The Dolphins (2-7) have won two straight after a miserable start and earned their first win at Lucas Oil Stadium since 2013.