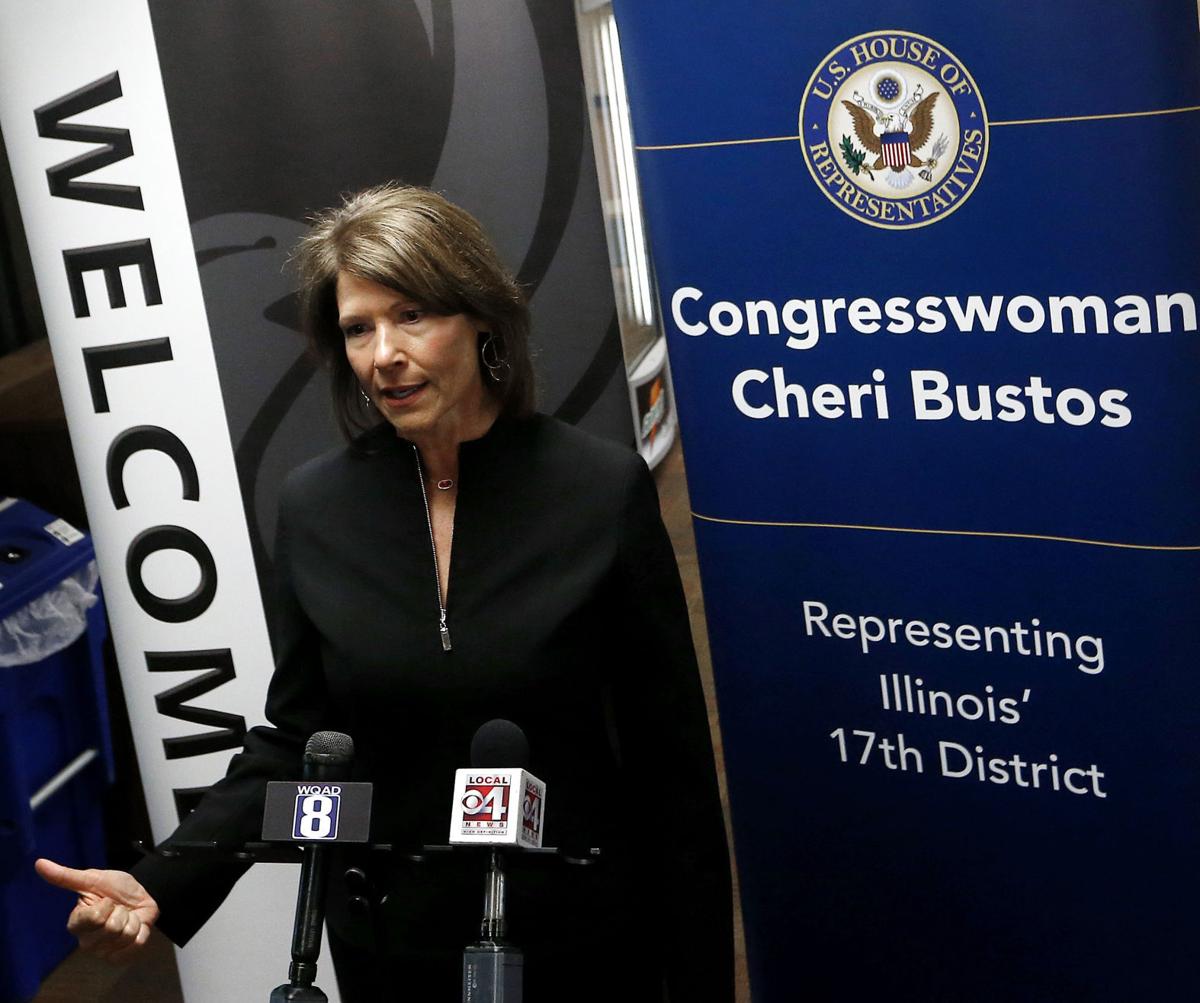 U.S. Rep. Cheri Bustos, D-Illinois, on Friday rejected the calls from her party's left-flank to impose litmus tests on would-be candidates for Congress. In so doing, Bustos doubled-down on her campaign against an increasingly emboldened left that's demanding sway in the Democratic Party. 
The importance of liberal positions on key social issues for would-be Democratic congressional candidates is a major point of contention in a simmering intra-party feud. The Democratic left-flank demands that candidates hold the line on divisive issues, such as gun control and abortion rights.
Bustos -- a face of the party's centrist bloc -- rejected that assertion Friday during a meeting with the Quad-City Times editorial board.
"No. I absolutely don't," she said when asked about requiring specific policy positions on social and gun issues. "We call ourselves this big tent party. We need candidates that come from their region, that know their region."
Sen. Bernie Sanders' surprise run at the Democratic presidential nomination has energized the party's left. The likes of Bustos from the party's rural-looking center are pushing back hard in an effort to resurrect a party badly bruised in much of the country's interior. 
"We need to focus on five things: jobs, jobs, education, jobs and jobs," she said.
Bustos' stock has risen sharply in recent months after Republican Donald Trump shocked Hillary Clinton in last year's presidential race. Midwestern voters abandoned Clinton in key states, propelling Trump's victory. Democrats, in recent years, have also watched their influence in statehouses wane outside of the Northeast and West Coast.
Bustos' western Illinois district, which went for Trump in November, is seen as the type of region within which Democrats must again engage. All that resulted in Bustos -- an avid pro-business centrist, long-time journalist and public relations executive -- being appointed co-chairwoman of the PR wing of the Congressional Democratic Caucus, The Policy and Communications Committee. Recently, that group, along with leadership, rolled out the party's new Better Deal, a pro-jobs platform specifically targeting the Rust Belt that abandoned Democrats in November. 
Leftist critics aren't keen on the Better Deal's total lack of social issues. Nowhere does the platform mention racial inequality, abortion access or marijuana legalization, for instance. Bustos countered that those issues have done little but cost the party any shot at votes from half the population, especially in the Midwest. 
"We get 24 hours in a day. How are we going to spend it?" she said. "Are you going to spend it talking about things that half the country doesn't agree with us on?"
Many on the left argue Democrats lose in rural America because they've spent the past decades in a rightward slide, reacting to the GOP. Bustos counters that Democrats have been beaten by the GOP's superior public relations machine.
She, too, rejected calls to battle the Republican congressional majorities at every turn. Instead, Bustos touted successes in the most recent Farm Bill, especially crop insurance, and said the Democrats should be open to working with Republicans on tax reform, but added "trickle-down doesn't work."
This week, U.S. Sen. Kamala Harris, D-California, whose stock is growing in leftist circles, issued a high profile call for Democrats to adopt single-payer government health insurance as a stock plank. Again, Bustos had little interest in engaging with the left's call for substantial shifts in policy, arguing that such a move leftward would only empower Republican efforts to scuttle the Affordable Care Act.  
Bustos rejected assertions that racial grievance and identity politics fueled Trump's rise. She said, throughout her district, she's met people who "gave Trump a try" because they felt left behind in an increasingly coastal, urban economy. And she was stalwart that Democrats should abandon much of their focus on identity, even as Republicans and the president emphasize it on their end.
"We can't just be the party of no. We can't just be the party of fighting Donald Trump," said the four-term Democrat from Moline.