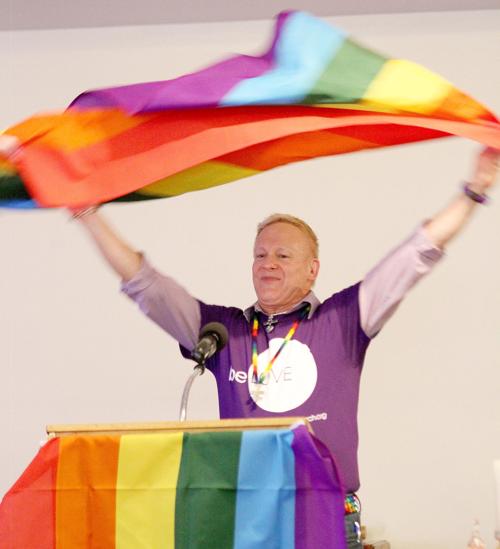 Even the most culturally out-of-step prejudices are, and should be, protected speech. Perhaps that's the sole truth that makes the U.S. exceptional in any way.
And that's why, for years, I've struggled with cases such as that of Jack Phillips, a baker in Colorado, who cited religious convictions when refusing to bake a cake for a gay wedding. The U.S. Supreme Court has agreed to hear Phillips' case later this year.
So-called religious freedom bills became all the rage in red states following 2015's landmark ruling that legalized gay marriage throughout the country. Liberals seethed, likening them to state-sanctioned discrimination. Such a bill politically hobbled then-Indiana Gov. Mike Pence, who, many observers contend, saw joining Donald Trump's long-shot presidential bid as a graceful way to avoid a primary defeat. North Carolina lost millions when the NCAA boycotted that state because of its iteration.
Organizations, such as the NCAA or private firms that fled Indiana, had every right to protest and take their cash elsewhere. And under that very same principle, so, too, did Jack Phillips.
Let's get something out of the way. Phillips' world view is offensive. Like most people, I have gay relatives whom I love, respect and want nothing more than equal protection under the law. I celebrated the Supreme Court's 2015 ruling, which, unfortunately, came a little too late for one uncle of mine, who drank himself to death only months earlier.
But Phillips' bakery doesn't receive public funds. It's not a government institution. Maybe it's my upbringing in a family business, but I do believe a business owner has the right to refuse service. And that's true even if his or her motivations are something I find philosophically abhorrent. 
The issue, of course, is more complicated than bakers and photographers who want nothing to do with a gay wedding. It becomes murky when considerations of equal employment and housing — basic foundations of American civil rights protections — are included. They, too, are in the mix here, only muddling further the Supreme Court's task come October. It's these very issues on which American Civil Liberties Union hangs much of its arguments against Phillips. There's little doubt that a Phillips victory this fall could have sweeping effects on the nation's civil rights laws, much of which instituted to combat rampant racial discrimination, only adding to the Supreme Court's task. 
But, at least intellectually, equal employment and refusal of service aren't one and the same.
Spend a few hours watching Fox News, and you'll hear endless gripes about liberal "snowflakes." It's all a tad ironic, as some of the most easily offended conscripts of the word police happen to be of the conservative persuasion. That said, their gripes aren't entirely without merit. The left's predilection for governing language — thereby regulating ideas — is among the seemingly endless number of propellants behind Trump's presidency. 
Just maybe the case of Jack Phillips is an instance where my libertarian bent comes through. His excuse for not baking a cake can, at one time, be both morally egregious and wholly worthy of support. And it's a place where the markets can best act as the selective agent. 
Chick-fil-A will never get a penny from me. 
Thing is, Phillips, too, has the right to hold whatever conviction he pleases. If the expression of that right takes the form of crass disdain for an entire population, so be it. 
Blast his refusal on social media instead of taking him to court or regulating his business legislatively. Make sure everyone in 10 counties knows he denied you service simply because you love someone of the same sex. By and large, the country's collective opinion on gay marriage has shifted in the movement's favor at lightning speed, polls show. 
Put simply, Phillips is guilty of bad business. But sink or swim, it's these kind of unwise business decisions that the likes of Phillips have every right to make.