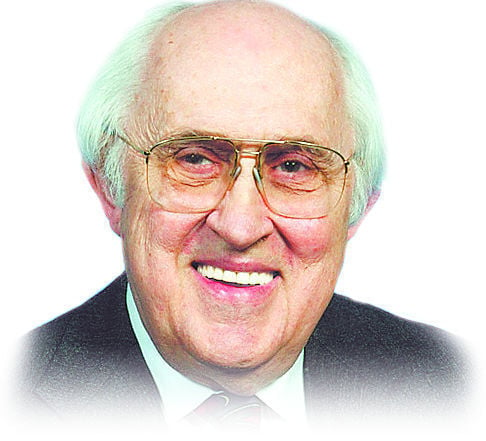 Family and friends will meet in St. Louis at 9:15 a.m. next Saturday for a memorial Mass and again at 5 p.m. for an hour-long memorial for Wayne and Shirley Loui. Both died of Covid complications nine days apart early this year.
That news may have meaning for ancient Ambrosians who attended college with Wayne in the late 1940s, or who took part in the plays he directed there in the '50s. In between, he worked in television in Cedar Rapids, where he directed a Peabody-Award-winning program.
That probably counts for little in St. Louis, where he was recognized as an outstanding and charismatic teacher and director. He began at Webster University, then joined the faculty at St. Louis University where he was professor of Fine and Performing Arts.
But Wayne was also a force in the community as artistic director of Impact Theater and a founding director of St. Louis Repertory Theater. He was also called to direct productions at Insight Theater and, beyond St. Louis, at Copper Mountain Theater in Colorado and, for 27 years, Arcadia Repertory Theater in Maine.
Among the many honors he received is the Wayne Loui Award, presented annually to an outstanding graduating SLU senior.
In short, he had a honored and distinguished career in Missouri and beyond.
It's also important to remember Shirley Mescher, a former Marycrest student who married Wayne in 1952. They were as close in life as in death; so much so that they were nicknamed Nip and Tuck. Shirley retained that playful name throughout her life; I doubt that anyone had the nerve to call Wayne "Nip."
It should also be noted that she was a PhD and was formerly the chair of the Department of American Studies at SLU. While I am sure of Wayne's fatherly affection, I am certain from my own life that Shirley's role as mother was the most formative aspect of her children's lives.
My memory of Wayne flows in another direction. I will always think of him as the glorious baritone in the Bee Flats Quartet. As the last surviving member of that long-forgotten group, I often think of the time I spent with them and still wonder why I was in it.
Bernie Vogel was the instigator. I think it was in the fall of '48 when he decided to form a quartet, shuffling through a few possibilities before settling on Tom Fitzpatrick as first tenor, clearly the best voice in the music department.
After some concert and TV work, Tom went on to sing at the Rome Opera Company (Pinkerton in "Madama Butterfly") and other venues in Europe before settling as a performer and teacher in the U.S.
Russell Doose was the established baritone at St. Ambrose, but he wasn't interested. Bernie then found Wayne, a freshman member of the chorus. Last of all, he selected me.
Years later, when I asked him why, he didn't cite the quality of my voice, he simply said, "You sang on pitch."
Wayne and Tom were the ones who were the tonal basis of the group. Bernie and I filled in. I was constantly amazed at the sheer beauty of the combined sound. Bernie was the taskmaster, selecting the music and conducting rehearsals. When an emcee was required, I did the talking.
From our first appearance, we were a hit. We sang at weddings, supplying liturgical music at Mass and entertainment after. We were called to sing at numerous meetings, business and social; were featured on radio and in newspaper spreads; won a barbershop quartet contest; and were introduced at a music festival in Dubuque by a female ensemble singing "Bewitched, Bothered, and Bee-Flatted." It was a heady time.
On occasion, after a performance, we went to a bar and sang unbidden, prompting several rounds of free drinks. Underage, Wayne had to knock back a series of Pepsi-Colas, as I recall.
One summer evening, Bernie had us working at night in the music building, trying to perfect a send-up of the quartet from "Rigoletto," which became our most requested number. We went from Renaissance polyphony, to modern close harmony, to "The Green-Eyed Dragon With the 13 Tails" — whatever fueled our imagination.
There were no students on campus that night, but a large number of nuns were occupying Davis Hall for a series of meetings. As we finished up, I suggested that we go out near the center of campus and sing for the nuns. As we started in, lights went out and you could see dim figures listening at the windows. As we ended, there was a light patter of applause. I will always remember that performance as my favorite: the summer air, the rich, blended sound, the special audience.
During those last two years at St. Ambrose, I thought that this would surely be the happiest time of my life: no work, illuminating classes, camaraderie centered on beautiful music. While there have been memorable moments through the years, those days remain special.
We talked briefly of staying together, but no one took it seriously. Bernie went on to teach vocal music at Bettendorf, Tom had his career in music, and Wayne became a recognized name in theatre. I continued to play at a number of things and lost contact with my former friends. I was here for Bernie Vogel's funeral, but learned of Tom and Wayne's deaths only after the fact.
Now, I remain, singing only when I am sure no one is listening, But I hear as a whisper, Wayne, Bernie, and Tom, singing along, filling out the sound, while I try to stay on pitch.