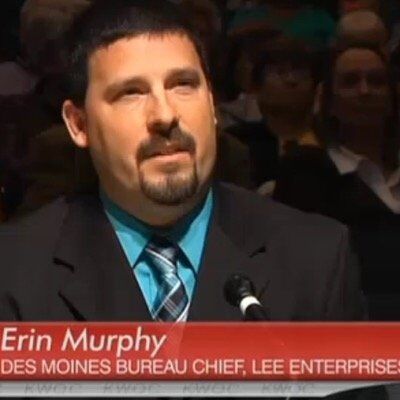 The last mile of a marathon is no time to slow down.
Yet that is, in effect, what the state of Iowa has chosen to do in its reporting of COVID-19 data. The state's public health department recently notified local officials that the state, over recent and coming weeks, has and will:
Update COVID-19 data on the state's coronavirus.iowa.gov website just once per week instead of multiple times per day.
Stop updating on the website data on long-term outbreaks, serology, underlying health conditions, and Test Iowa assessments.
Eventually decommission coronavirus.iowa.gov altogether, and move to a distribution format similar to the state public health department's weekly influenza report.
While these moves may appear to make some sense because COVID-19 cases are down dramatically from the pandemic's winter peak, the state's decision to scale back its COVID data reporting also very well could be dangerous from a public health perspective. Because while the marathon of working through this pandemic has reached its final stages, the race has not yet reached the finish line.
Yes, COVID-19 cases, hospitalizations and deaths are down — way down. Each of those averages is at minuscule levels not seen since the very earliest days of the pandemic more than a year ago, according to state public health data. All of that is good news that should be celebrated. And because those numbers have plunged to such low levels, it's understandable that some may no longer see the need for round-the-clock, live updates of the latest COVID data.
However, the pandemic is not over, no matter how much we may believe it is or want it to be.
First and foremost, not enough Iowans have received the COVID-19 vaccine. Just 61% of Iowa adults is fully vaccinated, the 22nd-highest rate in the country, according to the New York Times' analysis of federal data. Iowa is similarly in the middle of pack for states' rates of adults who have received at least one shot of the vaccine.
Those rates aren't high enough to truly check COVID-19 off Iowa's to-do list. Public health officials say 70% vaccination is, generally, a good target when dealing with something like the coronavirus. Iowa is not yet there.
Which makes the continued spread of COVID-19's Delta variant even more dangerous in Iowa. The variant spreads even faster, so with a large share of Iowa's population still unvaccinated, this is a precarious time here.
Which makes it a questionable time for the state to dial back how it informs the public about the latest data on how the virus is spreading throughout the state.
Gov. Kim Reynolds has consistently said throughout the pandemic that she is proud of how the state was not as aggressive as others in its approach to mitigation tools like restricting businesses and public traffic, or enacting face mask requirements. Reynolds boasts that she trusted Iowans to make the right decision for them.
But by scaling back its COVID-19 data reporting, the state is now making it tougher for Iowans to make those informed decisions.
The Delta variant is serious trouble, not enough Iowans are vaccinated, and summer activities are in full swing. The finish line is in sight, but the rope has not yet been broken, and there are more twists and turns before this marathon is complete.
It will be tragic if, in these final miles, Iowa stumbles.
Erin Murphy covers Iowa politics and government for the Quad-City Times. His email address is erin.murphy@lee.net. Follow him on Twitter at @ErinDMurphy.