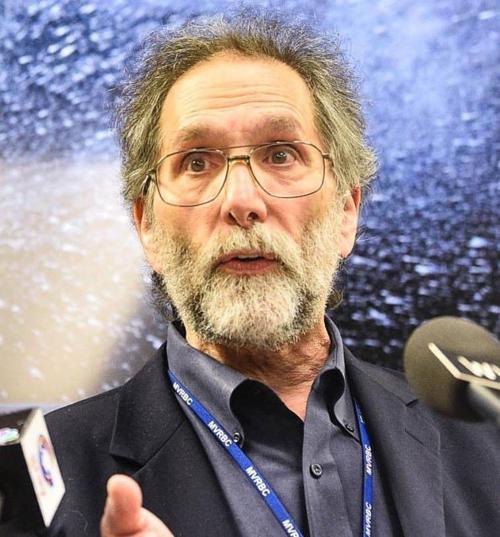 What we at the Scott County Health Department ask you to do in response to the coronavirus epidemic depends greatly on the level of SARS-CoV-2 transmission in the county.
You can get test data from multiple public sources, but the level of context provided with it is somewhere between zero and not much.
At the department we must dig deeper to provide sound advice, so we augment test results with individual interviews of those with positive tests. We display the information needed using what is called the epidemic curve — the curve we are trying to flatten. This "epi curve" comes from reports of positive PCR (polymerase chain reaction) nasal swabs reported from the state and private labs.
Seven days a week, Scott County Health Department reaches out to these people to learn about symptoms and their timing, with whom an infected person has had contact and other information. These interviews are what we call "shoe leather epidemiology". Three tasks can then be accomplished:
1. Telling infected people how to avoid transmitting the virus.
2. Reaching out to their close contacts with information about testing and preventing spread.
3. Estimating when a test-positive, symptomatic person was most likely infected.
The shape of this "epidemic curve" tells us what is happening. Here's a made-up scenario:
1. You developed a cough on June 10th.
2. You talked with your doctor on June 12th.
3. The PCR test was taken on June 13th.
4. A positive test result returns on June 14th.
5. We get the report on the 15th, interview you and find out you are feeling much better.
What do we "know" from this information?
1. The date you were likely infected: within a couple of days of June 5th (The time from COVID exposure to illness — the incubation period — averages 5-6 days).
2. When you were likely infectious (could have spread it to others): around June 8th-13th (but extending forward for 9-10 days from the 8th).
3. When you become non-infectious: around June 18th, but to be safe you should isolate until at least the 24th (14 days after symptoms started, taking into account not only the averages but adding a margin of safety because not every infection behaves the same).
Your date of onset goes on our daily epidemic curve. We ask, "in what direction the curve is moving and how fast?" The answers inform our advice about controlling transmission.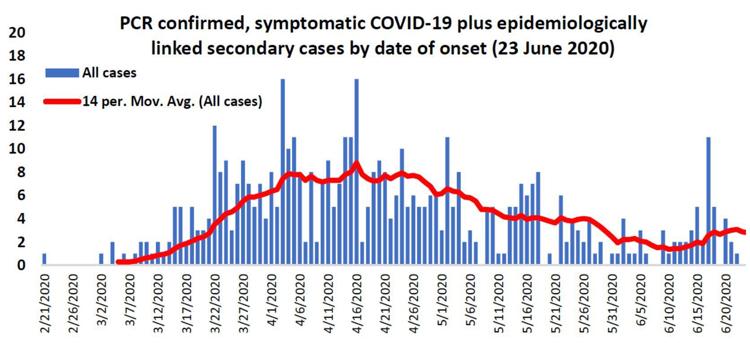 As the 14-day moving average of cases evolves, we are seeing the effects from events 7-14 days past. Our epidemic curve began descending after the April peak. It flattened in early June, and we are concerned that since around June 12th there is evidence of an early surge with an upward inflection of the curve.
We use only infections causing illness because we know that the PCR test can be positive for weeks and even months after recovery or in patients who never had symptoms. Confining ourselves to those with symptoms lets us estimate when the infection was transmitted. 
By understanding these recent infections, we can examine the relation between transmission and other events in the community that influence the spread of the virus. Examples are steps like reopening of restaurants and bars, places of worship and other mass gatherings that are being associated with surges around the country. We look for patterns and make recommendations to the community to control spread of the virus.
We need to remain ahead of the health system capacity measures we follow (admissions for COVID and suspected COVID, ICU admissions for COVID, patients on ventilators for COVID, levels of unused capacity of those services and critical supplies and personnel). The epidemic curve acts as our early warning since severe illness occurs with a lag into the second week after symptoms and the need for intensive care rises later in the second week and beyond. 
This "population surveillance" is the foundation of what we do.  It is not the raw number of positive swabs or the date of testing that informs our responses, but trends evolving in time with our inferences about when infections were transmitted.  We know that every case counted represents several infections in the community and that their absolute count is less informative than the trend. 
Our numbers will always be different from those posted on alternative data sources, because we are filtering them with the additional information provided by interviewing and estimating dates of onset. Other reports are generally confined to the dates of positive tests, absent the clinical detail we use to give advice.
If you access testing reports online or hear them from the media, you need to know what's being counted or their meaning is obscured. Be critical, and remember to wash your hands a lot, stay 6 feet apart and wear a mask when it's difficult to maintain that distance.
Louis M. Katz, MD, is medical director of the Scott County Health Department.
Catch the latest in Opinion
Get opinion pieces, letters and editorials sent directly to your inbox weekly!