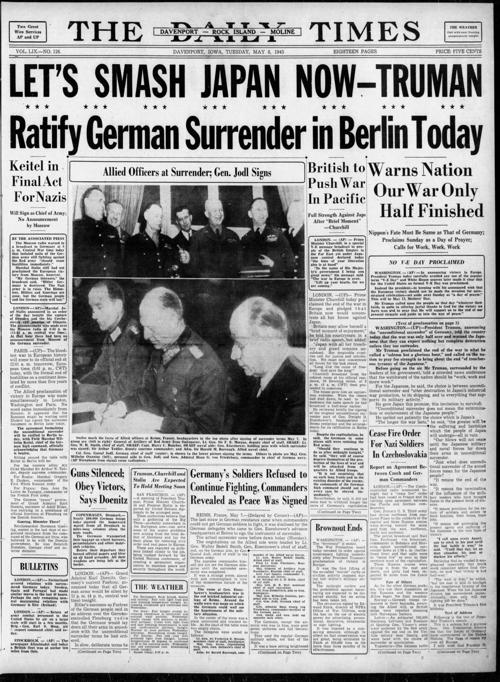 On April 4, 1954, this newspaper ran a headline, "No you aren't color blind: Arsenal's black squirrels are migrating." The story reported that black squirrels had crossed the ice over the winter and were being seen, for the first time, off Arsenal Island in Moline and into McClellan Heights in Davenport.
On the same page, a reporter wrote about an effort to clean up trash in Rock Island where garbage was waist deep in some alleys. Rock Island's Assistant Health Officer Bill Holland was touring the worst of it and giving residents 72 hours to clean up.
Other headlines let readers know that five children had been placed in the Annie Wittenmyer Home by court order and President Eisenhower was working hard on a speech he would give the following day to help ease American's fears and how to live "without hysteria in a Communist-endangered world."
I stumbled on that page – just a random page inside the B section of the Sunday paper in 1954 – while I explored our new digital archives. For months, we have been digitizing every paper published by this newspaper – in all its iterations – since 1855. Every single page that ran through our press from 1855 to 2009 is now online at qctimes.com/archives
It's searchable by date, name or topic. And there are features within this new database that allow you to "clip" articles and save them, print them, or save them to your Ancestry page.
I was actually a little drunk with excitement as I typed in search terms and saw how easy it was to access all the history of this place, to answer any question I could dream up about the Quad-Cities. I looked up the real estate listing for my house in 1933 in the Classified section. I looked up the 1893 Chicago World's Fair (called the World's Columbian Exposition) and saw ads for tickets and the Rock Island train to get there.
I couldn't believe how easy it was.
As a journalist, I've spent many an hour moving the wheel of the microfiche machine and putting in 10 cents to have a page printed.
As a descendent of Czech immigrants, curious about family history, I walked into the basement of the Natrona County Courthouse and had them pull the deeds for the cattle ranch where my great grandparents settled in Wyoming. We ordered copies of the ship manifests from Galveston, Texas, and Baltimore, Maryland, where they came over. And we knocked on the door of an elderly neighbor out in rural Wyoming to ask her for her memories. There's adventure to be had in musty basements full of documents and conversations over strong coffee. But, there's also an adrenaline rush to be had from sitting at home with a keyboard, following the crumbs through the easily searched archives of a newspaper. We've published deeds, births, deaths, weddings and arrests, since the presses first started rolling.
When I was done reading about black squirrels migrating off Arsenal Island, I clicked on a section of our new archive called "Clippings." This shows you what articles people have been clipping from this paper. I saw a lot of obituaries and other family history related articles, but I also saw a story about the Palmer family getting their permit to visit Tut's tomb from the March 28, 1925, edition, and a little note on Dec. 30, 1924, to readers that Dr. and Mrs. B.J. Palmer sent a cable message to G.H. Ficke to let everyone know they arrived safely in Singapore.
This project has been months in the making thanks for hard work by our librarian Roy Booker and a partnership with Newspapers.com that hosts digital archives. I'm proud to announce it and getting more than my fair share of enjoyment from using it.
If you're interested in trying it out, there's a seven-day free trial. After that, it's $7.95/month or $29.95 for six months. Check it out at qctimes.com/archives and enjoy the discoveries.
Catch the latest in Opinion
Get opinion pieces, letters and editorials sent directly to your inbox weekly!