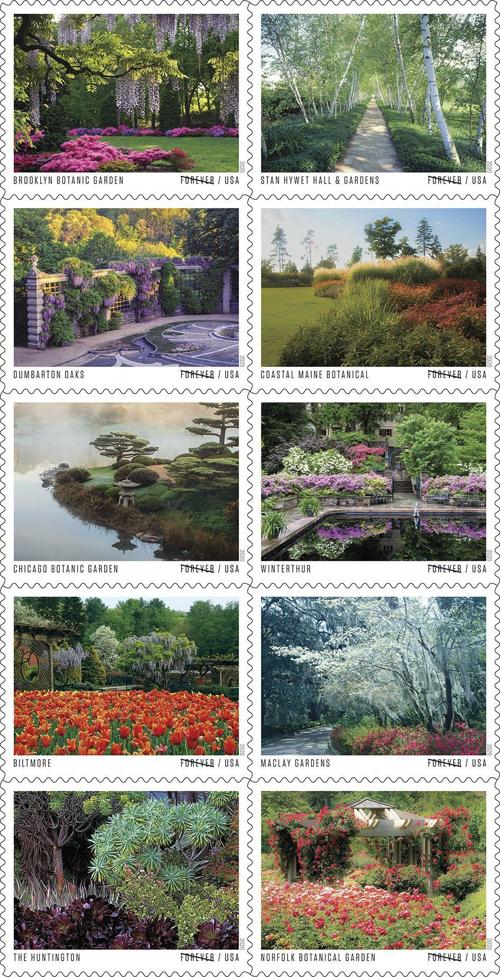 By now you all know that I like postage stamps, and the latest group to catch my attention is a set called American Gardens, featuring 10 botanical gardens throughout the country.
As I read the names, I realized that most were foreign to me. I had heard of only four of them.
So, I decided I'd look them up and share with you what I found, in case you're ever in one of those areas and would like to visit.
I discovered right off that most began as the estates of rich people, such as Biltmore in Asheville, North Carolina, built by a Vanderbilt, or Winterthur in Delaware, built by a du Pont.
Four, though, are public gardens and one, the Coastal Maine Botanical Gardens, in Boothbay, Maine, was started in 1996 by a grassroots organization of residents.
This reminded me very much of how our own Quad-City Botanical Center in Rock Island got its start in the 1980s when five members of the Rock Island Horticulture Club decided that it would be nice to build a larger, handicapped accessible conservatory in Longview Park.
Some 14 years later, after many twists and turns, the center opened in 1998 in Rock Island on the site of a former factory whose history began with the Weyerhaeuser lumber family. 
A news release accompanying the stamps explains that "the love of gardening stretches back to the earliest years of our country, inspiring George Washington, Thomas Jefferson, and other Founding Fathers to plant some of America's most iconic colonial-era gardens."
That our forefathers planted flowers — and talked about them at length to each other — was something I didn't fully understand until last year.
That's when I read a book titled "Founding Gardeners: The Revolutionary Generation, Nature, and the Shaping of the American Nation," by Andrea Wulf, a selection of River Action Inc.'s environmental book club.
Who would have known, or thought to write such a book?
It was about how Washington, Jefferson, John Adams and James Madison were really into plants and gardens. They talked about them, toured them and planted them themselves. (Or, more correctly, had them planted by someone else, often slaves.)
But the message was that gardens consumed a large part of these men's lives. Is there ANYONE today who thinks like this? Who obsesses over plants and gardens as they did? Certainly not politicians.
A key point the author makes is that nature and natural beauty became a part of our national identity, a source of national pride. Europe had buildings, the arts and ancient writings. We had natural beauty; we had "purple-mountain majesty." 
Every year, millions of Americans visit gardens, public and private.
Among them are three in our own area — the aforementioned Quad-City Botanical Center, plus the Bickelhaupt Arboretum in Clinton and  Vander Veer Botanical Park in Davenport.
The Butterworth Center and Deere-Wiman House, both historic Deere family homes in Moline, also have gardens, as does Longview Park in Rock Island and Riverside Park, Moline.
Today as we focus on the Quad-City Botanical Center and its upcoming Art in the Garden event, we also have stories inside about other gardens, near and far.