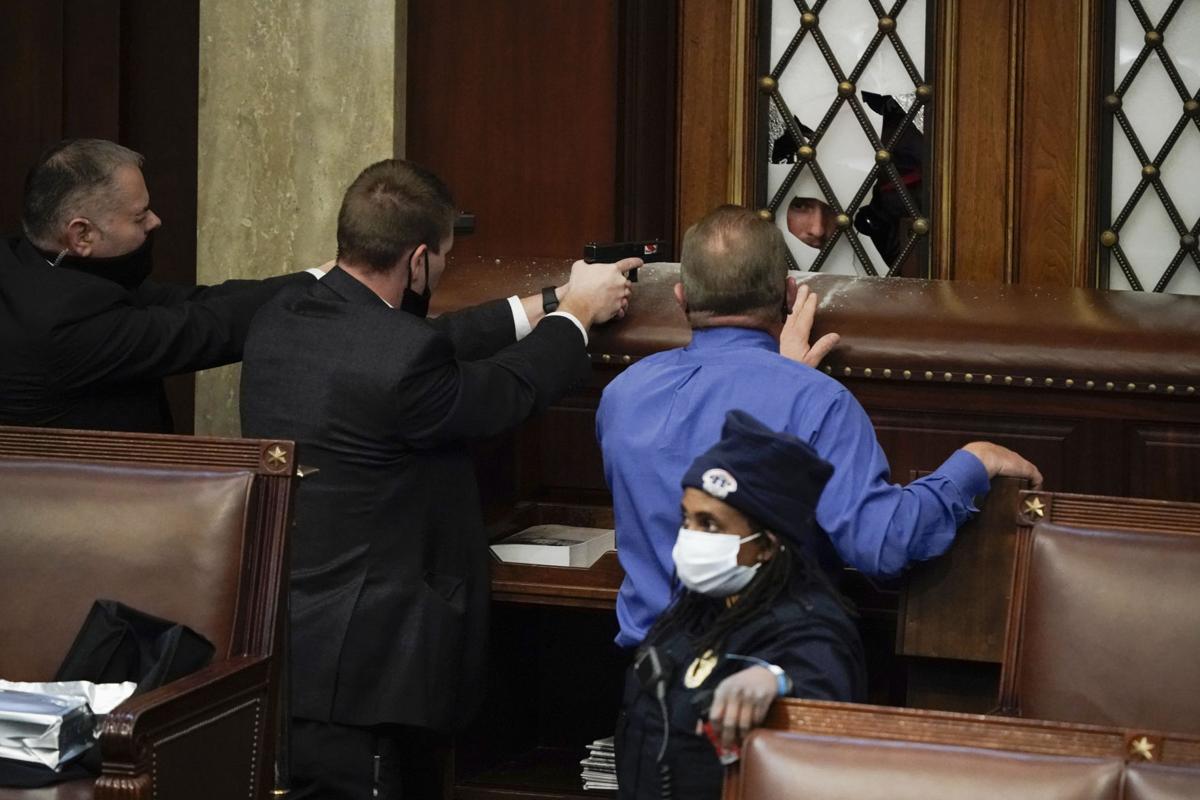 What we witnessed at the U.S. Capitol in Washington, D.C., on Wednesday sickened us.
It should sicken all Americans, and it should anger us.
Supporters of President Trump stormed the Capitol, forcing lawmakers who were just beginning to count the electoral votes from the 2020 election to flee in fear; to don gas masks and hide, fearful that they would be targeted by their fellow Americans.
There were gunshots in our capitol, and reports that a woman was killed; there were violent attacks on capitol police. The National Guard was called, and police forces from Maryland and Virginia said they were responding to try to quell the violence and restore order.
We saw video of members of Congress hiding in the balcony of their chambers, with shouts of "stay down, stay down" ringing out. The images of security officers inside the House chamber, with guns drawn and pointed, as rioters raged outside was appalling.
From his office, Rep. Mike Gallagher, a Wisconsin Republican, Trump supporter and Marine veteran, posted a video stating, "this is banana republic crap." He begged the president to "call this off."
The condemnation of the violence by members of Congress was bi-partisan.
In our own area, Republicans and Democrats were clear. Consider the words of three of our representatives, all of them veterans:
Rep. Mariannette Miller-Meeks, R-Iowa, tweeted, "you can protest and be peaceful. Storming government buildings and attacking law enforcement officers is unacceptable."
Sen. Joni Ernst, R-Iowa, tweeted, "What's happening at the Capitol right now is not peaceful nor a protest. It's anarchy, & a betrayal of the American ideals we all hold dear."
Sen. Tammy Duckworth, D-Illinois, called the violence "shameful." At the same time, she added, "I will not be scared away from carrying out my duties."
As we were writing this, we weren't sure when Congress would again take up the counting of electoral votes, though there were reports that lawmakers would begin again last evening. Whatever the timing, there is no doubt about the result. Joe Biden will be the 46th president of the United States. He will be inaugurated on Jan. 20. Of this there is no doubt.
Still, we worry about the days ahead.
President-elect Biden called Wednesday's violence an "assault on the citadel of liberty." But he also said that these were the actions of a "small number of extremists."
We have to believe this is the case. This must be the case.
We know there are large number of Americans who believe Trump when he falsely declares, as he did again on Wednesday, that the election was stolen from him. Still, we do not believe the vast majority of our fellow Americans could in any way support this violence and lawlessness at the heart of our republic.
We believe most Americans are committed to the peaceful transfer of power, even if some are not happy about the outcome.
We hope that what we saw Wednesday was an aberration, but as the president-elect said, "democracy is fragile" and it requires "people of good will" to maintain it.
Our freedoms, as we have seen, are fragile. But we are a people of goodwill. It was just yesterday, on these pages, that we expressed our hope that in the new year people will focus on what unites us rather than on what divides us.
We renew that call now. What we saw yesterday was heart-breaking; it was gut-wrenching to watch. The perpetrators should be brought to justice, and all Americans should dedicate themselves to ensuring that it never happens again.