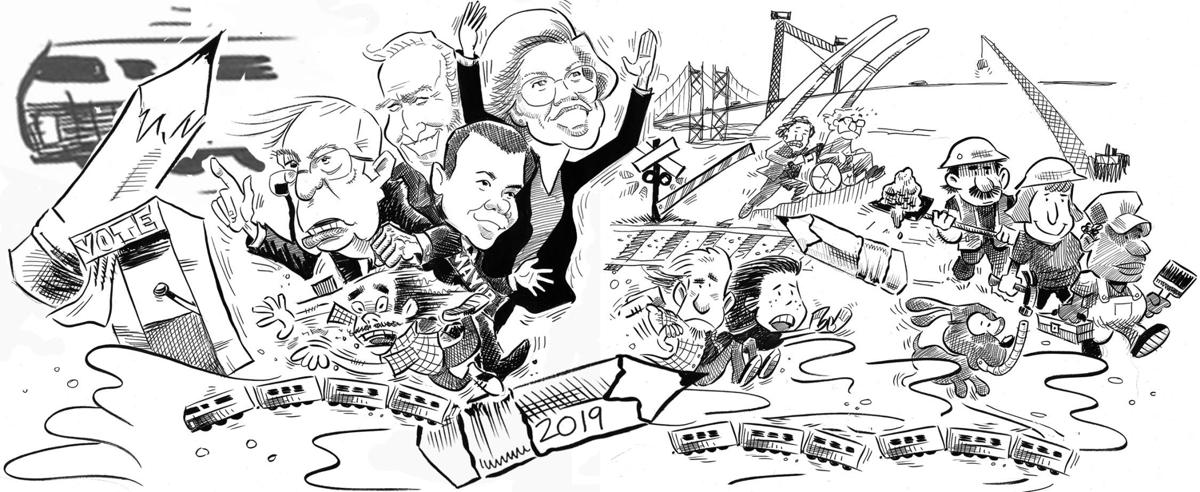 With 2019 drawing to a close, it's only natural to think about the 12 months that have passed – what we've accomplished and what is left undone.
In the Quad-Cities, we have seen progress on a range of projects,big and small, which we believe are important to our community. Still, we have to confess, some of the goals we had for the year are either idling or moving in slow gear.
That may be the nature of things. Seldom do we accomplish goals in one fell swoop. Whether it's a home improvement project or a civic priority, slow and steady steps forward are often what's required to meet a goal.
Recall, a year ago this editorial board published our hopes for 2019. So it seems appropriate as the year draws to a close to offer a progress report:
• Our wish for a more prosperous year has, to some extent, been granted. The Quad-Cities' unemployment rate in 2019 has dipped and more people are holding down jobs. The labor force grew. Median wages, the data for which lag a year behind, also were rising. However, too many people still are in poverty. The latest local figures, also a year behind, say about 3,000 more people were below the poverty line than the year before.
• A year ago, construction on the new Interstate-74 bridge mostly centered on concrete piers. What a change the last 12 months have brought! The signature basket-handle arches are clearly rising, and some road surfaces are in place. Unfortunately, the construction schedule has fallen a year behind as weather and design difficulties have affected the project. Let's hope that some of that time is made up in 2020.
• Rock Island County has hired a broker to market the financially ailing Hope Creek Care Center. However, the facility remains in county hands – and, partially as a result, officials still are struggling to make their budget work.
You have free articles remaining.
• A year ago, we were hoping there would be concrete steps taken to improve Davenport's riverfront. Little did we know a few months later it would be submerged by flooding. We're happy to see progress on the flex lot, but we know the larger issue on the horizon is long-term flood protection. We also were dismayed to see the Canadian Pacific Railway raise its tracks, which erects yet another obstacle to riverfront development.
• A year ago, we were still waiting for the Davenport School District to pick a new superintendent. Well, Robert Kobylski is now on board. Credentialing issues delayed his start date, but we're happy to see the district has a new administrative leader. We look forward to seeing what the next year brings.
• Nine years after $230 million in federal funds were set aside for a passenger rail connection to the Quad-Cities, we're still waiting for substantive construction to begin. Still, Illinois Gov. JB Pritzker included the project in his capital plan, and the federal government is maintaining $177 million for the project.
• The idea of four-year terms at Davenport City Hall, which would replace the current two-year terms, got a lot of support from candidates on the campaign trail in 2019. But so far nobody has picked up the ball to run with it.
• The Elm Street bridge in Davenport is still closed. The Canadian Pacific turned it over to the city, along with $1 million. But the city still is seeking grants to fix the thing.
• We saw a mixed bag in 2019 when it came to participation in local elections. There was a flood of candidates in some school and municipal elections in Iowa, especially for posts on the Davenport School Board. However, fewer people stepped up to compete in many Illinois districts.
• A year ago, we also had hopes for a meaningful presidential campaign in advance of the Iowa caucuses, which are about a month away. We saw that happen, as a large number of candidates have come to the Quad-Cities to talk about health care, climate change and a host of other issues. There still are more than a dozen candidates in the race, and we've been impressed with the seriousness they've brought to the task.
Next week, we plan to offer our hopes for 2020. Undoubtedly, some of our goals for 2019 will be a priority next year, too. But like that home improvement project that finally gets done after months of steady work, perhaps some of these civic goals also will come to fruition.