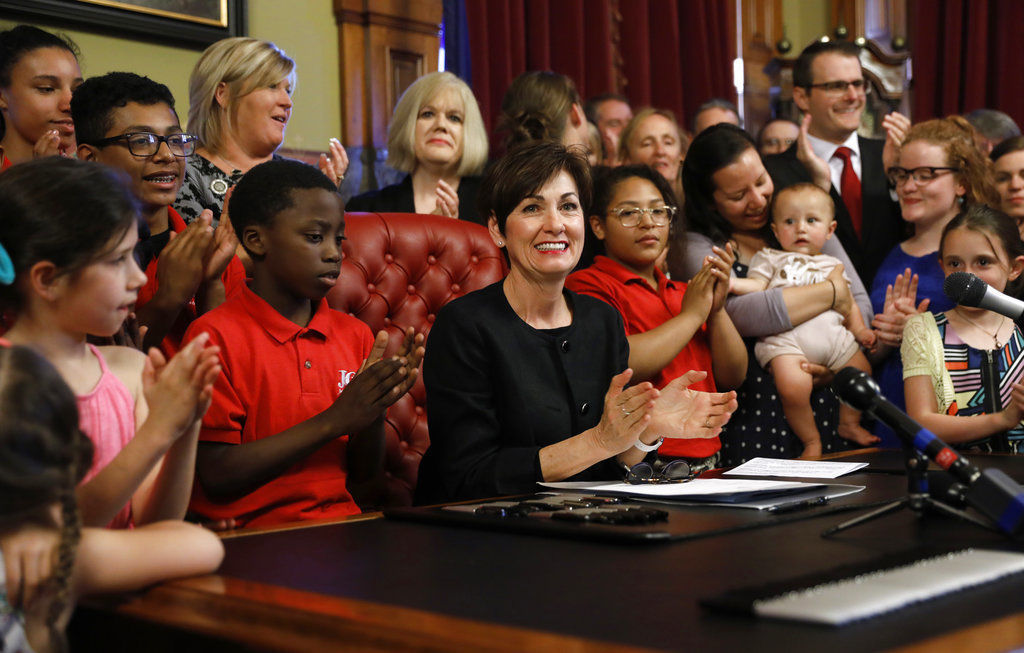 Iowa out-Mississippied Mississippi. 
There's nothing nice nor pragmatic — let alone fiscally conservative — about the outlandish "fetal heartbeat" anti-abortion bill Republicans jammed through Iowa Legislature this past week. It's a cynical, intentionally unconstitutional act that would throw already depleted state funds at losing court cases. It would exacerbate further Iowa's brain drain, by threatening accreditation at the University of Iowa medical school. 
The fetal heartbeat bill is, in every way, the antithesis to how Iowa loves to characterize itself.
It's nasty. It's ill conceived. It's a violation of the oath of office taken by every lawmaker who supported it. 
It's fundamentally irresponsible, regardless of one's moral position.
And on that fact alone, Gov. Kim Reynolds should have vetoed it. She signed it Friday. 
The fetal heartbeat bill is perhaps the most severe crackdown on abortion rights in the U.S. It's modeled off bills passed this year in Kentucky and Mississippi, but even those attacks on abortion rights pale in comparison, because they restrict abortions after 11 and 15 weeks, respectively. In most instances, a fetal heartbeat is detectable about six weeks into a pregnancy, often before most women realize they're pregnant.
You have free articles remaining.
The legislation is clearly unconstitutional based on well established precedent. And not only do its GOP supporters know it — that's the entire point.  
The bills's backers admitted as much Wednesday morning during debate on the Iowa Senate floor. Iowa's getting played by national interests seeking to overturn Roe v. Wade abortion protections. The legislation's supporters wager freshly appointed Supreme Court Judge Neil Gorsuch will stick by them. They're counting on the death or retirement of Justices Stephen Breyer, Anthony Kennedy or Ruth Bader Ginsburg to provide social conservatives a generation-long 6-3 grip over the Supreme Court. 
Only Republicans can nominate Supreme Court justices, remember. At least, that's the obvious position of Iowan and Senate Judiciary Chairman Chuck Grassley. 
It's pointless to argue about highly subjective elements, such as when a fetus becomes a person. These are, in many ways, matters of personal morality. Such arguments tend to go nowhere nor change minds. However, it should be said that shoving a narrow religious viewpoint down Iowa's throat belies the very tenets of a secular representative government. 
But the fact that Iowa — long a bastion of pragmatism — is willing to pour millions into protracted legal battles in district and appellate courts suggests that the state's common-sense identity is a thing of the past. The rampant irrationality is especially on display whenever anything abortion related is the topic of the day. In 2017, the GOP-run Legislature defunded Planned Parenthood and, unsurprisingly, statewide participation in family planning services tanked. And now, lawmakers are kicking around a budget that would make grants for sex education — the most viable method of keeping abortion rates low — unavailable to the organization. 
The entire 2018 legislative session, in fact, has focused on fundamentally irresponsible, ideologically driven dogma. The tax cut deal, announced late last month, will only exacerbate pre-existing budgetary shortfalls, to the tune of $2.1 billion over the next six years. Expect more mid-cycle cuts. Expect inflation to continue to outpace hikes in education spending. Expect more tuition hikes at Iowa's public universities. Expect erosion of the safety net. Expect continued unnecessary budgetary panic under the pretense of economic growth that never comes. 
Iowa is already broke. The pending tax deal — and, now, the fetal heartbeat bill, which will cost the state millions in losing court battles — ensures a self-fulfilling prophecy of dwindling revenue begetting continued cuts to state programs. 
And, throughout, Iowa would spend those finite funds challenging an established constitutional right of half its population. It would dump millions into a ridiculous effort prompted by groups that see Iowa as nothing but a tool and a bank account.
So much for "Iowa nice." Perhaps "Iowa gullible" is more apt. 
Local editorials represent the opinion of the Quad-City Times editorial board, which consists of Publisher Deb Anselm, Executive Editor Matt Christensen, Editorial Page Editor Jon Alexander, Associate Editor Bill Wundram and community representative John Wetzel.