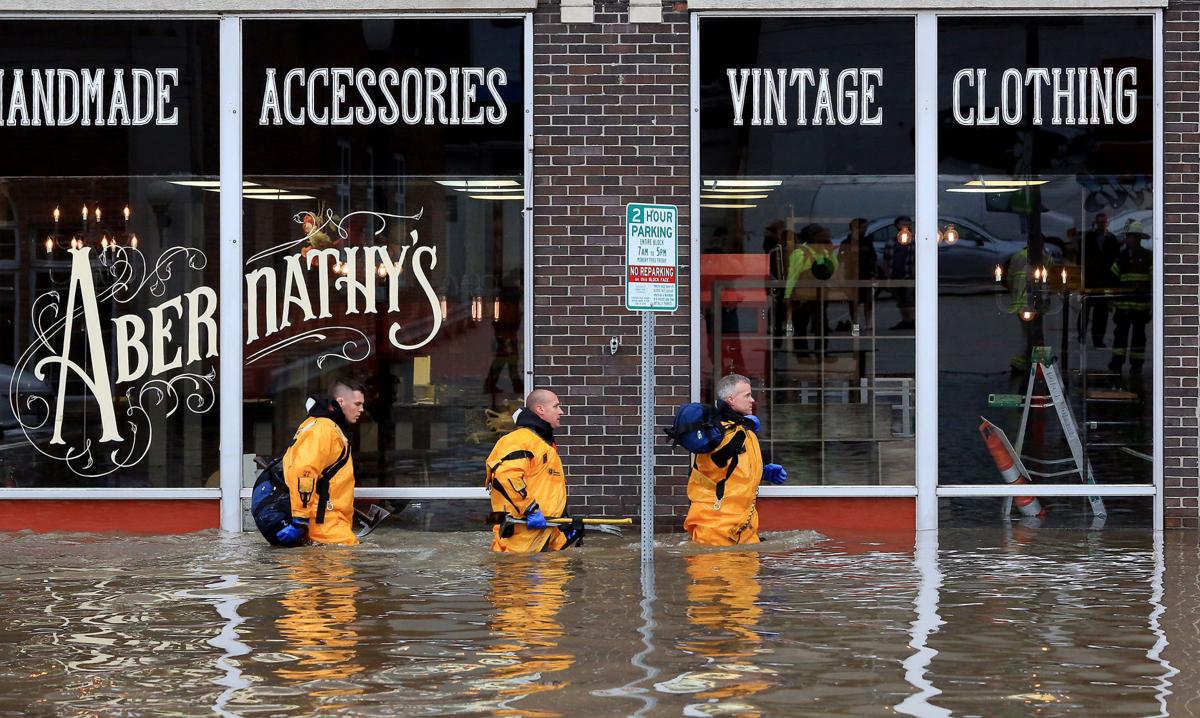 For decades, the Mississippi River has all too often flooded downtown Davenport and other parts of the city, in many cases inflicting disastrous results.
Some of us can rattle off the years quite easily: 1965, 1993, 2001 – 2019. There were several other floods, of course. According to the city, there were 18 floods since 1878 that reached the 22-foot river stage; seven of them occurring over the last 20 years.
After each flood, the city invariably studies how it can improve, how it can better defend itself. And, over the years, Davenport has gotten better at its flood-fighting capability. There were even several years when some thought we had the problem mostly under control; when the deployment of structural, albeit temporary, defenses along with other techniques, were sufficient to the risk.
We even got national attention for the efforts.
Then came the flood of 2019, when a part of that structural solution collapsed and portion of the city's downtown was inundated. Flood stage reached 22.7 feet, a record.
So, here we are with yet another study, pointing another possible path toward the future.
As reported in this newspaper, a consulting group retained by the city has offered a set of draft recommendations, revealed last week, on structural solutions to deal with flooding from the Village of East Davenport to the western reaches of the city.
It is not cheap – the price tag ranges from $100 million to $150 million. Nor is it simple. The multifaceted plan suggests a range of solutions varying in scope depending on the part of the city in which they're employed. The plan includes such things as underground sewer improvements, pump stations, raised roads, berms and flood walls.
After more than a year of seeking public and stakeholder input, the city is opening up the plan to another public comment period, through Sept. 15. Go to the city's web site to weigh in.
These are far-reaching ideas, and while the city seeks to balance the goals of lasting flood protection with continued access to the riverfront, undoubtedly some of these ideas will meet resistance. Some will believe they do too much; others, not enough.
This is Davenport, after all.
Our own view is this: We believe this is a very good start to what will be a long road ahead. The construction timelines mentioned in this plan, particularly for the more structurally intensive parts, last more than a decade. And the costs are big. Even with federal and state funds, the price tag will weigh on local taxpayers.
Still, we think back to the 2019 floods – and to the resolve that so many expressed back then that the time had finally come to dedicate ourselves to a long-lasting solution that would allow us to experience our riverfront and protect homeowners and businesses, from border to border. And with the clear evidence of a changing climate, and the increasing risk and intensity of flooding and rainfall, the need for that greater level of protection seems all the more important.
We have yet to see exactly what some of these protective measures would look like – and how they would be paid for.
In a 22-minute video, the drafters of this plan said the long-term implementation and funding of these strategies are yet to come. They acknowledge this is the "heartbeat" of the plan.
Still, the draft recommendations strike us as well-thought out and comprehensive. We do worry about the future risks of a 22-foot flood stage threshold, but we also acknowledge that going higher means significantly greater costs, which already are daunting, and entail a far more extensive set of berms and flood walls.
We only hope it is the beginning of an endeavor that will provide the kind of long-lasting resiliency that so many of us said two years ago we wanted.
In order to continue to attract business — and meet the needs of a downtown where residential development continues to grow — we must deal with this problem. But for that to happen, it will require a commitment that will extend for years, perhaps decades, across multiple city councils and mayors. And the only way for that to happen is for the public to demand it.