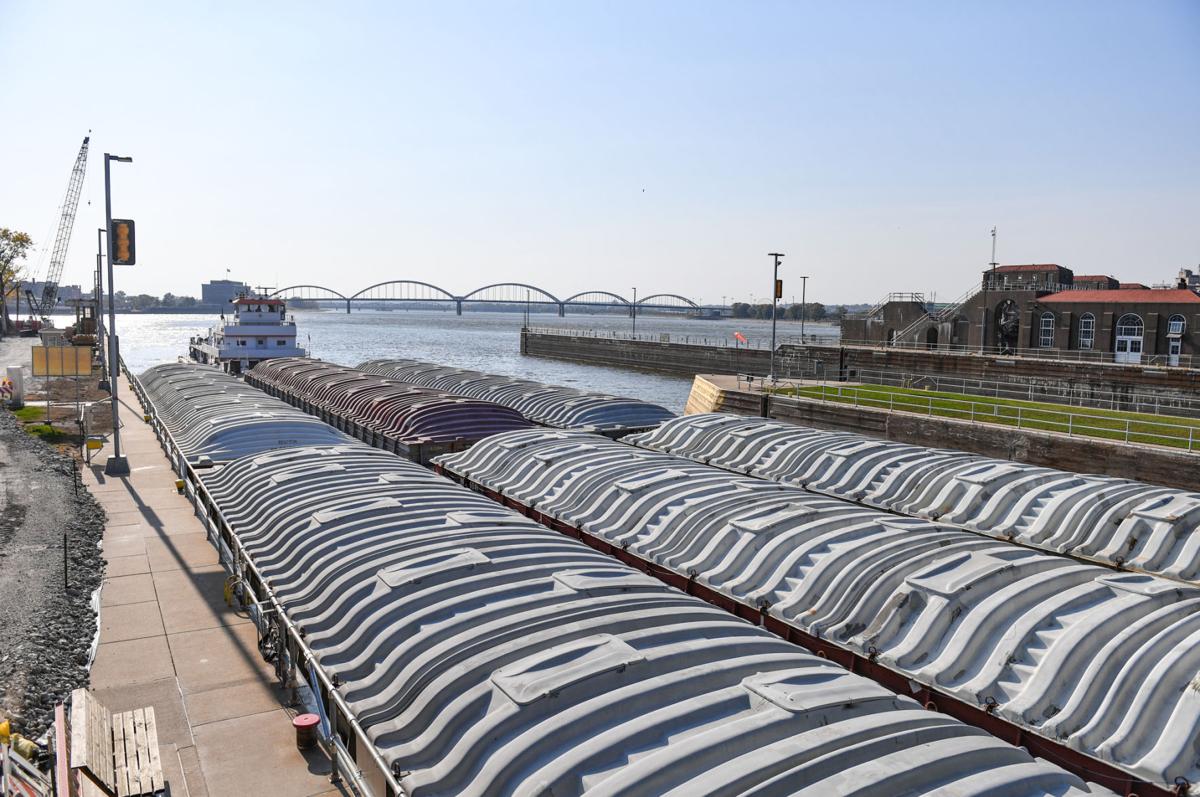 About a week ago, U.S. Reps. Cheri Bustos, D-Illinois, and Ashley Hinson, R-Iowa, announced that they had secured preliminary passage of $22.5 million to go toward a key Mississippi River lock near St. Louis.
In the grand scheme of things, it wasn't earth-shattering news. The full Congress still must approve, and the president must sign. Besides, the money, which officials say would likely be used for construction at the lock, would be just a small down payment on the $600 million likely needed to actually upgrade the lock to meet modern barge standards. And this is just one of several locks advocates say need modernizing in order to make the shipping of grain and other materials along the river more efficient.
Still, it was progress of a sort.
In the 14 years since Congress authorized an $8 billion plan (formally known by the acronym NESP) to upgrade locks and dams and fund ecosystem restoration projects on the Upper Mississippi River system, Congress has only parceled out a fraction of the money. So we understand the skepticism of Benton County farmer Lance Lillibridge, who told the The (Cedar Rapids) Gazette: "I'd love to tell you that I'm encouraged ... but we've been listening to this song-and-dance for how many years? It's been blah, blah, blah. Show me the money."
We're pretty familiar with the Navigation Ecosystem Sustainability Program (NESP) in the Quad-Cities. Its origins, as many in this area know, go back decades. And while Congress formally authorized NESP in 2007, relatively little money has been spent on it. Which is why the Bustos/Hinson announcement turned some heads.
But nobody should get too worked up, because it's still a relatively small amount of funding given the plan's ambitious scope. Without a lot more, the bulk of the projects outlined in NESP will continue to exist only on paper.
Which brings us to the infrastructure talks going on in Washington, D.C.
A month ago, the White House and a bipartisan group of senators reached agreement on the framework for a $579 billion plan that included $16 billion for ports and waterways – an amount one longtime observer of the attempt to upgrade the lock and dam system on the Mississippi River called a "meaningful investment."
That investment still needs to be fleshed out, but it holds real potential for expanding locks.
In other words, farmers and others who are tired of "blah, blah, blah" should push hard for passage of this package.
Unfortunately, it's bogged down in politics.
For three months, a couple dozen Democrats and Republicans in the Senate have been negotiating on a deal. And there has been progress. Democrats have trimmed their original spending request significantly.
Yes, some of the money they'd initially sought didn't qualify as traditional infrastructure, but they've still backed off their original plan quite a bit, much to the consternation of the liberal wing of their party. Unfortunately, getting to a deal was made more difficult by Republicans fighting a White House plan to help pay for the package by forcing wealthy tax dodgers to pay their fair share. (Democrats eventually gave in and excised the idea from discussions).
It is likely the Democrats will push this plan forward in a different bill, but it is maddening how such a common-sense approach to covering a chunk of these infrastructure costs — and thus preventing a further rise in the federal debt —  could be shelved. (It is worth noting this is a requirement that never seems to be applied to tax cuts.)
Negotiators say they may have a deal this week. We hope so. If there is going to be real movement on expanding locks along the Mississippi River (not to mention roads, bridges, broadband and other infrastructure needs), at some point lawmakers will have to approve something.
We want to see a bipartisan deal. But that takes two willing partners. It's time for both sides to step up.
For three decades, we've heard talk about the need to expand the lock and dam system on the Mississippi River, and we are happy to see bipartisan agreements like the one that Bustos and Hinson announced. We are told this particular funding item isn't tied to the infrastructure talks. Still, unless there is a meaningful investment in a long-term infrastructure plan, and a commitment to following through, all we may get in the future, as Lance Lillibridge so aptly put it, is more "blah, blah, blah."