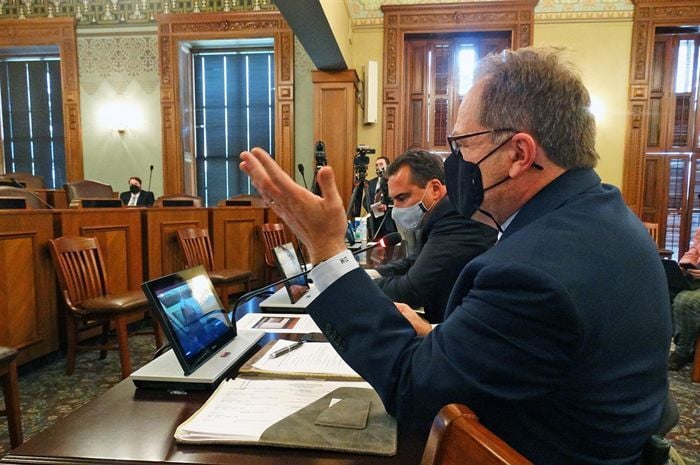 Over the past week, Quad-Citians saw a bipartisan commitment to politics as usual. They shouldn't be happy about it.
In Springfield, it was carried out by legislative Democrats. In Scott County, Republican supervisors were the practitioners.
The details in each case differ, but each share a common trait: The preference for power over inclusion.
We'll take them one at a time.
It was a week ago, on a Friday night, that Democrats in Springfield released proposed new legislative maps. Drawn up behind closed doors, the maps protect Democratic incumbents and bunch several Republican lawmakers into districts with other Republicans, forcing likely primaries. One of those Republicans is Rep. Tony McCombie.
In many places, like here, the new maps (which were tweaked a bit toward the end of this week) dramatically alters the shape of districts.
In the Quad-Cities, Sen. Neil Anderson was put in a district that no longer encompasses Rock Island, Henry, Whiteside and Carroll counties. Instead, the district stretches from Andalusia, where Anderson lives, and sweeps so far to the south it goes past Rushville before swinging up toward the Peoria area.
The map also creates a new Senate district that includes the greater Quad-Cities, along with a swath of territory to the south. To the naked eye, it looks like a great pickup opportunity for Democrats, which we suppose was probably the point.
This editorial board has long advocated that independent bodies do the once-per-decade redistricting, much like they do in Iowa. But rather than take a chance on losing control of the process, Democrats forged ahead. They used flawed data that good government and minority groups repeatedly urged them to reject because the figures aren't as reliable when applied to localized areas, especially for vulnerable populations.
In addition, lawmakers barely gave the public any input. The result is a map that will only deepen public cynicism.
Gov. JB Pritzker, who has said he would veto an unfair map, should do so. We know he won't, but he should.
Meanwhile, on the other side of the river, Republicans on the Scott County Board of Supervisors were practicing their own version of power politics. The Republican majority appointed former Davenport City Council member Kerri Tompkins to be the new county auditor. She is replacing Roxanna Moritz, a Democrat who retired in April, five months after being re-elected in 2020.
Tompkins will serve until the next general election in 2022 unless Democrats are successful in their effort to get the nearly 9,300 signatures required for a special election. We hope they are successful, but it's a tall order. When Republicans were faced with a similar prospect in 2008, they didn't even get half the needed signatures.
We wish Republicans on the board had chosen to hold an election to fill this seat.
We believe elections are better than appointments, no matter the party in power.
The law certainly allowed the board to call for an election, but majority Republicans rejected that idea.
In choosing to exercise their clout, Supervisors Tony Knobbe, Ken Beck and John Maxwell maintained a county tradition. They rejected the idea that voters should make this choice, deciding instead to substitute their own judgment; to flex their political muscle.
We've seen it before. Democrats have done the same thing in the past. In 2008, a Democrat-controlled vacancy panel appointed Democrat Jeff Liske to the county board to replace Moritz, who left the board after winning election as auditor.
In both parties, facing similar circumstances, when faced with the choice whether to hold an election or exercise power, the lure of partisan advantage has superseded letting voters in on the decision.
Yes, we heard the explanation from Republicans this time that this is what voters elect supervisors to do, to make the tough decisions.
It's a point of view, we suppose. And we'll just toss it onto the pile of similar excuses we've heard over the years from other officials in positions of power who tried to explain why involving the public just wasn't the right call.
In our business, we hear from candidates for office all the time. They frequently talk about listening to the people and pledge that, once elected, they'll represent them all, not just those in their party. In cases like these, rarely do they follow through.
The fact is, when it comes to choosing between power and elections, politicians will always choose power – until the public holds them accountable for it; until voters ensure that their representatives, no matter the party, choose inclusion over clout.
Only then will traditions in Springfield and Scott County change.