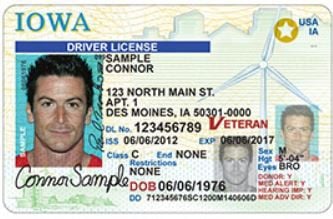 Over the past few weeks, we have seen a number of news stories reporting the increase in people who are showing up at driver's license bureaus looking to get a Real ID.
In some Chicago-area bureaus, we've seen reports of lines going out the door. And one survey says that most Americans don't even know about the requirements.
It's an enhanced-security identification that will pertain to people who want to fly or enter federal facilities, such as courthouses or military bases; it also will be required to enter nuclear plants.
The IDs themselves are notable for the gold stars in the upper right-hand corner.
A U.S. Travel Association survey says that 40 percent of Americans don't have Real ID or the other kind of documentation necessary to board a flight. In addition, 57 percent of Americans don't know that driver's licenses that don't meet the additional security requirements won't be able to board flights, according to the survey.
The good news is that it won't be until Oct. 1, 2020, before these enhanced security requirements go into effect.
The bad news is that, in some places, people are flocking to driver's license bureaus to get Real IDs and are having to wait in lines.
So far, that isn't the case in the Quad-Cities. The Illinois Secretary of State's office tells us its facility in Silvis has seen some increase in traffic but it's been manageable. We've visited over the past week, and while we found the office to be busy, it wasn't overly so. From March through the first week of November, about 6,000 Real IDs have been issued at the facility, according to the state.
You have free articles remaining.
An Iowa Department of Transportation official says facilities in the state are busier, but it's nothing they haven't been able to handle. But, then, Iowa has been issuing Real IDs since 2013, too. The state also tells us it has been ramping up its communication to residents about the issue.
These new requirements stem from a 2005 federal law aimed at improving security in the age of terrorism. The law is also purportedly aimed at preventing things like identity theft and other types of fraud. Congress provided plenty of time for states and people to come into compliance, but the deadline is approaching.
We think the best thing people can do is be aware of the new requirements — and then determine whether they even need a Real ID. Some people will not.
Some credentials, like a passport or military identification, will be enough to board a plane.
Also, if you have no plans to fly and don't access the kind of federal facilities that require this enhanced identification, Real ID may not be needed, officials have said.
If you do decide to get a Real ID, we'd recommend not waiting until the last minute. The Illinois Secretary of State's office tells us they expect to see increased volumes as the Oct. 1, 2020, deadline approaches. We expect Iowa will see the same thing.
Also, be sure to check out the kind of documents that you need to get a Real ID before you head off to the driver's license bureau. The websites we cited above have links to sites that describe what you will need.
Even though the deadline still is nearly a year away, some travel industry experts are worried the country is ill-prepared for the new security requirements, and some have warned of a scenario where millions could be prevented from boarding flights come next year.
We hope it doesn't come to that. But every Quad-Citian can take steps to prevent that from happening. In fewer than 11 months, the requirements of the Real ID Act will be upon us. We all should educate ourselves and be prepared.
Note: A previous version of this editorial mistakenly cited the Illinois Department of Transportation, not the Secretary of State's office.