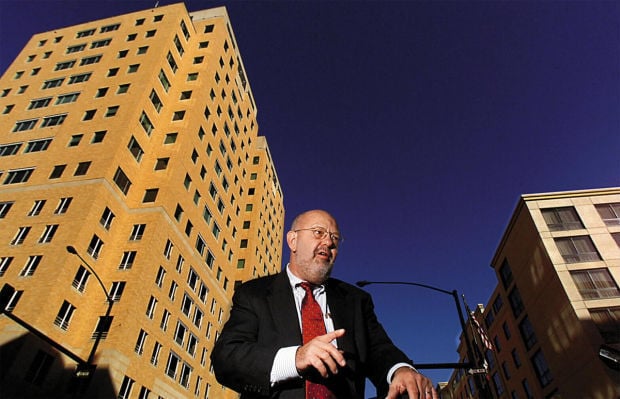 In every community, there are people who step up, who take the lead and work to carry out a vision.
They involve themselves in the public life of a community in order to make a difference. Not everybody agrees with their vision, or their methods. But those who assert themselves put not only their ideas but themselves on the line; these people could live life away from the debate, away from the controversy that often surrounds issues of public importance, but they choose not to. Each have their own reasons for stepping up, but the good ones tend to share a similar goal: They want to make their communities better.
We are grateful for all these people.
A couple weeks ago, we in the Quad-Cities lost a unique one, Don Decker.
The 81-year-old investment adviser passed away at his home in Eldridge.
On Saturday, Decker's family and friends will gather for a private celebration of the lives of Decker and his wife, Constance Ann Decker, who passed away a few weeks before him.
We pause in remembrance, too; to celebrate the leadership Decker provided in the Quad-Cities, and of his willingness to get involved and make a difference.
For many, Don Decker will be remembered as one of the leaders of the organization Rejuvenate Davenport, which played a pivotal role in changing the face of downtown Davenport.
Over several years in the late 1980s and early '90s, Rejuvenate was responsible for ridding the city's central business district of 55 buildings, including playing an important role in development of the old industrial property where the Quad-City Times now sits.
Made up of business and community leaders, Rejuvenate would cobble together funds, buy old buildings and have them torn down for redevelopment. And it was Decker, with his gruff manner, often colorful language and take-no-prisoners style, who was in many ways its inspiration.
Some people didn't agree with how the group went about its business; still, we believe the evidence shows that, at a time when the downtown was languishing, it made a difference.
So did Decker, and not just with Rejuvenate. Over more than four decades, he proved himself to be one of those rare individuals who was willing to step up, again and again, to take part in the public life of his community.
He did it in the 1970s, not long after he moved here, when he weighed in on the plan to route an expressway through the city.
His involvement continued with Rejuvenate into the 1980s and '90s.
It continued still into the 2010s, when he was an influential voice opposing the City of Davenport's proposed plan to buy the Rhythm City Casino. And into this decade, he was working on other initiatives, too.
The debates and challenges that arise in a community need the involvement of its citizens. And we believe the change that results, more often than not, is a reflection of the people who are willing to take on the tough tasks, make their voices heard, and have an impact.
Don Decker was one of those people. There won't be another quite like him. Still, we hope others in the Quad-Cities will be inspired by his example; by his willingness over all these years to step up, speak up and work to make his community a better place.