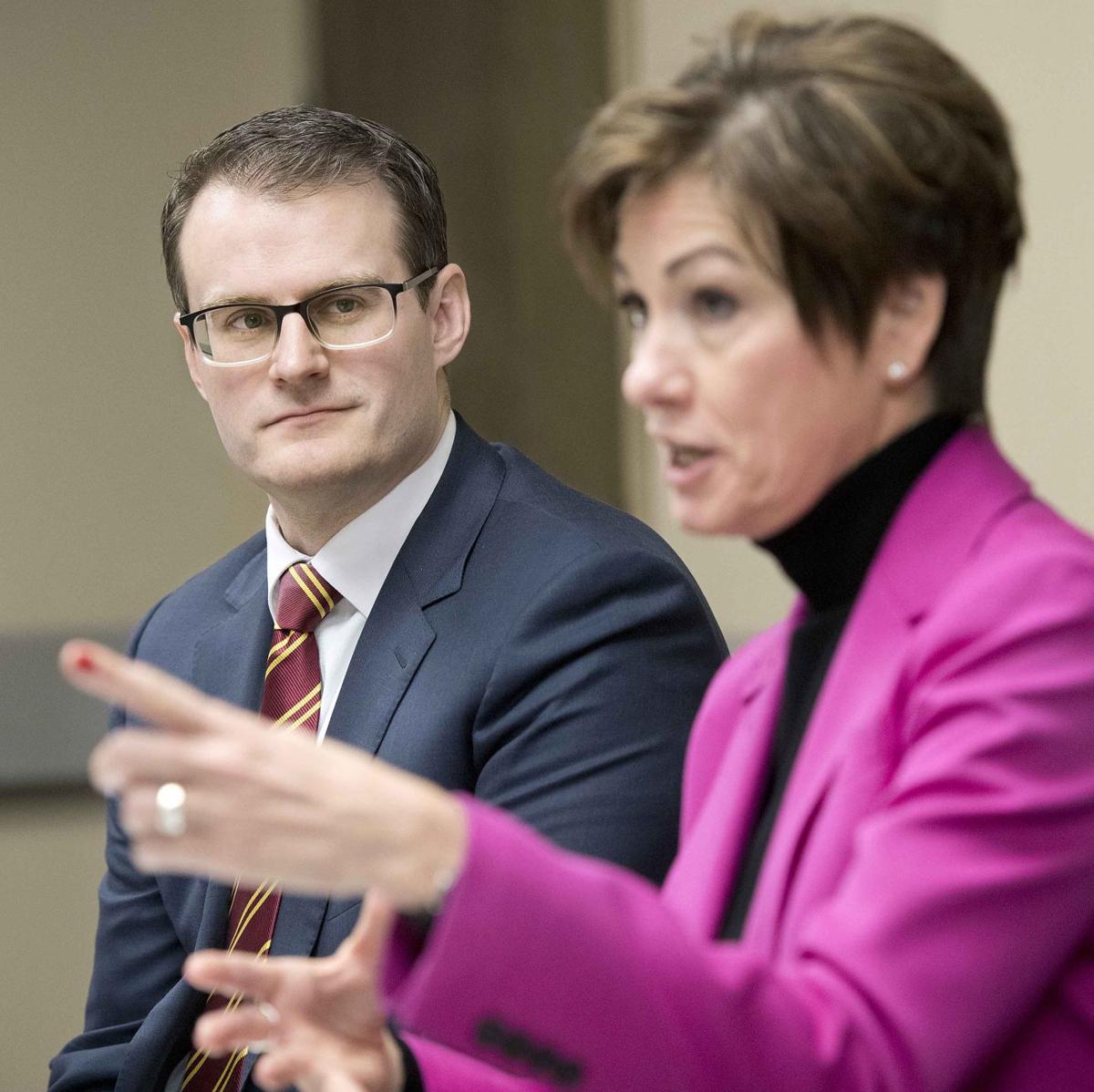 Gov. Kim Reynolds spent the past two weeks dousing her credibility with gas. And, on Tuesday, she lit a match and torched it. 
It was an uncharacteristically clumsy display from a governor who, until now, governed with a distinct aura of calm self-assurance. 
Last week's self-inflicted burn was the Iowa Finance Authority (IFA) sexual harassment scandal, where the Reynolds administration assumed  "take our word for it" could pinch hit for compliance with state transparency laws. Then, on Tuesday, Iowa's freshman Republican governor appointed her father to a state panel tasked with selecting judges. And her administration didn't even disclose the conflict of interest until, yet again, a pesky journalist started asking questions. 
Ah yes, brash nepotism was clearly the best way to re-establish trust and an air of authority. As if the questionable patronage wasn't bad enough, the intentional failure to disclose only exacerbates questions about this administration's commitment to being forthright. 
Just like the IFA mess, basic transparency — or ethical precepts — were merely an annoyance.
In the past two weeks, Reynolds herself has achieved something that Democrats have so far struggled to do: She's exposed her administration to legitimate questions about its ethical failings and basic functionality. And yet, Reynolds wants to blame those same feeble Democrats for "politicizing" an issue that arose only thanks to the her administration's flailing response. 
Two weeks ago, even Reynolds' most vehement detractors would struggle to argue that hers is a dysfunctional or unethical administration. Sure, they could gripe about policy decisions. But using terms such as "chaotic" or "tone deaf" to describe the Reynolds administration were, until now, off the table.
The Reynolds administration — perched on a foundation poured by former Gov. Terry Branstad — isn't the well oiled machine it likes to pretend to be. It's choking on its own fumes. 
The own-goaling of the past two weeks were completely unnecessary. It was nothing short of shear arrogance that Reynolds opted to name her father — without disclosure — to a state board, especially as the dumpster fire at Iowa Finance Authority still smoldered.
At the very least, the Reynolds administration has shown itself lacking any sense of optics. And, throughout this brash flouting of all that's considered standard political procedure, runs a thread of conceit. 
Reynolds is correct to presume herself the front-runner in November's election. She enjoys quasi-incumbent status and statewide name recognition. She's uncontested for the GOP's nomination. She's skilled at working a room and impressive from the stump. She's emerging from a legislative cycle that will play well with the GOP's conservative base. And Democrats are locked in a six-way race that will ultimately leave the victor bruised and with a fractured party. 
Reynolds enjoyed a seven-point lead over whomever emerges from the June 5 Democratic primary, according to a poll released last month. But that margin had slipped from 15 points just a few months prior. 
Even so, as of right now, November's general election looks like Reynolds' to lose, even in a national cycle that should favor Democrats.
But over the past two weeks, the perception that Reynolds runs a steady, drama-free shop has evaporated. And the unnecessary, self-inflicted wounds might accomplish what questions concerning tax cuts, privatized Medicaid and under-funded schools have so far failed to do. 
For the first time, Reynolds finds herself politically exposed. And she has no one to blame but herself. 
Local editorials represent the opinion of the Quad-City Times editorial board, which consists of Publisher Deb Anselm, Executive Editor Matt Christensen, Editorial Page Editor Jon Alexander, Associate Editor Bill Wundram and community representative John Wetzel.
Catch the latest in Opinion
Get opinion pieces, letters and editorials sent directly to your inbox weekly!