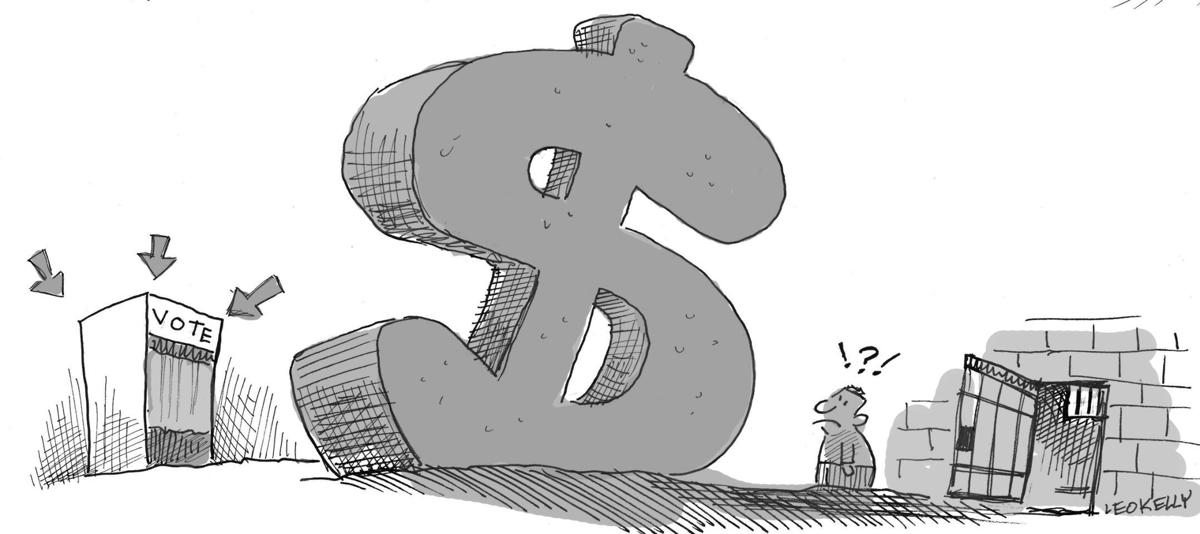 A new report released last week shows just how steep the hill is for people who have felony convictions to get their voting rights restored.
The report, issued by the Campaign Legal Center and the Civil Rights Clinic at Georgetown Law, found that a majority of states, 30 in all, condition a person's voting rights on their ability to pay fines, fees or restitution that resulted from criminal convictions.
The report says that, in 2016, an estimated 6 million people in the United States had been disenfranchised because of felony convictions while 10 million people owe more than $50 billion in fines and fees related to criminal convictions.
We in Iowa know full well the impact a felony conviction has on a person's right to vote: They lose it. It's that simple, and only the governor can restore that right.
Along with Kentucky, Iowa is the only state that takes such a harsh line.
The good news is that Iowa Gov. Kim Reynolds has proposed a constitutional amendment to rid the state of this terrible practice, and the House, on a 95-2 vote, passed a measure last session that took the first step toward getting it on the ballot. The Senate did not act.
This editorial board has long encouraged the state to jettison this antiquated language in its constitution, and we continue to praise the governor for the courage it took to take on this cause, to make tangible the value of forgiveness and redemption.
Unfortunately, the earliest this measure could go to the voters is in 2022.
As we understand it, the amendment the House approved also would require that people with felony convictions complete the requirements of their parole and probation.
You have free articles remaining.
Frankly, other states take a more charitable — and, in our view — a more meaningful point of view. In 16 states, people convicted of crimes have their voting rights restored once their incarceration ends. Illinois is among those states.
In fact, Nevada and Colorado just this year enacted laws that re-enfranchise people once they are released from prison. (Two states, Vermont and Maine, don't revoke voting rights at all.)
Unfortunately, the debate at the end of this year's legislative session in Iowa appeared to be moving even further in the opposite direction. Some Republicans want to require that financial restitution payments also be made before voting rights are restored.
Florida lawmakers took this route, requiring the payment of their financial obligations before restoring voting rights, thus thumbing their noses at the will of the state's voters who the year before approved a constitutional amendment intended to restore rights to people who had completed their sentences.
The state legislature is dominated by Republicans, who apparently buy into the questionable notion that newly enfranchised felons are more likely to vote for Democrats. Gov. Ron DeSantis, also a Republican, signed the bill into law in June.
If Iowa lawmakers truly want to erase the outdated and punitive language in our constitution that disenfranchises 52,000 Iowans, they should do more than just pass a measure that gains them a headline but still puts significant obstacles into the paths of people who are striving for a second chance. They should realize that, in many instances, people leaving prison just aren't able to pay these obligations — in many cases, they aren't even able to find work. (The Prison Policy Initiative, a Massachusetts-based non-profit organization, estimated last year that the jobless rate among the formerly incarcerated is five times the rate of the U.S. population as whole.)
Restoring voting rights to a person trying to re-enter society is no small matter. Some studies say that people leaving prison find immense satisfaction in getting their voting rights back — and that they are less prone to recidivism as a result.
There still are five months to go before the next legislative session convenes. When it does, we expect this issue will be prominent.
If Iowans are to be given a chance to vote on this constitutional amendment by 2022, legislation must pass in the upcoming session and in either 2021 or 2022. That leaves little room for error. But it won't do much good to use one hand to tear down the barriers to voting if the other is used to create new ones.
We hope in the months before the next session that Iowans will make this point to their representatives and senators.