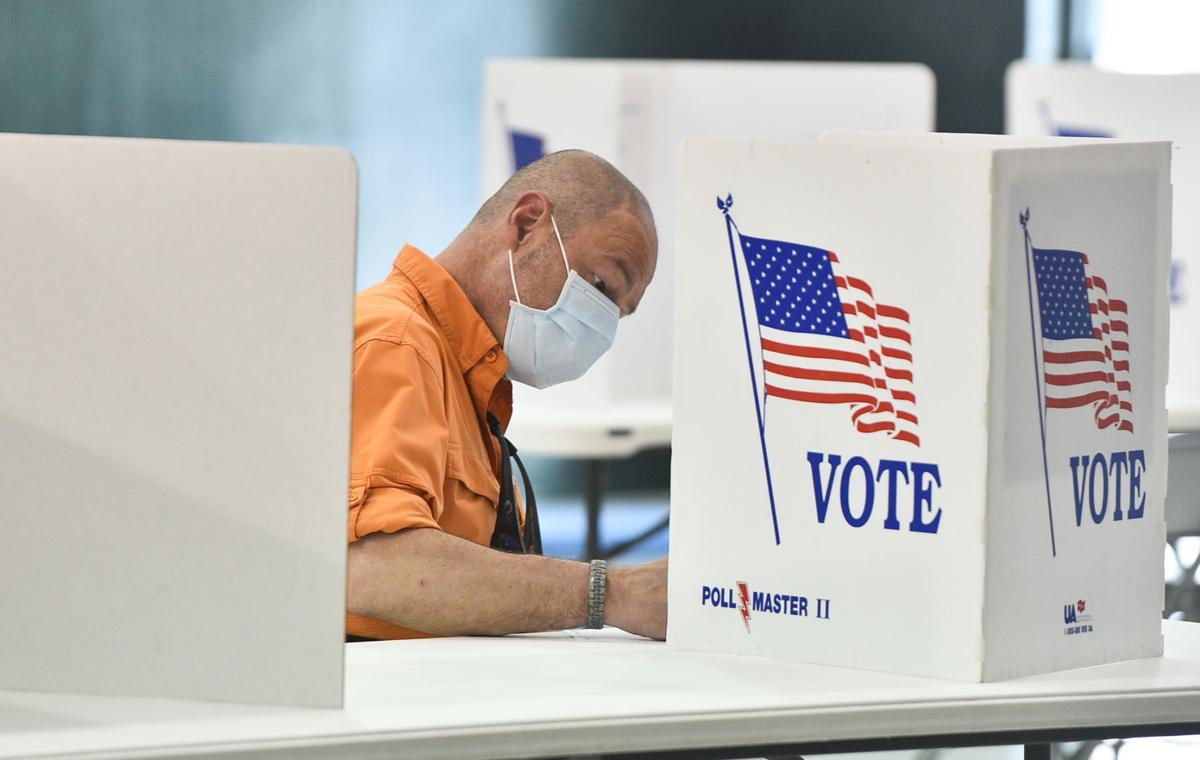 Thumbs Up ... to the 24,259 Scott County residents who voted in Tuesday's election. That was enough to account for 19% turnout, the highest for a local primary in more than a decade.
"Yesterday was a great day," Scott County Auditor Roxanna Moritz said. "It was the highest turnout since I've been here. The highest I've ever seen since I've been the auditor was 12,800 votes, and we had more than 24,000 last night."
Stunningly, only 3% of voters cast ballots at polls. (The election happened despite the global COVID-19 pandemic and civil unrest the night before.)
So what accounts for the spike?
Iowa Secretary of State Paul Pate sent out ballot request forms to all residents, something that doesn't happen in a typical primary.
It goes to show that voting by mail is safe, secure and boosts turnout. The state should do the same thing in November.
Thumbs Down ... to a handful of idiots who tried to hijack a peaceful protest Sunday evening so they could commit crimes, loot and steal.
A young woman, an innocent bystander by all accounts, was shot and killed. Another man who may have been involved in violence in another part of the city also died, authorities said. And police say they were ambushed by gunmen who shot up their unmarked truck, wounding one officer.
We must condemn these acts unequivocally, lest they be used to discredit the legitimate protests going on across the country, and here in the Quad-Cities.
Make no mistake: These wannabe looters are not the same people you've seen protesting in the news. As reported by this paper earlier in the week, all eight men arrested in connection with the mayhem live locally and have prior criminal records.
The protesters' cause is a righteous one. The looters' is not.
Thumbs Up ... to Augustana President Steve Bahls, whose contract has been renewed through 2022.
"During times of great challenge, there is zero substitute for experienced, wise and calm leadership," said John Murabito, chairman of the Rock Island college's Board of Trustees.
Bahls has so far proven himself to be a steady hand during some trying times for Augie. Bahls is Augustana's eighth president and has been with the college since 2003.
And surely more difficult roads are ahead.
Most recently, Augustana launched the week-long Augie Strong campaign to help meet the college's financial hardships created by COVID-19, including $4 million in room and board refunds the college had to disburse when the new coronavirus shut down campus.
Catch the latest in Opinion
Get opinion pieces, letters and editorials sent directly to your inbox weekly!