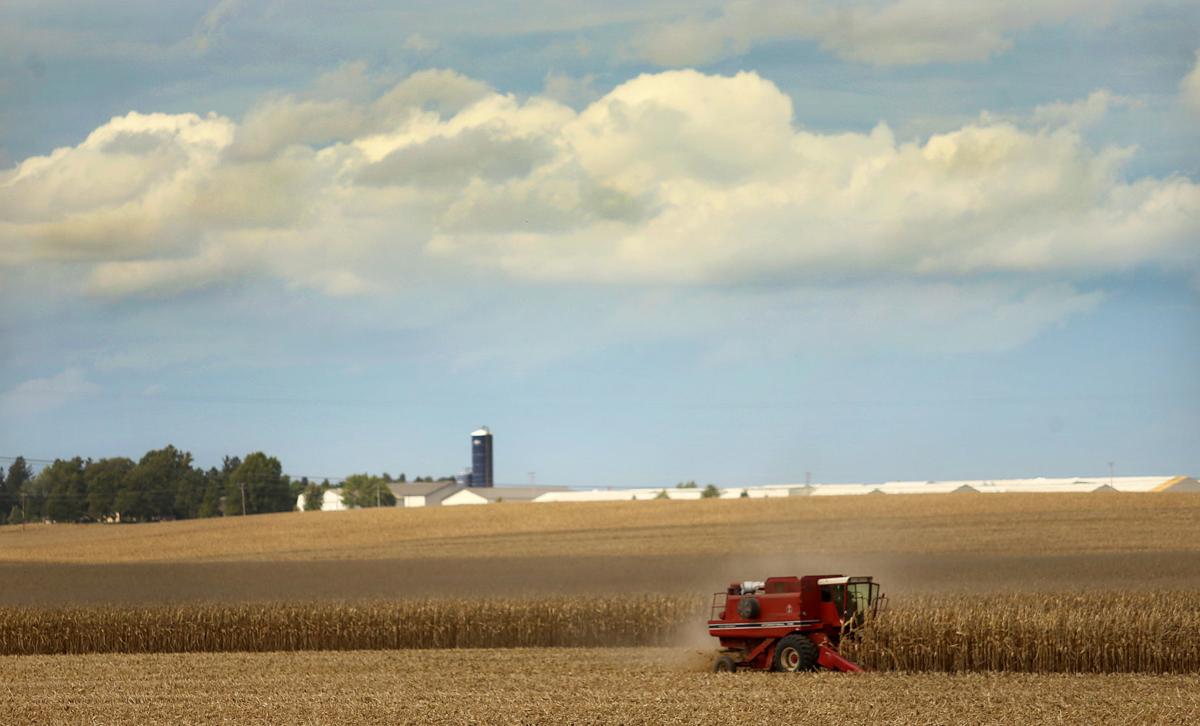 Even before President Trump's trade war with China began, we knew America's farmers were at risk. China made it clear it would strike back — and that farmers would be one of the main targets.
So it wasn't all that unusual, or inappropriate, that the White House sought to cushion the fallout of its trade war with compensation — aid aimed at taking some of the sting out of the loss of an important market for farm products, including pork and soybeans.
In the summer of 2018, the administration said it would spend up to $12 billion on this program.
At the time, it wasn't clear whether all that money would be needed. The talk was of a shorter trade war, and who thought it would go on this long? In fact, in December 2018, the administration delayed payments because it thought it might be close to a deal with China.
By now, we know that didn't occur. It was only a couple weeks ago that a "Phase One" agreement with China was agreed to, and there's still much we don't know about what that will mean to farm country.
What we do know is the aid package for farmers, estimated to go up to $12 billion initially, is now much larger. A total of $28 billion has been approved, with $19 billion spent.
What is perhaps most remarkable is that all this money has been shipped out the door without any real congressional approval or oversight. (By comparison, the net cost of the Obama-era auto bailout came in at about $11 billion, and that went to a vote. It was mostly party-line, with Democrats supporting it and Republicans opposing.)
In this case, the administration said it would use a Depression-era emergency law as the legal foundation for its aid program. Since then, you've barely heard a peep out of Congress.
We wouldn't exactly expect our lawmakers to beef too loudly. Their constituents are the ones getting the checks. Our economy benefits, too. (Of course, it's our children and grandchildren who are getting the bill.)
Still, there are plenty of questions to be asked about how this program is being run.
You have free articles remaining.
A half dozen studies have said that the administration "overshot the impact of the trade conflict on American soybean prices," according to a Bloomberg report last month. Some of those studies said the payment rates were twice what the trade war cost; others said it was higher.
"Trump money is what we call it," a Missouri farmer commented, according to National Public Radio.
No doubt, this is music to the president's ears. Farmers are an important political constituency, and this funding certainly helps to offset anger over the administration's backtracking on its biofuel promises.
This isn't a simple question; the fact is, there is a debate about how to figure the real cost of the trade war, and the answers aren't easy. One question is how to figure the loss of future markets.
We've also heard producers say these payments aren't making up for their losses. We can understand that. The amount of money reaching individual producers varies. And 2019 was a a tough year for many farmers, what with the trade war and the disastrous weather.
Still, we don't think Congress ought to just step aside and let billions of dollars of taxpayer money fly out the door without considering the consequences.
One of those consequences is that much of the money is going to a relatively small group of farmers. An analysis by the Environmental Working Group last summer said that 10 percent of recipients got 54 percent of the money from the Market Facilitation Program, the aid program's main piece. What's more, the organization said, the rules put in place for the aid allowed big operations to bypass what was supposed to be a $125,000 payment cap.
This is a product of the nation's already-flawed system of farm payments.
This money also is flowing toward farm country even as the White House works to cut food assistance to people in need — people who largely live in urban areas. For years, urban and rural lawmakers have worked together to ensure mutual support for farm aid and food assistance. But with Congress now out of the loop, it sure looks like that deal is getting more lopsided. Which will end up endangering both constituencies.
We have long thought Congress has conveniently shirked its duty on a number of fronts. This is just the latest example.
We think that Americans, including those who live in places like Iowa and Illinois, where much of this aid is going, ought to remind their congressional delegations that they are on the front lines of making sure our money is spent wisely. They ought to act like it.