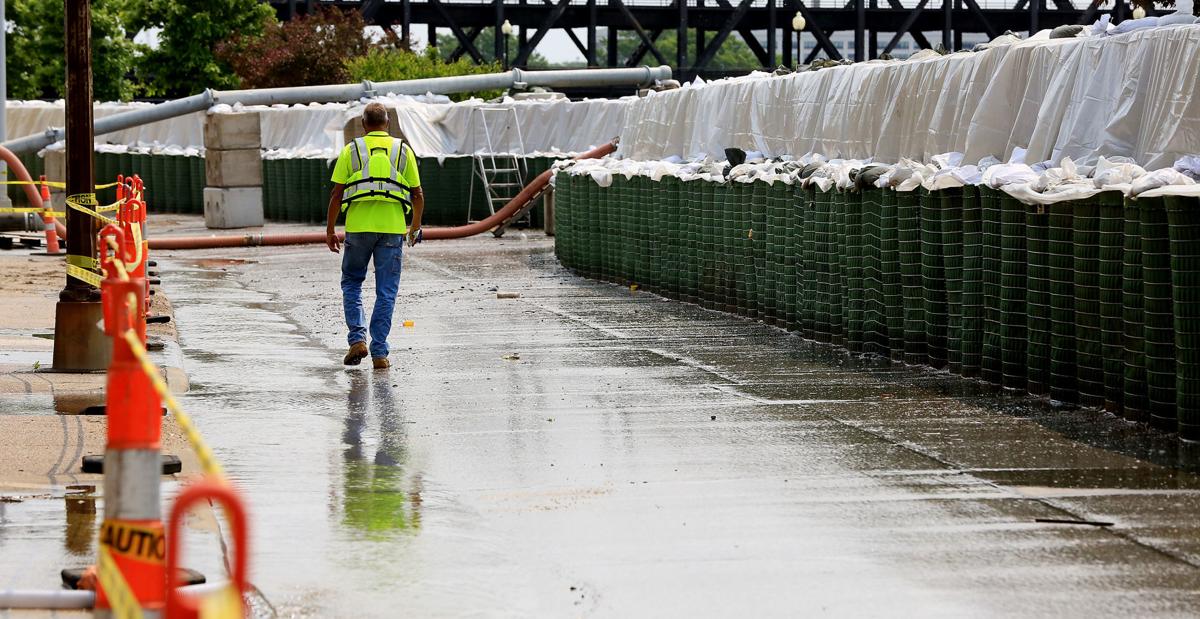 It's been 305 days since the sand-filled HESCO barriers gave way, sending the Mississippi River surging into downtown Davenport where it displaced residents and destroyed businesses. The Flood of 2019 hit every Quad-City area community in one way or another — homes on Campbell's Island, a submerged River Drive in Moline, neighbors in Buffalo, Iowa, frantically filling sandbags.
Still, nearly a year later, there's been little meaningful action when it comes to avoiding another catastrophe. After forming a flood task force that ultimately reached no conclusions, the City of Davenport has decided to hire consultants to study the problem. Other communities seem reluctant to admit river flooding is a concern at all.
We can't afford to dither any longer. The time for urgency is now.
We'd like to see the mayors of all five metro cities and administrators from Rock Island and Scott Counties come together to look at the problem through a regional lens.
A regional problem requires a regional solution, and we think it'd be helpful if our mayors stepped forward as leaders to tackle this issue together, not alone. And we think it should happen in a public forum. We'd like to hear from each mayor how flooding affects his or her city, what the city is doing to combat the problem, and how that approach figures into a regional perspective.
This isn't a gotcha moment. We don't pretend to have the answers, and nor do we expect the mayors to. But these are the leaders we've elected, and we think they ought to share their perspectives publicly, together, so residents have a better understanding of how flooding affects the Quad-Cities as a whole.
We applaud the efforts many have already undertaken to tackle this problem, including the City of Davenport, which is involved in a planning study with several other entities, including the Iowa Department of Natural Resources. (It's worth noting the results won't be out until November, though, long after spring flood season.)
The U.S. Army Corps of Engineers and the National Weather Service have been instrumental in helping us understand how the river works and what to expect. After last year's flood, the weather service decided to add a third spring outlook to its forecast schedule to help the region prepare.
The outlook isn't pretty. As we reported earlier this month, there's a 95% chance of major flooding along the Mississippi River again this year. These floods are no longer once-in-a-generation events; experts say disastrous flooding will only become more frequent.
There's a lot at stake, even if your neighborhood doesn't flood. Consider the Quad Cities River Bandits, who played many of their home games on the road last year. Already under consideration for consolidation by Major League Baseball, the Bandits would be in major jeopardy after another year with an inaccessible ballpark. 
Or how about the Rock Island Arsenal? How long will the federal government continue to invest millions of dollars into a region subject to catastrophic flooding?
The City of Davenport on Wednesday launched a design contest for a sprawling riverfront playground. Alderman called it an economic investment in downtown. The price tag: $3.5 million, the same amount the city spent fighting and recovering from the Flood of 2019.
We think it risky to pursue major riverfront investments with public money without more assurance they won't end up under water. Davenport's flood plan for this year is hardly a step toward a long-term solution. It calls for double-stacking the HESCO barriers if waters rise high enough, something it failed to do last year.
This is our progress in 305 days since last year's flood. The spring flooding season is only a few weeks away.
Catch the latest in Opinion
Get opinion pieces, letters and editorials sent directly to your inbox weekly!