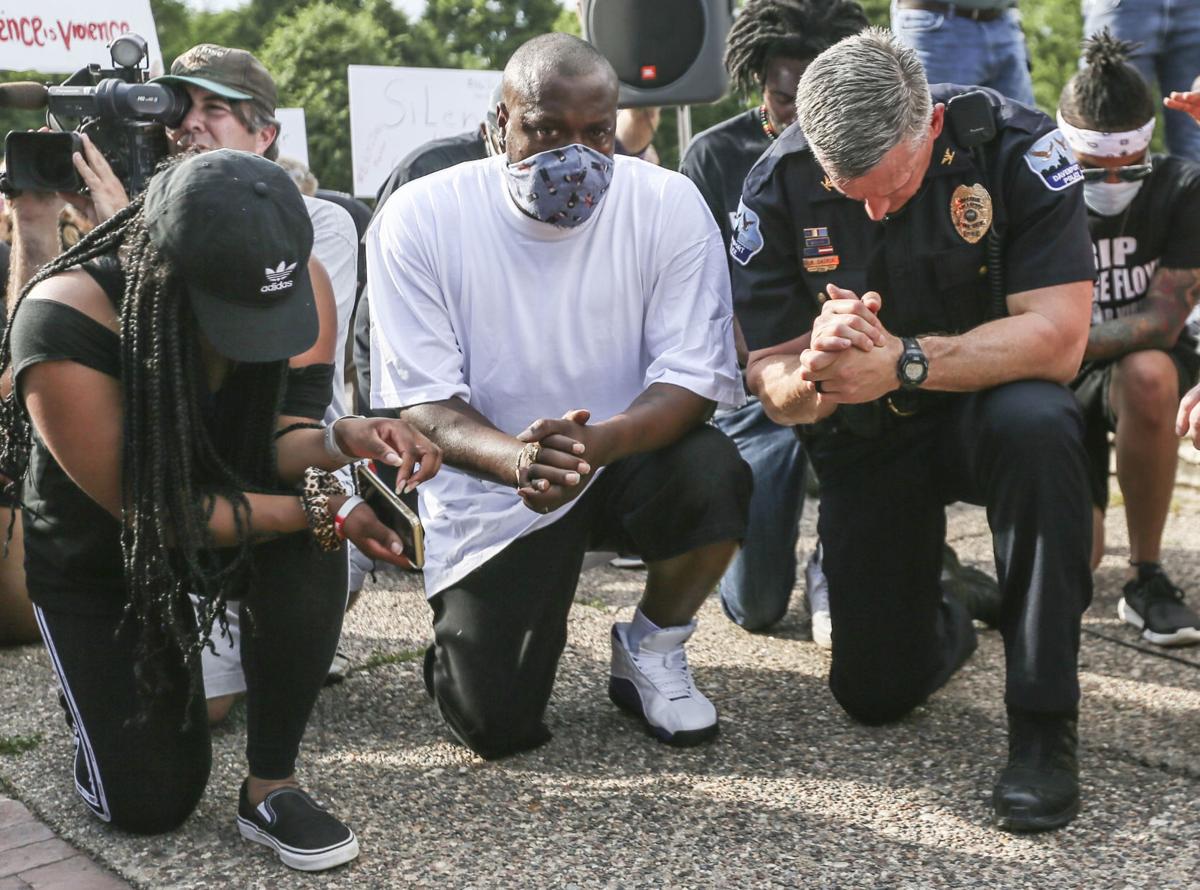 Quad-Citians have gathered by the hundreds twice in the past week to peacefully protest the killing of George Floyd, a black man suffocated by white police officers last month in Minneapolis. The protesters have been our neighbors, faith leaders and friends. And their message has been clear: America must finally reckon with its racist past and present.
Yet calling these gatherings protests just doesn't seem sufficient. Something bigger is going on.
It would have been hard to imagine, not long ago, Davenport Police and city leaders kneeling in solidarity with Black Lives Matter activists, as happened Thursday night at Vander Veer Botanical Park in Davenport. Times are changing rapidly, and peaceful revolution is in the air.
Unlike almost every current issue now confronting our nation, this most recent rise against racism has transcended politics, gender, wealth and age. The gatherings in the Quad-Cities have attracted Democrats and Republicans alike and residents of all walks of life.
We stand with these protesters, exercising their quintessential American rights of freedom to speak, assemble and petition their government. So let this editorial board's voice join the peaceful protesters' chorus against racism.
It will, of course, take more than an editorial to accomplish change. Mostly, it will take sustained empathy, the will to understand and share the feelings of others. Our newspaper has a role. For starters, we'll publish this summer a comprehensive series on racism in the Quad-Cities, detailing its history, current implications and, most important, the perspectives of people who experience it in their everyday lives. We believe that only through knowledge can we gain understanding, and that has to be our first step.
George Floyd should not have died. But his death has started a movement toward justice. We should honor his memory, and those who like him have unjustly died, by carrying forward to ensure that black people walking down the street should feel the same as white people walking down the street – safe and under the protective umbrella of the police that they hire to work for all of us.
Listen to the experiences of others. Examine your own biases, especially the subtle ones that may be in your unconscious mind. We believe relatively few Quad-Citians are outright racists, but clearly some of us harbor prejudices, acknowledged or not.
Whatever your action, let it be peaceful.
Criminals have taken advantage and attempted to use the movement as a cover for looting, as we saw Sunday night in Davenport. To be clear, those arrested so far are known well to police and have not been associated with the protesters. Two lives were lost in senseless violence.
Acts of violence will delegitimize the issue at hand. So credit to local police officers who've been welcoming to protesters and ignored calls to squash the protests with force. And, even more so, credit to the protesters, who, while rightfully angry, are fighting the fight with ideas, not weapons. Theirs is a cry for justice.
Ideas are what unite us as Americans, after all – not our ancestry, race or religion. It's the shared notion that all people truly are created equal and should rise and fall on the merits of their character, not by a system that predetermines our outcomes based on skin color.
This is the American ideal. Can we finally reach it?
Catch the latest in Opinion
Get opinion pieces, letters and editorials sent directly to your inbox weekly!