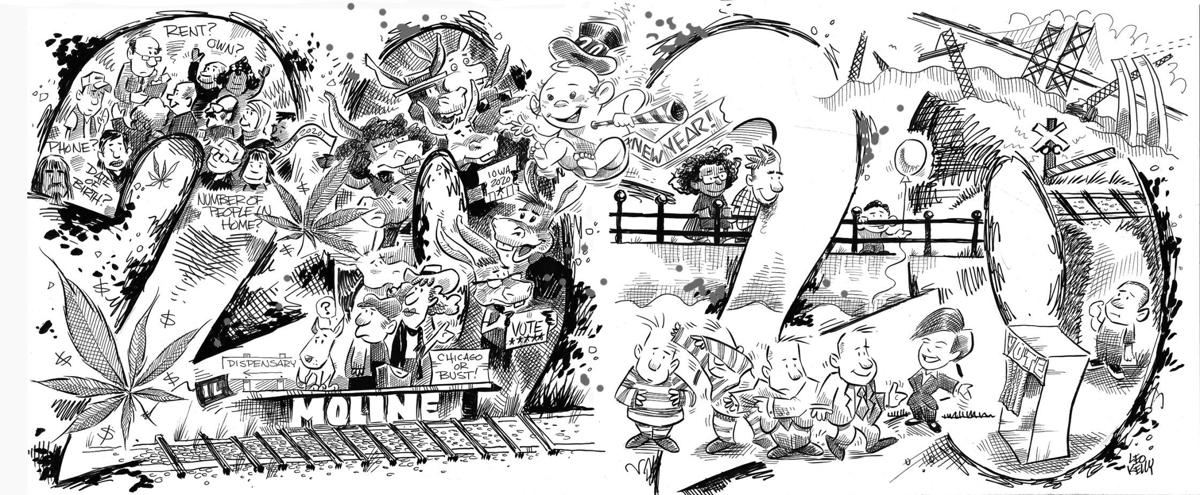 The new year is only a few days away, and it's become a tradition at this time of year for people to express their wishes for the 365 days ahead.
Often, these are resolutions for personal progress — reading more, being kinder, spending more time with the people we love, etc.
The following, however, are our wishes for the Quad-City community in the coming year.
It is not a comprehensive list, merely the things that are on our mind as this year draws to a close.
Last week, as you'll recall, we offered our assessment of what's happened to our 2019 goals. Some were met; many were still works in progress. As such, some of them are on this list. With that, we offer our wishes for 2020 — and the hope that they will be fulfilled by this time next year.
• We hope the 2020 Census counts as many Quad-Citians as possible. The once-per-decade headcount is key to apportioning political representation on all levels, and it plays a role in the distribution of federal funds. Every person counts.
• Our wish for 2020 is that the Iowa Legislature finds the spirit of redemption in its heart and moves to allow those with felony convictions the right to vote. Iowa is the only state (yes, the only state!) in the country that maintains such a ban.
A few weeks ago, new Kentucky Gov. Andy Beshear signed an executive order restoring voting rights to 140,000 people in that state. Iowa Gov. Kim Reynolds wants a constitutional amendment restoring rights, and so do we. In the meantime, though, she could act in the spirit of redemption and sign an executive order herself, temporarily restoring those rights until Iowa's voters do so permanently.
• Our fervent wish for the new year is that the City of Davenport and Canadian Pacific Railway complete a quality rebuild of the city's riverfront, providing easy access, vehicular and pedestrian, to the Mississippi River. The raised railroad tracks have, as we've noted, presented a huge obstacle. May it be overcome in 2020.
You have free articles remaining.
• We hope that the first year of marijuana legalization in Illinois will be a success.
• We hope there is a huge turnout at the 2020 Iowa caucuses, which are scheduled for Feb. 3. Whoever wins, we hope the Iowa Democratic Party and caucus-goers across the state affirm the decision to allow Iowa to lead the nation in the presidential nominating process.
• We hope this community will see less gun violence. We hope that the sounds of gunshots in our neighborhoods will be replaced by tranquility.
• We are hopeful that progress continues on construction of the Interstate 74 bridge and travelers continue to exercise patience. This has been a trying year, with construction delays and traffic impacts. Let's hope that 2020 is smooth sailing.
• We hope the turmoil in the upper ranks of management at the City of Moline subsides and stability returns in 2020.
• We hope the Eastern Iowa Mental Health and Disability Services Region, with the help of the Iowa Legislature, finds financial stability and restores some of the services that are vital to some of the most vulnerable people among us.
• We hope Rock Island County finally sells Hope Creek Care Center to a buyer who will honor the people who live there, as well as those who have committed themselves over the years to the nursing home's operation. We also hope the county itself rights its financial ship. Residents shouldn't have to expect that 2020 will bestow on them yet another big property tax increase.
• We hope the spring of 2020 will be nothing — at all — like the spring of 2019, when floodwaters inundated the Davenport riverfront for three months. And in that vein, we hope the City of Davenport makes significant progress on a long-term flood protection plan that prevents another disaster like in 2019 from occurring, this year and in the future.
• Dare we hope that substantive construction will take place on the long-delayed passenger rail connection between Chicago and Moline? Yes, we dare!
• Finally, we hope the 2020 elections bring out the best in us — that debate is respectful, inclusive, and affirms our common bond as a people.