The American people have a chance this election season to change the direction of this country.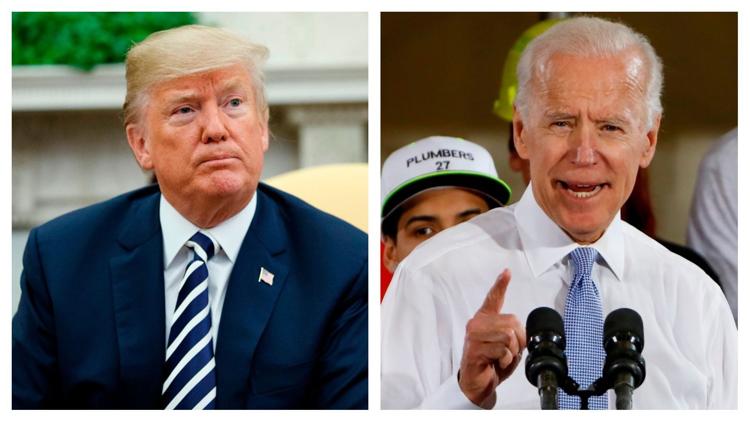 We can move beyond the turmoil and division. We can elect a president who puts a premium on empathy, competence and stability; who believes that progress must be shared by all.
We have a chance to leave behind reality-show government and restore to this nation an executive branch that guides with a steady hand rather than by erratic impulse.
It is an opportunity that comes at a historic time in our country. We are in the midst of a global pandemic that has already killed more than 212,000 Americans, something we should never forget and for which there should be accountability. And it's a crisis that we still are months away from resolving.
This country needs a leader with a clear vision for progress in the days ahead; who has the experience and temperament to, if not heal our divisions, at least lower the temperature.
This country needs a leader who can deliver us from the exhaustion that has set upon this country.
This country needs Joe Biden to be the 46th president of the United States, and we wholeheartedly endorse him.
We have watched Biden up close and from afar for more than three decades. He's visited this area frequently in his campaigns for president and as vice president in the Obama administration.
What we have seen is a politician who seeks to help the middle class, and who has been a bridge between the parties to try to make things work in Washington, D.C.
We could use that kind of leader now, because there's a lot that is not working. Witness the stalemate that set in between Congress and the White House on a much-needed economic relief package for the millions of Americans who are jobless and without hope.
Joe Biden is just the kind of leader who would strike a deal that works.
In some ways, this is not the same old Joe.
Biden seems to have learned from his past mistakes, and he offers new ideas for these unique times. His pandemic plan promises to fix the flaws the administration has refused to recognize. He pledges to put public health experts, not politicians, at the forefront; he's got a plan to bolster testing and tracing; mostly, he would treat this pandemic like the national priority it is, rather than farming out the job to the 50 states.
On health care, Biden wants to build on the Affordable Care Act, offering a public option that will force down prices. He wants to lower the Medicare eligibility age to 60. Just imagine the plus that would be for older Quad-Citians who have been tossed out of the workforce and can't find jobs, but surely need health care.
On racial violence, Biden offers healing and change, not more of the same.
On climate change, Biden's plan —  while not as expensive as those laid out by some of his primary rivals — still sets challenging, achievable goals to lessen the carbon in the air that is threatening our planet.
On trade, Biden offers a tougher line on China because it would enlist our allies instead of taking the go-it-alone approach that has put our farmers in China's cross-hairs.
Joe Biden offers a different set of ideas on problems facing this country and the world than President Trump. But within each of these issues, there also is a fundamental difference between the two candidates. With Biden, there is  thoughtfulness and collaboration underlying his ideas, rather than a scattershot approach better suited to Twitter than the West Wing. There is a decency, too, that is grounded in the belief that all people in this country, no matter their race, ethnicity, creed, immigration status or political view, deserve a level of respect.
We saw that decency up close when he visited with us before the Iowa caucuses. And throughout the primary campaign, Biden never wavered, holding true, as well, to the ideas that animated his own campaign rather than buckle to some of his party's more radical demands.
Joe Biden said he got into this race because he wanted to restore this nation and rescue it from another Trump term that would "fundamentally alter the character of this nation."
Some took that as a backward-looking approach, a return to the past.
You will see by looking at his ideas this is not true. What Biden offers is a return to our foundation.
His rivals try to say Joe Biden's best days are behind him. We don't buy that. Just listen to what he had to say in Gettysburg, Pa., a week ago, invoking Abraham Lincoln and calling for an end to "this era of division." It was a speech everybody should read.
Joe Biden's four decades in public life have proven to us he was uniquely built for this moment.
We urge all Americans to seize this opportunity. Vote for Joe Biden. Make him our president and chart a better path for this nation in the days ahead.
This country needs a leader who can deliver us from the exhaustion that has set upon this country.This country needs Joe Biden to be the 46th president of the United States.
Catch the latest in Opinion
Get opinion pieces, letters and editorials sent directly to your inbox weekly!