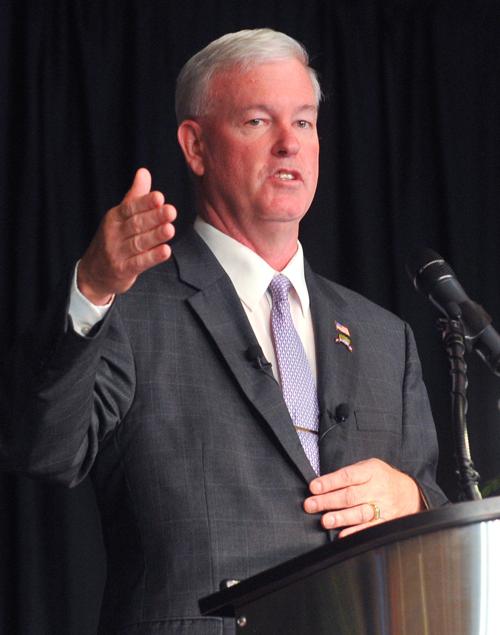 Davenport voters face a choice for mayor on Nov. 2. Mayor Mike Matson is campaigning for a second term, running on his experience, as well as continuing what he says is the city's strong momentum on a number of fronts.
His opponent, Athena Gilbraith, a community activist and small-business owner, is seeking a change. She says Davenport must be more inclusive, offer more prosperity to a wider range of people and invest in neglected parts of the city.
Gilbraith says the city needs to do more to attract more affordable housing; that it must provide the kind of implicit bias training to enable the city to deal fairly with all people – and that economic development policies should push prospects for higher wages.
If elected, Gilbraith would be the city's first Black mayor, and she says Davenport needs more diverse leadership.
Matson points to recent successes in job creation, especially Amazon's decision to locate here, as well as planned investments in extending a major sewer line in west Davenport and taking other steps, like preparing for redevelopment of the NorthPark Mall area.
Matson says he's been a collaborator with regional and state governments, including to attract new public and private resources to battle crime.
The Quad-City Times Editorial Board has had the chance to interview both candidates, as well as watch them in other venues. We've studied their goals for the city, their platforms, and their positions on the issues we believe are the most important for the future: public safety, opportunities for youth, flood prevention and mitigation, job growth, the need for more affordable housing, inclusion, redevelopment of neighborhoods and older commercial districts, to name some of the most pressing. And at the end of this process, we believe Mayor Mike Matson is the best choice to lead the City of Davenport for the next two years. That is why today we are endorsing his candidacy.
Two years ago, we endorsed Matson's opponent, Rita Rawson. We don't regret that decision. But since then, we have seen Matson grow into the job of mayor. We haven't always agreed with him, such as his decision to keep private the deliberations of the crime task force. Still, we are convinced he has a firm grasp of the most vital issues, and that he has a plan for moving forward.
We also see in him a greater recognition of the need for the Quad-Cities to work as a region, something this board has persistently urged of local governments on both sides of the river.
In particular, we prefer Matson's approach to dealing with flooding. For too long this has been a persistent thorn in the side of homeowners and businesses, up and down the river. We believe the proposal provided by H.R. Green is a good starting point toward resolving these issues – and Matson speaks strategically about how to move forward. This is no short-term solution, and we expect it will require significant local investment. Matson seems to be most plugged in to how to move ahead with this plan.
We do believe Gilbraith has much to offer this city, and we can certainly see her taking a seat on the city council. She is right that the city and Davenport's institutions need more diverse representation and leadership. She also offers a vision of inclusion that is attractive to us. There are a lot of people in Davenport who just aren't seen, and they need to be. We also have a considerable number of people who live in this city who are struggling. They must have an ally in City Hall.
We mentioned earlier we don't always agree with Matson. But we do believe he listens to the public. (And if he is elected, we would like to see him push administrative staff to be more open). Matson also has offered ways to help in areas where we believe the city has fallen short. We were disappointed in elements of the council's plan for spending Covid relief funds, which did not adequately take into account affordable housing needs. But Matson says he does support investing in some of the ideas offered by the Quad-Cities Housing Cluster in its "Silos to Solutions" report. We are eager to see what that looks like.
We also believe the city's investments in crime prevention, such as the youth assessment program and violence interrupters are worthwhile steps. We don't know yet the effectiveness of these efforts – and for the moment they are relying on federal money – but we have high hopes.