A lone monarch butterfly flutters across the secluded trail as the chirping of birds drones out roaring traffic on U.S. 61. At first sight, Crow Creek Wildlife Management Area on the outskirts of north Davenport appears pristine and preserved.
However, visitors who take the short walk to the 17-acre body of water, commonly called Crow Creek Lake, likely will run into the problems plaguing this state-managed site.
Despite multiple signs warning guests that alcohol is prohibited here and all trash should be carried out, people are drinking and dumping their empty bottles, cans and cardboard cases in and around the water. On Thursday, deserted candy wrappers, empty bags of chips and deflated inner tubes dirtied the western banks.
Illicit drug use, theft and vandalism have been reported, too, and if troubles persist, the Iowa Department of Natural Resources may instate harsh restrictions that would limit usage of the popular destination.
"If we don't start getting people to clean up beer cans and flotation devices left out there, we're going to look at banning swimming," said Jeff Harrison, state conservation officer in Scott County. "I just hate seeing all the trash, and I hate having to pick it up."
Cleaning up after others
Every time William Schultz of Davenport, a disabled U.S. Army veteran, goes fishing at Crow Creek Lake, he leaves with a bag of someone else's garbage.
"There's no maybe about it," he said, "I already know it's going to be there."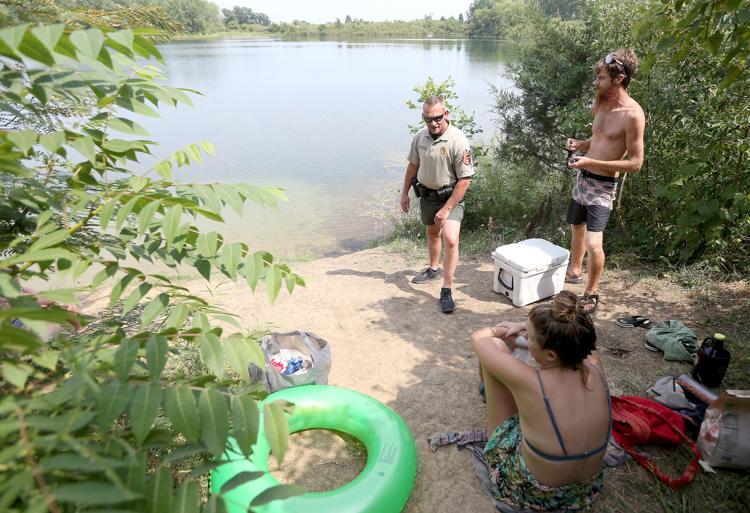 The 54-acre wildlife area is adjacent to Mount Joy Mobile Home Park and the Bettendorf Soccer Association complex, across County Road F55 from John Deere Davenport Works.
Harrison, who has held his position with the DNR since 2004, cited two reasons for the surge in partying:
• In 2011, the Scott County Conservation Board banned alcohol from the beach along the Mississippi River at Buffalo Shores, west of Buffalo, Iowa.
• Swimming at public lakes on the Illinois side of the region is not allowed, and Harrison notices a lot of Illinois license plates in the parking lot.
Barring people from swimming would make room for more anglers and hunters, who purchase licenses, he said.
"The people trashing it are not the people paying to use the resource," Harrison said. "They're coming here to swim."
Since 2008, the DNR has stocked the lake with 3,240 channel catfish, according to the agency's website, and another load will be delivered sometime next month.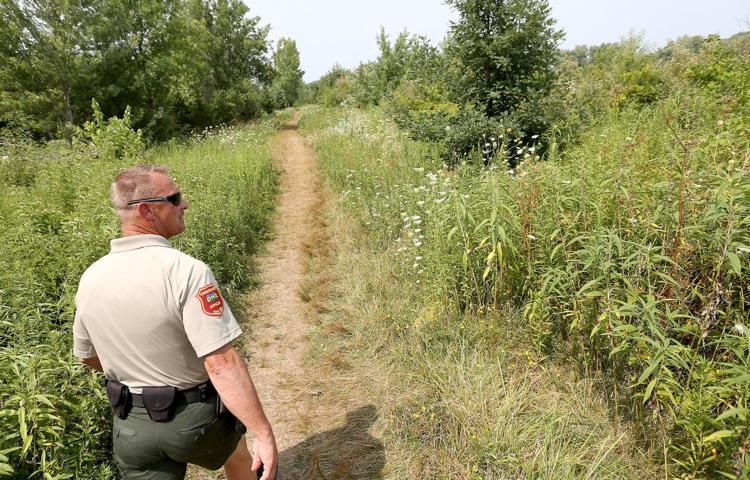 Triathlon training grounds
Not every swimmer misuses Crow Creek Lake, which is known for being crystal clear at certain times of the year. Wetsuit-wearing triathletes in the Quad-Cities flock here to train for competitions.
Although he previously cut his toe on a broken beer bottle and caught a sharp fishing lure in his hand, Andrew Thompson of Moline returned this spring to prepare for the Quad-Cities Triathlon.
"They party out there and throw stuff in there, but we still go every year," he said. "It's kind of a hidden gem because you just can't find open water like that very close."
Harrison does not want to punish Thompson and others who use the lake responsibly.
"They're not the ones trashing the area," he said. "They're a great bunch of people."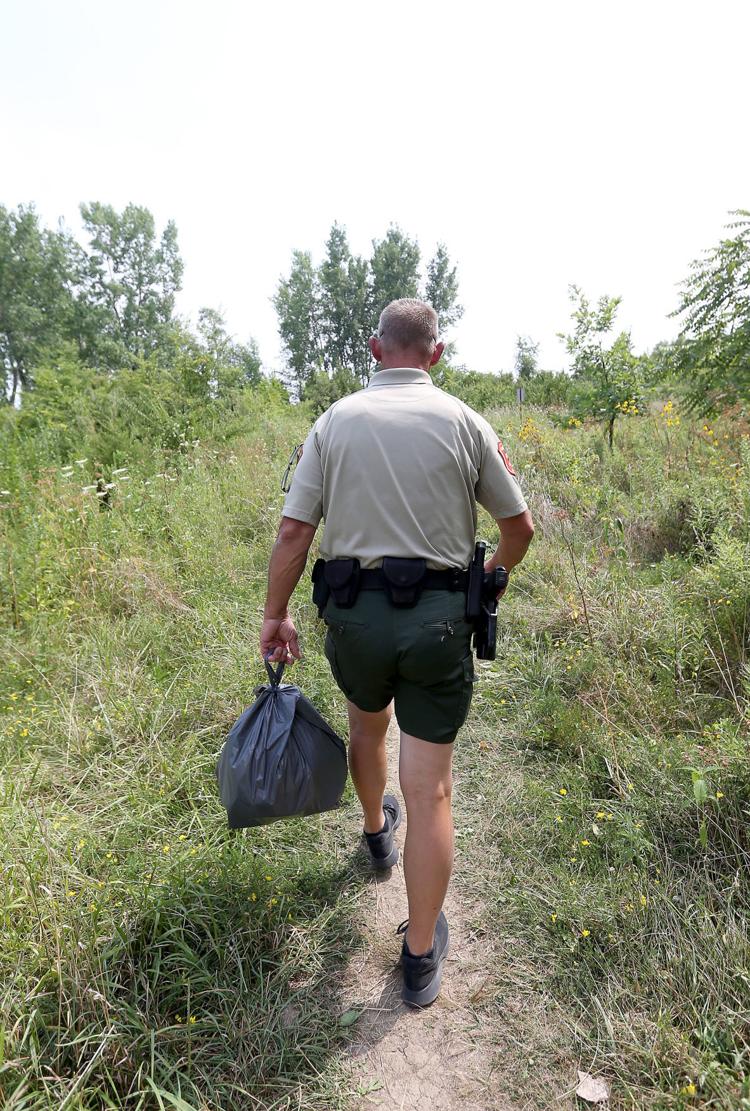 Schultz asked the DNR if it could place a dumpster in the park's gravel lot off Scott County Park Road, but Harrison predicts people would start illegally dumping tires, electronics and other junk there, too.
"I'd rather educate people to throw stuff out at home," he said. "If you bring trash in, you bring trash out."
In response, Schultz teamed up with the Waste Commission of Scott County and is hosting a cleanup day Saturday, Sept. 1, at Crow Creek Lake. He needs more volunteers.
"I think a lot of people don't even know it's back there," Schultz said. "When they hear Crow Creek, they think of Crow Creek Park in Bettendorf."
Safety concerns
Although the DNR is hiring an additional conservation officer to patrol Scott County, Harrison currently covers it by himself. 
"It'd be great to patrol more, but my main focus is fish and game violations," he said. "To focus all my efforts there (Crow Creek Lake) when I have illegal fishing and hunting or unsafe boating, it's neither ethical nor feasible to do that."
Neighboring business owners want the state to close the park if it continues causing issues for the area.
Last summer, a man stole five tractors from River Valley Turf, located across the street from Crow Creek Lake, owner Paul Seyller said. Before the robbery, surveillance footage shows the thief loading inner tubes into the back of his truck on park grounds.
The business was robbed again last month, but Seyller does not know if the thief has any connection to the park.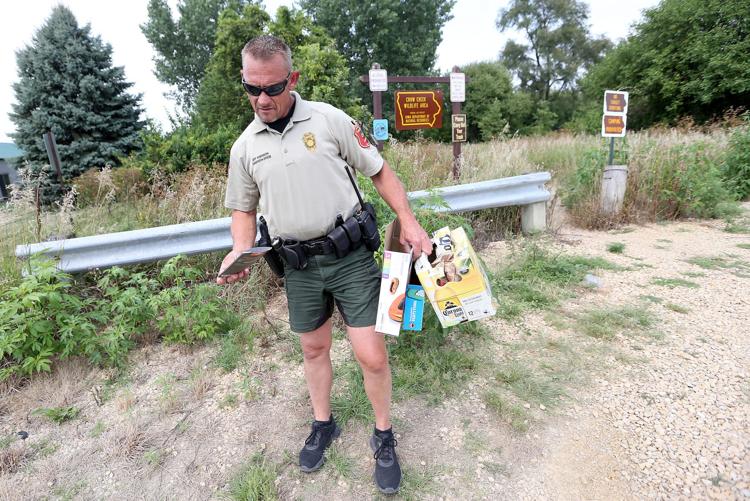 The father of four and grandfather of two mostly worries about the mix of suspicious characters and teenagers who swim there, calling it a recipe for disaster.
"Some of the people we see climb out of their vehicle over there are not outstanding citizens," Seyller said. "It scares the hell out of me when I see kids there."
To make it a safer space, he thinks the DNR should clear some of the brush and trees that conceal the property. 
"Right now, it's a place where people can hide out," Seyller said. "If they're going to keep it open, they need to fix it up, keep it clean and patrol it."
That would allow regulars, including Alicia Sanders of Eldridge and her 1-year-old black lab, Thumper, to continue running the trail around Crow Creek Lake.
"We're out here almost every day," she said. "I've never had any problems besides garbage."