DAVENPORT, Iowa — On a cloudy day this past August, one Quad-City fisherman decided to clear his head in quiet on the shore of the Mississippi River.
Samuel Brown has developed a strategy for hauling mammoth fish in recent years.
He loaded three rods with 60-pound test line and live bluegill before setting the drag to his liking on each of the reels. One by one, he cast his lines and stuck each pole into pre-drilled holders atop the levee, just east of the roller dam at Lock and Dam 15. Brown also attached bells to each rod, which alert him of bites, a feature that allows him to relax below two shade trees nearby.
And he always turns his back to the water.
"That way I can exercise some patience, and I can just watch people jog by," he said as he broke out a bottle of water and a bag of salted caramel pretzels. "It helps my mind focus on something other than the fish biting."
Record-breaking mission
Brown served 22½ years in the U.S. Army before retiring from the military in 1996. He moved in 2012 from Alabama to the Quad-Cities, where his wife, Mary, spent her childhood.
The retiree has spent countless hours hunting for big catfish and teaching others how to do the same. 
This past June, Brown reeled in a 44-inch-long, 65-pound flathead catfish, worthy of a spot on the Iowa Department of Natural Resources' list of master anglers. He donated the majority of the meat to families in the community.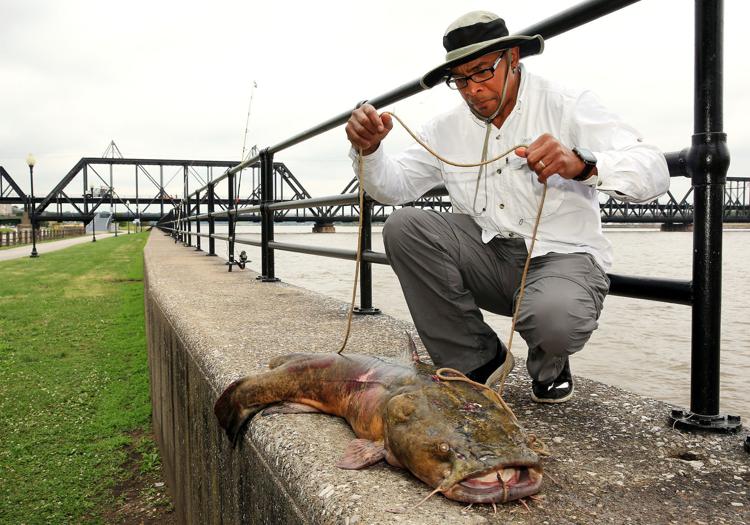 "There are people who consider me a good friend now with all the fish I gave away," he said with a laugh.
The father of two adult sons began fishing as an 8-year-old boy in his home state of Oklahoma. Back then, in lieu of a pole, he lured and landed sunfish with strings of thread and grasshoppers.
"Every weekend, my parents knew I was going fishing, and they knew where I was going, so they just let me go," he said. "Early on, I became my own best friend; I didn't mind doing things by myself."
These days, however, Brown appreciates the company. He even sets up a chair beside him in case a fellow angler or passerby on the Mississippi River Trail wants to join him.
"I like to look at it as though I'm a person who shares fishing knowledge," he said. "I got lucky, landed a big one because I just didn't give up and now I'm showing people how they can catch bigger fish."
'Can't get any better'
The afternoon he opted to decompress by the riverfront, a student-turned-friend of his approached him out of the blue.
"There he is," Mary Jane Skafidas said as she walked toward her mentor. "The master fisherman."
The Bettendorf woman praised Brown for taking the time to teach her the basics and a few of his tricks.
"He showed me how to set my line," she said.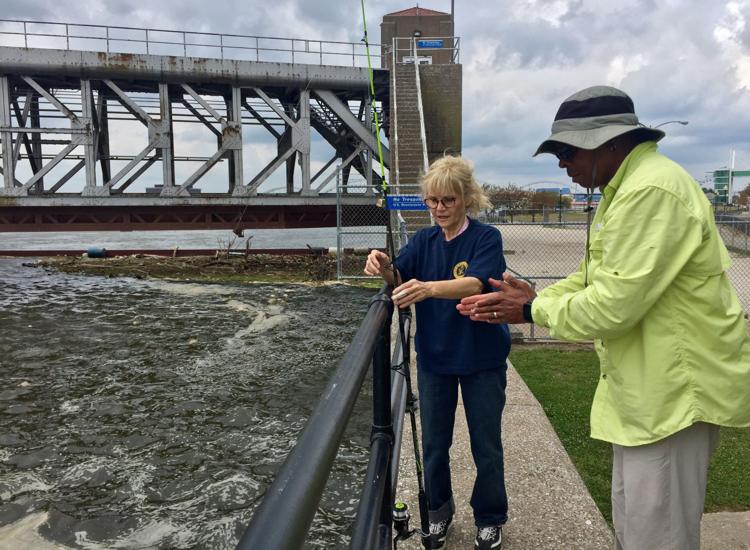 Skafidas, who is white, reminisced about the time she fished alongside Brown, two Asian men and three Hispanic men — a "nice bunch of people," she said.
The Asian men brought everyone lunch that day from Popeyes Louisiana Kitchen.
"Isn't that a wonderful thing to hear in this crazy world?" Skafidas said.
Brown just leaned back in his chair and smiled.
"Now you see why I call this church," he said. "You can't get any better than this."