An attraction at West Lake Park is muddying the waters.
On the boathouse dock at Lake of the Hills, just west of Interstate 280 in Davenport, children enjoy feeding giant grass carp with fish food from a vending machine. It costs 25 cents a handful.
"They're trained," Scott County Conservation Board Deputy Director Marc Miller said of the Asian carp species stocked almost 40 years ago to control aquatic vegetation. But the fish, two of which staff nicknamed popcorn and nacho, keep unwanted sediment and phosphorus suspended in the water, fueling algae growth and lowering the lake's clarity. "It's like having a mixer on all the time," Miller said. "They keep it circulating."
These issues landed the 54-acre Lake of the Hills, the biggest and busiest body of water at West Lake Park, on the Iowa Department of Natural Resources' Impaired Waters List.
"It means our water's not very good," Miller said. "It's safe to swim in, but it could be better."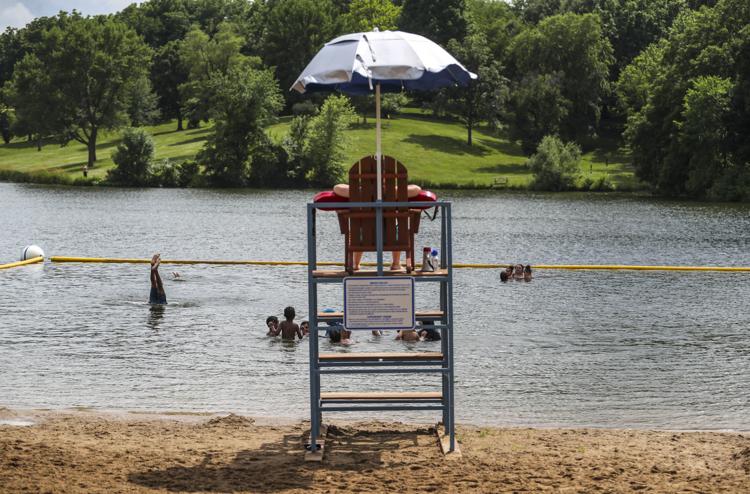 In an effort to improve water quality and recreation at West Lake Park, Scott County and the DNR are teaming up on a major $3 million-plus restoration project.
Within the next few years, Lake of the Hills, plus the three lakes around it, will be drained to scoop out the buildup of sediment with heavy mechanical dredging equipment.
Blue Grass, Railroad and Lambach lakes originally were designed to serve as retention ponds to protect Lake of the Hills. They did their duty, but erosion eventually won, carrying runoff into the water.
"They're old," Miller said of the chain of man-made lakes built with a 35-year life expectancy almost 50 years ago.
Although they will miss anglers, paddlers and swimmers during the dry spell, "It's something we need to do, and once we do it, it will last for another 40 to 50 years," he added. "It's going to be great for the community and great for the environment."
Splitting the costs
Work is slated to begin this fall with the addition of eight or nine new retention ponds to the 1,680-plus acre watershed that encompasses West Lake Park. Existing fixtures will be rehabilitated, too.
The county will cover 25 percent of the costs and the state will pay for the remaining 75 percent with funding secured through Iowa's Lake Restoration Program. Since its inception in 2006, legislators have appropriated about $100 million for water quality improvement projects across the state, 22 of which are complete, said George Antoniou, program coordinator for the DNR.
West Lake Park is one of 19 active projects across the state, and there are 16 others in the initial planning stage. The program currently receives $9.6 million each year.
Scott County and the DNR began discussions about West Lake Park in 2014, Miller said. Last year, they hired FYRA Engineering of Omaha, Nebraska, for $43,369 to develop conceptual designs and cost estimates for the project.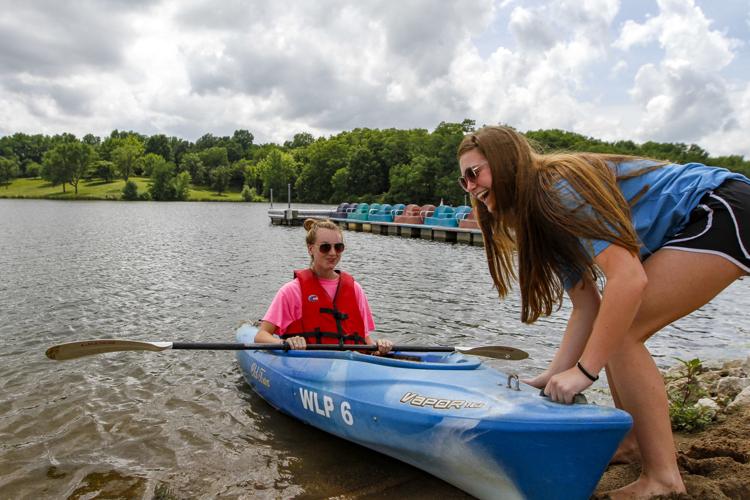 Representatives from all three entities are hosting a public meeting Thursday in Blue Grass.
"When you've worked with a community for a long time, this is the fun part, when we get to start building things," Antoniou said.
Although an official construction timeline has not been released, they plan to begin lowering water levels in August 2019. The job also calls for stabilizing shrinking shorelines, improving fish habitat and updating the lakes' outlet infrastructure. 
Users of the park's challenging 24-hole disc golf course may be the only regulars not disappointed by the temporary loss of water, or hazards, in their case, which apparently drown a lot of discs.
"I would expect we will find a number of them," Miller said, noting regional and national disc golf tournaments are held at the park. "And I expect a number of the public will be hanging out in select locations as the lake is draining."
Last weekend, the 620-acre park hosted the Quad-Cities Triathlon, and twice each year, the DNR loads Lake of the Hills with 2,000 rainbow trout to support area anglers. More than half a million people, including thousands of campers, visit the park on an annual basis.
'The best place ever'
Even on a "slow" day, shaded by scattered clouds and showers, West Lake Park sees a lot of action.
Visitors celebrated the official start to summer on Thursday by picnicking, fishing and paddling around Lake of the Hills.
"Right here's, like, the best place ever to catch fish," 6-year-old Colton Tindle said, casting from a fishing pier on the northeast side of the lake.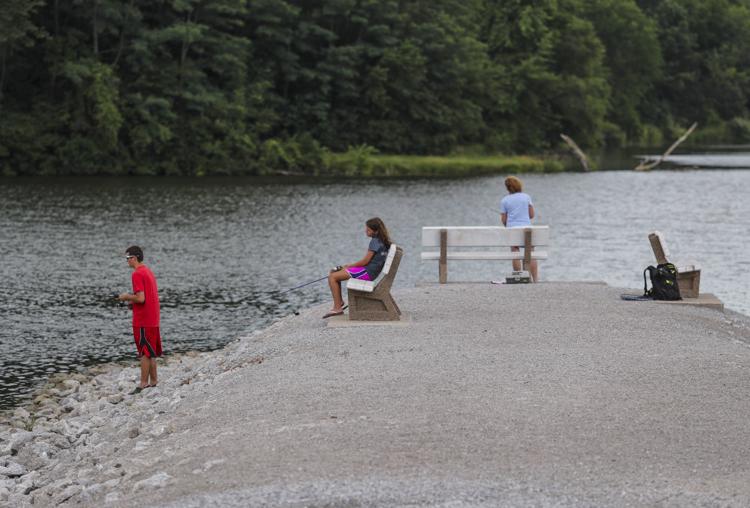 Twice this week, mother Megan Richmond brought Colton and her other children to the park from Wilton, Iowa, about a 30-minute drive. "You could spend a whole day here doing different stuff," shes said.
On the sandy shore around the bend, Scott County naturalist Dave Murcia led four boathouse employees through a basic introduction to kayaking while a visitor toured Lake of the Hills on a stand-up paddleboard.
Guests may rent kayaks, paddle boats and fishing boats from the park's boathouse, which was built in 2005 and includes changing rooms, showers and a concession stand.
Part of the planning process for this project is figuring out how to draw crowds back to West Lake Park when the work is done, the lakes fill up with rainwater and the fishery is restocked.
"We can't accurately predict weather, so say we don't open in 2020," Miller said. "Our clients will find somewhere else to go."
In the meantime, he is open to suggestions.