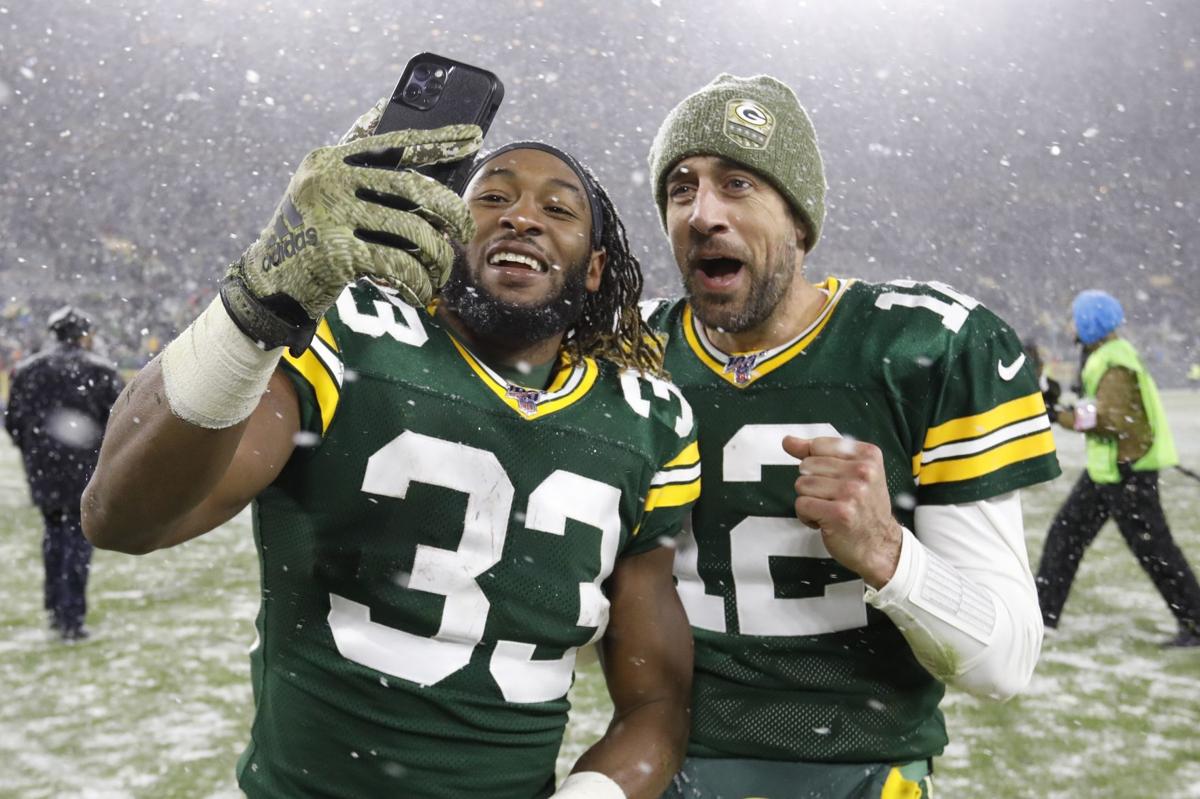 GREEN BAY, Wis. — Preston Smith and Green Bay's defense stopped Christian McCaffrey at the goal line as time expired and the Packers defeated the Carolina Panthers 24-16 on a snowy Sunday at Lambeau Field.
Aaron Jones scored three rushing touchdowns for the second time this season to lead Green Bay (8-2), which improved to 5-2 all-time against the Panthers at home. Jones is the first Packers player since Sterling Sharpe in 1994 with multiple three-touchdown games in a season. Jones is also the first Green Bay running back since Jim Taylor in 1962 with multiple three-touchdown games in a season. Taylor did it three times that season.
"We all know that Christian is a very talented player, and he's been mentioned in the MVP race. So maybe it's time to start talking about Aaron Jones," Aaron Rodgers said.
The Panthers got the ball with 2:25 left on their own 11-yard line, trailing by eight. Quarterback Kyle Allen drove Carolina down the field, including completing a 12-yard pass to D.J. Moore on fourth-and-10 with 56 seconds left.
The Panthers also benefited from an offsides penalty with 13 seconds remaining to convert another fourth down. After Allen threw an incompletion to McCaffrey, the Packers stopped him just short of the end zone as time expired. A brief replay review upheld the call.
"We still had an opportunity to get in," McCaffrey said. "And at the end of the day, no matter who gets it, you've got to make that one yard."
Five of the last six meetings between the two teams have been decided by eight points or less.
Rodgers was held out of the end zone, but the two-time MVP completed 17 of 29 passes for 233 yards, including 118 yards to Devante Adams.
McCaffrey had a relatively quiet 108 yards and a touchdown on 20 carries for the Panthers (5-4), who fell to 6-10 all-time against Green Bay. McCaffrey, who entered the day leading the league in yards from scrimmage and touchdowns, also had 33 yards on six catches.
Allen completed 28 of 43 attempts for 307 yards. He also had two costly turnovers.
Allen and the Panthers struck first with a 2-yard touchdown pass to Curtis Samuel.
Jones tied it up with a 5-yard touchdown run. Jones now has a career-high 11 scores on the ground this season.
Joey Slye knocked in a 50-yard field goal to put the Panthers ahead 10-7 at the start of the second quarter.
Allen fumbled with 12:46 to play in the second. Montravius Adams recovered it for the Packers, and Rodgers linked up with Adams for a 37-yard gain two plays later. The reception set up Jones' second score of the night, a 1-yard run that put the Packers ahead 14-10 with 9:20 to play in the first half.
Rodgers opened the second half by leading a five-play, 75-play scoring drive, highlighted by a 38-yard strike to Adams, a 28-yard run by Jones, and a 13-yard rushing touchdown for Jones that made it 21-10 with 11:50 to go in the third.
Mason Crosby knocked in a 47-yard field goal with 1:25 in the third to increase the Packers' lead to 24-10.