Grand Haven Retirement Community
201 E Franklin St
Eldridge
,
IA
52748
Last Updated: May 24, 2016
Tags:
assisted living, memory care, independent living, retirement, senior, old, aging seniors, eldridge, quad cities, dewitt, retirement community, retirement, all timers care, communities, adult day care, adult day health, adult social assistance, community care, community program, elder care service, live facility, senior citizen housing, senior citizen information, senior citizen social service, welfare office service, welfare service office, adult assistance program, alzheimer treatment, community service company, elder care program, elderly service, geriatrics, senior care service, senior citizen apartment, senior citizen meal, senior housing, senior right assistance, senior wellness program, social assistance, welfare, adult daycare program, assisted living, elderly care service, elderly companion service, geriatric social program, geriatric welfare, neighborhood, senior assistance program, senior social assistance, senior social service, adult daycare, community, community center, community service information, eldercare, elderly assistance program, elderly social program, elderly welfare program, friend and neighbor, geriatric assistance, geriatric social service, gerontology, homecare, senior citizen counseling, senior living, social worker, welfare program, welfare service, adult welfare service, aging agency, alzheimer care service, caregiver assistance program, community assistance, community service business, elderly folk
Grand Haven Retirement Community is an assisted living and retirement residence located in Eldridge, Iowa.
Grand Haven opened its doors in July of 2007. Offering Assisted and Independent Living, Townhome Living, and Studio Apartments in the memory care addition Moments, there are a variety of options to choose what best suits you. With a staff of almost 60, Grand Haven always has a helpful and caring person to assist our residents.
• Want to know more about Insurance benefits?
Click here.
• Financial decisions and questions?
Click here.
Our Mission
To provide an atmosphere of respect, comfort and grace, where quality of life is of the utmost importance.
Manager Dan Collins
Two years ago Dan Collins became Manager of Grand Haven. "Happy Dan" as he is frequently referred to by, had one goal in mind when he took the position: "To take care of the residents as I want someone to take care of me someday."
Living Options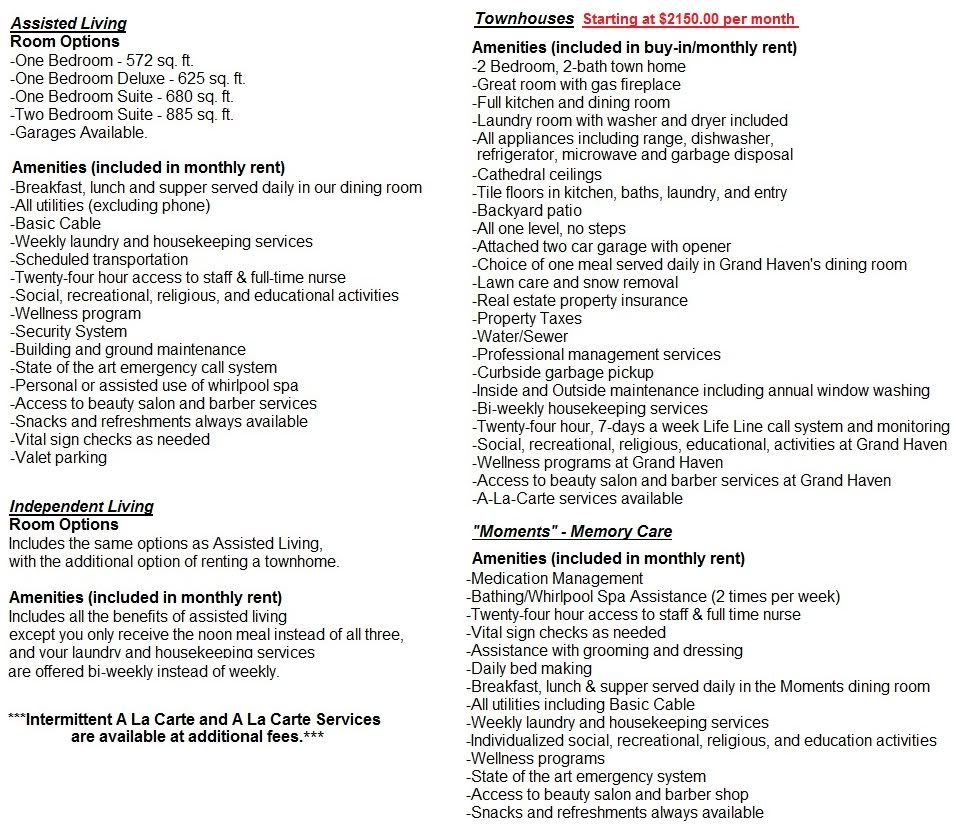 •
Click here for the Townhouse floor plan
•
Click here for the Apartment floor plan
•
Click here for the "Moments"- Memory Care floor plan
Grand Haven also offers a respite care program for a minimum of 3 days. Respite care is for residents who need temporary assistance, in a home-like environment. Included are all services of assisted living plus any assistance needed with activities of daily living, such as dressing, bathing, grooming, hygiene, medication administration, etc.
Events & Activities
There are new and exciting events every month. They are planned around mealtimes so everyone can enjoy!
Contact Us
Is this your business?
Promote your business through our innovative Marketplace system! It's free to sign up!
Call Grand Haven today and take a tour of our warm and inviting, 53 apartment community.