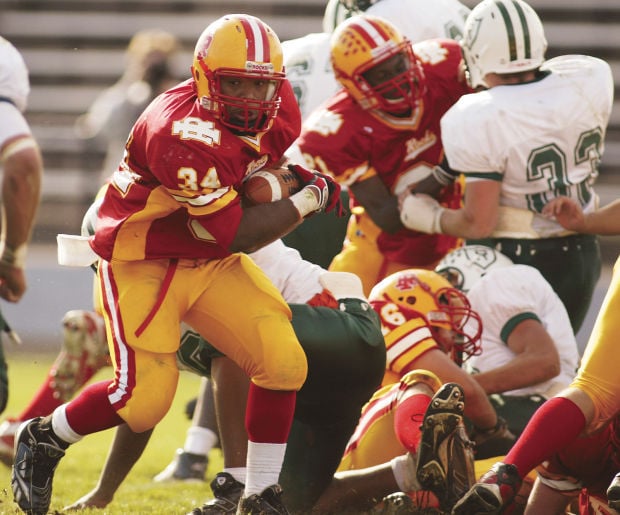 Long after the lights go dark following a football player's final game, the memories of his playing days shine vividly in his mind.
When former teammates get together and talk about the glory days, many are able to recall specific plays or certain games like they were watching them on film. But after their time being the center of attention of their communities on Friday nights has passed, few players have the opportunity to get back on the field and play with their friends again.
A group of Rock Island and Alleman graduates will have the chance to create new memories on the field together Sunday. Alumni Football USA has organized a game between the two rival schools that will bring together graduates from the past 30 years. They'll meet at Rock Island Public Schools Stadium for a 1 p.m. kickoff to see what they've still got.
For some players, it's an opportunity they never thought they would get again.
"When I heard about it I had to make sure it was real," said Waylond Ryan, a 2004 Rock Island graduate who is a co-captain for the Rocky alums. "I was excited and I was pumped for it. I always said we should do something like this with the school, and to actually get something together is pretty exciting."
While getting a chance to play again, the alums will also be helping to raise money for their respective schools. Half of the presale ticket proceeds go to each team's charity and the other half goes to Alumni Football USA for organizing the event. The Pioneers are playing for Alleman School and the Rocks are playing for the Rock Island/Milan Education Foundation.
All of the concession money for the game will go to the Rock Island boosters for hosting the event and money from all admissions at the gate will go to Alumni Football USA.
Around 40 players have signed up for each side. They must pay $100 to play in the game. Some of the players living in and around Rock Island have been practicing without pads over the past two months. They will be provided with equipment by Alumni Football USA on game day.
Rock Island and Alleman have been the two top teams in the Western Big Six since the conference started awarding football championships in 1971, with each school owning 15 league titles. It's a heated intra-city rivalry, but 2004 Alleman alum Hank Belshause said he's not sure how much that will play into the minds of the men who will take the field Sunday.
"As far as any extra motivation just because it's Rocky, I don't know about that," said Belshause, who played linebacker at St. Ambrose and now helps coach the Pioneers football team. "You get the chance to strap on the pads and I don't care if it's Sister Mary's Brothers of the Poor that we're playing, I'm going to be excited to go out there and just play again."
Belshause said turnout for practices was slim early on but has picked up the past couple of weeks to over a dozen players. Center Brad Foley has been one of the players who has been at the past handful of practices. At 49, the 1982 Alleman alum will be one of the oldest players on the field Sunday. He said he's had a blast getting the chance to practice with former teammate John Wetherell, also an offensive lineman, and players from a totally different generation, like Wetherell's son Kevin.
"Some of the camaraderie that's come along the past couple of months has been pretty cool," Foley said. "We knew a lot of these guys' parents or aunts and uncles, and then through watching them over the past 10 to 15 years while they played in high school. It's been fun watching a lot of these guys grow up and now they're adults. It's been pretty neat."
As for how his body will hold up for a game played over 30 years after he graduated high school, Foley isn't quite sure.
"Are you worried? Sure you're worried," Foley said. "But I'm a lineman, so I don't have to go run a lot of guys down. That's up to all the young guys.
"It'll be interesting. I'll definitely have to have a couple Motrin ready for the end of the game."
Ryan said Rock Island has had 20-plus guys show up for some of its practices and tailback/linebacker D'Angelo Allison, a 2008 graduate, said the practices have been run at a fast tempo. He said the Rocks are hoping their quickness can overcome the Pioneers' power.
"It's gonna be a good game," said Allison, who also plays with the Quad-City Raiders semi-pro football team. "Alleman is probably going to try to smash it down our throats and we're going to hit them with the speed."
Allison said he's looking forward to taking the field with a handful of his former teammates and getting the chance to play on the FieldTurf at Alquist Field, which was installed the season after his senior year.
It's opportunities like these that Chuck Hulke, team coordinator for Alumni Football USA, said his organization strives to facilitate.
"We are happy with the way the Rocky versus Alleman alumni game is coming together," Hulke said. "Our plan is to put together more games for alumni from every school in the area. Every guy can play again if they want to."