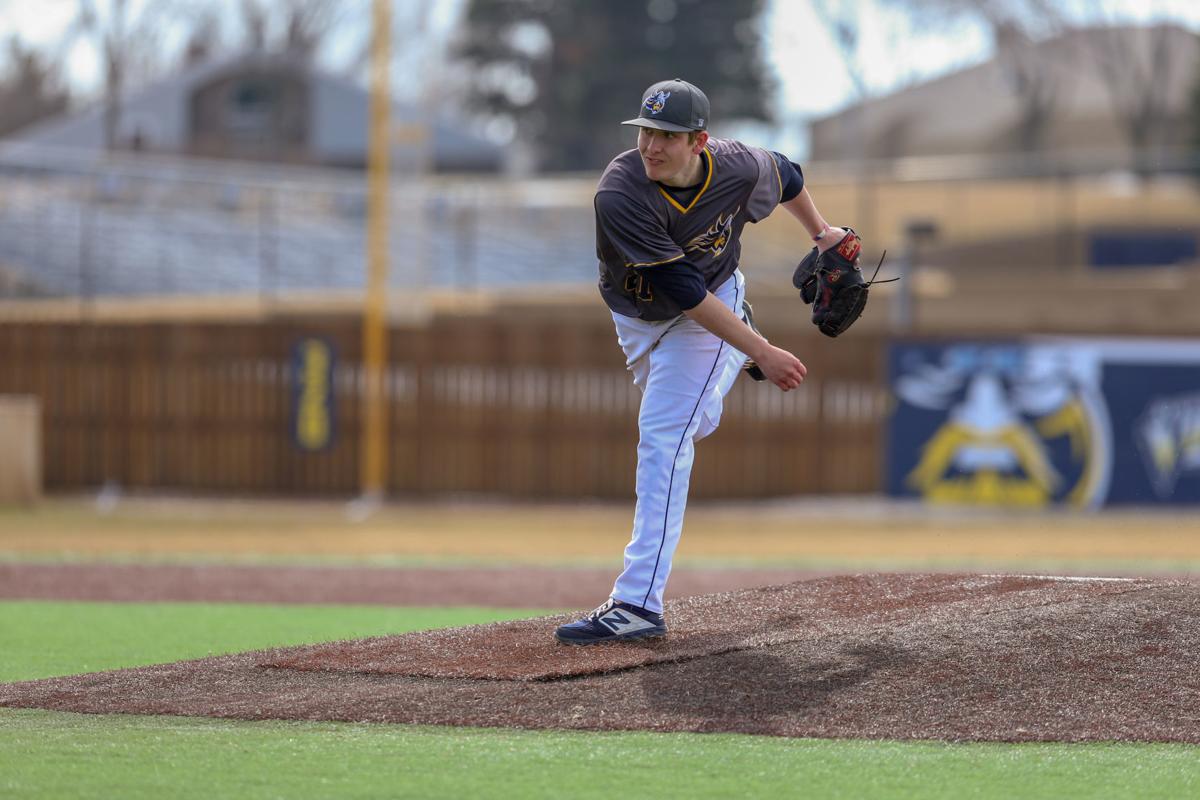 Throughout his career at Central DeWitt and Iowa Central Community College, Max Steffens and the strike zone have always been constant companions.
He walked only 12 batters while striking out 162 over 135 innings of work during his final two seasons of high school baseball and led the nation at the junior-college level in shutouts as a freshman.
But Steffens now chases opposing hitters with a different approach, turning his study of the game and strength gains into newfound velocity that is allowing him to thrive at Augustana University in Sioux Falls, South Dakota.
The 6-foot-1 right-handed pitcher is 8-0 with a 1.51 earned run average and seven complete games this season for the defending NCAA Division II national champions.
Steffens has struck out 61 batters and walked eight while working a school-record 83.1 innings for a 36-14 team that claimed its first-ever Northern Sun Conference regular-season championship with a three-game sweep of Upper Iowa last weekend.
"I was always a guy who was throwing in the mid-80s, 84, 85, in high school, and it was working for me, but I've definitely gained some arm strength that is helping me now,'' Steffens said.
He has topped out at 90 miles per hour in three recent games and is regularly delivering pitches in the 87-88 range, but there is more to his evolution on the mound than the gains he has made in the weight room.
Working with Augustana pitching coach Casey Jacobson, Steffens is gaining an understanding for the analytics side of baseball.
Steffens now studies his work through a Rapsodo pitch tracking system that measures the impact of the spin on every pitch he makes, calculating spin rate and providing data that is helping him not only develop his pitches but also learn how to mask the pitches he throws as fastballs.
A Driveline performance training system is helping develop arm health and velocity.
"I'm seeing the results. I've added a couple of miles per hour to my pitches and a lot of that has to do with strength. I'm learning, too, how to use spin efficiency to my advantage against the hitters I'm facing,'' Steffens said.
You have free articles remaining.
"It's definitely a whole new side to baseball and the more I learn, the more effective I've been. The technology that is out there now is making me a better pitcher.''
Through the use of video, Steffens now has the ability to study every bullpen session and game he throws.
"That's helping me keep the same motion from one pitch to the next and helping me establish some deceptiveness to mask whatever pitch I might be throwing as a fastball,'' Steffens said. "It's been a good experience for me.''
That was what Steffens was hoping for when he began working though the recruiting process a little over a year ago.
He had earned all-region honors at the junior college level in each of his two seasons at Iowa Central but he wasn't attracting the attention of recruiters from Division I programs to the degree he envisioned.
But, Augustana coach Tim Huber sold Steffens on the idea that the Division II program could continue to facilitate his development.
"Baseball is a game where players can come from all sorts of levels,'' Steffens said. "The coaches here were able to show me that I would be able to continue to refine my craft and develop while being part of a program that was coming off a national championship. It's been a perfect fit.''
Steffens has found baseball in the Northern Sun to be competitive.
"We're the defending national champs and we're getting everybody's best shot,'' he said. "It's been a dogfight every time out, the type of games where you have to grind it out.''
Steffens is fine with that.
"It's making us all better. The attention to detail is important and the mindset is that you can't give up three runs and expect to win,'' he said. "That's where my focus is at right now.''
His success can be found in the statistics.
Steffens has not allowed more than three runs in any of his 12 outings this season and has limited opponents to a .193 batting average.