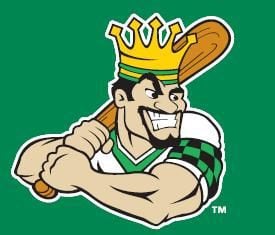 Clinton will begin its inaugural season in the Prospect League against a familiar foe.
The LumberKings will face the Burlington Bees in their season opener as the two longtime Midwest League clubs transition to the Prospect League during the upcoming baseball season.
The Clinton and Burlington teams are joining the 16-team collegiate wood-bat league after being among 43 minor-league clubs across the country left out of Major League Baseball's reorganization plans for its developmental leagues, which are being downsized from 160 to 120 teams in 2021.
Clinton will welcome the Bees to NelsonCorp Field for the first game of a 60-game summer season on Thursday, May 27. First-pitch in the opening game of a two-game series between the teams is set for 6:30 p.m.
The game will be the first for the LumberKings since the end of the 2019 Midwest League season when they competed as an affiliate of the Miami Marlins.
This season, the Clinton roster will be stocked with college-age prospects and the team will be managed by Jack Dahm, the current coach at Mount Mercy University who formerly coached at Iowa and Creighton.
Clinton and Burlington join the Normal Cornbelters and Quincy Gems as members of one of two four-team divisions in the Western Conference of the Prospect League. Teams in Alton and Springfield in Illinois and Cape Girardeau and O'Fallon in Missouri form the other division in the Western Conference.
After its opening series with the Bees, Clinton will be the visitor on opening night for two other Prospect League teams, playing at Quincy on May 29 and Burlington on May 30 before returning home for a game on Memorial Day against the Bees.
Clinton's 30-game home schedule includes a home game against O'Fallon on Father's Day and against Quincy on Independence Day.
The LumberKings' schedule has a number of weekend home dates, including five games each on Thursdays, Fridays and Saturdays as well as six Sunday home dates.
The Prospect League regular-season schedule runs through Aug. 4 and the league crowns a first- and second-half champion in each division prior to playoffs which begin Aug. 5.
A conference champion is then determined beginning Aug. 7 with a best-of-three league championship series between the winners of the Western and Eastern conferences beginning on Aug. 9.
The league's eight-team Eastern Conference stretches from suburban Chicago to western Pennsylvania.
As was the case when it was in the Midwest League, the LumberKings will continue to feature a number of giveaways, fireworks nights and post-game concerts. Details for the 2021 season to be announced at a later date.