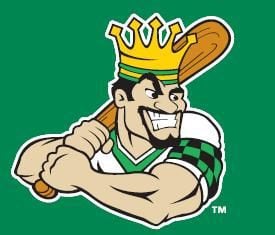 For a community-owned minor-league baseball team like the Clinton LumberKings, teamwork has always extended beyond the confines of the first- and third-base lines.
The Midwest League's oldest franchise has always relied on volunteers to make it all work, operating the team through a board of directors made up of community members.
From taking tickets to running the scoreboard and pouring the beer sold at the NelsonCorp Field concession stands, they've donated time, talent and ideas that have kept professional baseball afloat in Clinton through good years and lean times.
Paul Davis was one of those individuals, serving on the LumberKings board of directors for more than two decades and serving as the organization's president for the past 10 years leading up to his death on Wednesday at the age of 62.
"He will be remembered as someone who always had the best interest of the club in mind," LumberKings general manager Ted Tornow said. "We've had good leadership in our organization, and that's one of the reasons professional baseball remains in Clinton today. For the past 10 years, Paul provided the LumberKings with that leadership."
Tornow said Davis blended an understanding of the complexities of the business with a personable attitude that resonated well within the community and as he interacted with fans attending games.
"A real friendly guy to be around, someone people enjoyed talking with," Tornow said.
You have free articles remaining.
Davis' connection with the community extended beyond his work with the LumberKings.
He was also a high school sports official, working hundreds of baseball, softball, basketball and volleyball games over a lengthy career.
"He had the right demeanor for all of that, was involved for all the right reasons," Tornow said. "He was a good leader, someone people respected and thought a lot of for all that he contributed."
Tornow said Davis oversaw a number of changes within the LumberKings organization and was active in Clinton's interactions other Midwest League franchises.
He also provided Tornow with a good sounding board for new ideas.
"Paul was always a sound voice of reason," Tornow said. "When I'd offer an idea that might have been out there a bit, he'd keep me in check. He had the ability to see different sides of ideas, but the bottom line was always, though, about what was best for the team and the organization."
In an era when Major League Baseball has floated the idea of eliminating some minor-league teams, a situation that could impact Clinton, Tornow said Davis was prepared to fight for a Midwest League franchise that has provided professional baseball to fans in Clinton since 1954.
"He believed there is a place in minor-league baseball for the small-market teams and was pro-active in his thinking in that regard," Tornow said. "He was prepared to fight for our future in the right way and help move our organization forward. He will be missed."
Private family services are scheduled for Davis this weekend through Pape Funeral Home. A celebration of life will be held at a later date.
Be the first to know
Get local news delivered to your inbox!