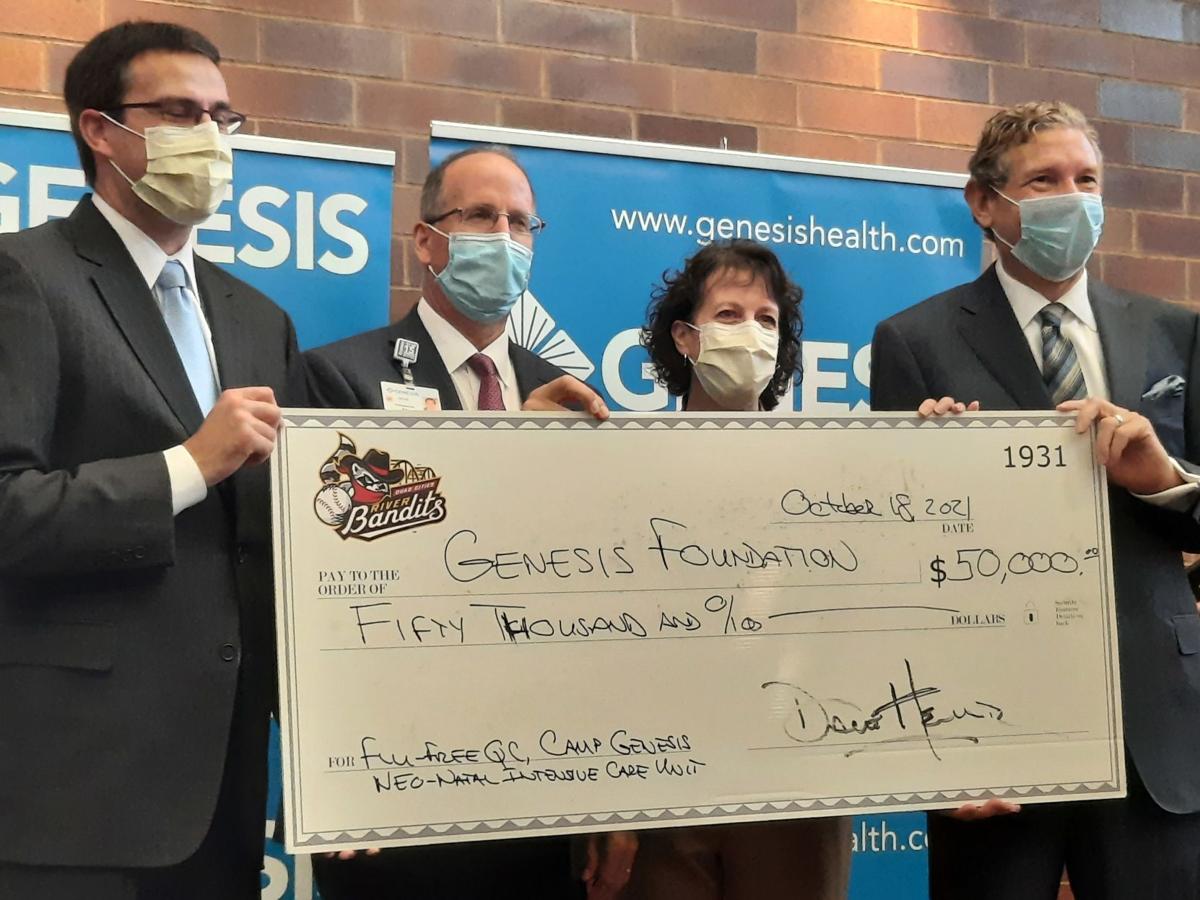 The Quad Cities River Bandits have a long history of going to bat for the children's health initiatives provided by Genesis Health Systems.
Monday, the River Bandits joined Green State Credit Union in challenging others in the Quad-Cities community to support the Genesis Foundation's Flu-Free QC program as well as Camp Genesis and the Genesis Neonatal Intensive Care Unit by participating in a challenge.
River Bandits owners Dave Heller and Roby Smith unveiled a challenge grant at an afternoon news conference, announcing the High-A Central League champions will match all donations made to support any of the three programs through Dec. 17 up to $50,000.
"Of all the things we get to do with the River Bandits, the thing that Roby and I enjoy the most is giving back to the community and making the Quad-Cities a better, healthier and stronger place,'' Heller said.
Heller said the two-month challenge is designed to help double the impact that local dollars make in helping fund a program with has put flu shots in the arms of more than 100,000 area youths over the past decade.
Missy Gowey, the executive director of the Genesis Foundation, said the Flu-Free QC program that began a current round of flu shots on Oct. 1 is funded entirely through gifts from the community.
The program provides free flu vaccinations to public, private and parochial elementary school children throughout the region.
She said donations from the River Bandits and Green State Credit Union will fund one-third of the total cost of the Flu-Free QC program.
The River Bandits challenge will also match gifts to Camp Genesis, which offers a traditional camp experience for young people who are dealing with cancer in their families, and to the Genesis NICU, assisting with the cost of equipment and technological needs.
"The leadership gifts from the River Bandits and Green State will make a difference. They will make the Quad-Cities a healthier place,'' said Doug Cropper, president and CEO of Genesis Health Systems.
Heller said the challenge is needed particularly given the ongoing COVID-19 pandemic.
"We've all seen the hard work put in by health care providers over the past year and a half. We've seen how incredibly important it is to get vaccinated to protect our own health and the health of the entire community,'' Heller said. "We're happy to do our part.''