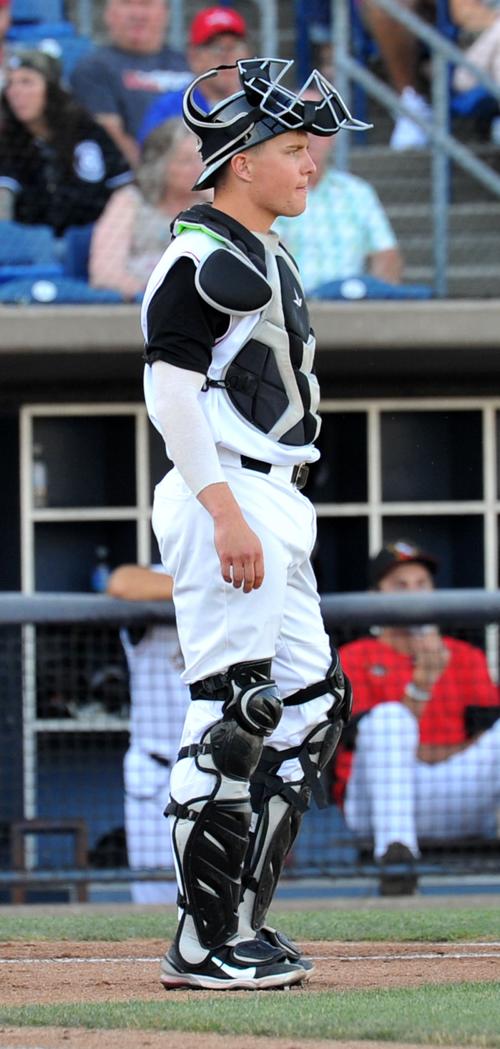 William Hancock trusts the process.
And now, the Quad Cities River Bandits catcher is reaping rewards.
Hancock got off to a slow start at the plate this season, hitting .171 through 99 at-bats over 30 games in May and June but has hit .341 for Quad Cities over 11 games so far in July.
"I went through a tough stretch early, but I took a step back a few weeks ago and July has been good to me," Hancock said.
Throughout the current month, Hancock has concentrated on hard-hit rates, one of the priorities that the Royals organization charts on a daily basis.
He combined that focus with reduced attention on things such as chase rates and swing-and-miss rates, measured statistical realities that were impacting the bottom line for the Royals' 31st-round choice in the 2018 draft.
"I don't see myself as being out there chasing hits anymore. I'm sticking to plan, concerning myself with the things I need to concern myself with and not getting caught up in the numbers," Hancock said.
"The Royals talk a lot about making good, hard contact. That's what they want to see. Sometimes, a defensive guy is going to make a good play or you might hit into a lineout, but if you make good, hard contact, good things will ultimately happen."
That describes the month of July for Hancock, a Little Rock, Ark., native who played collegiately at Central Arkansas.
Hancock has collected three of his seven doubles and two of his three home runs during the current month, recording half of his 24 RBIs during the 11 games he has played in July.
A four-hit game at Wisconsin during the first week of the month seemed to provide Hancock with a needed spark.
"Usually, that's what it takes, something to pick the confidence up a bit and get things started," Hancock said. "That game started a good run and since, I've continued to keep that hard-hit rate up and do some good things at the plate."
Hancock swings the bat from the left side of the plate while Logan Porter is a right-handed hitter, positioning both for playing time based in part on whether a Quad Cities opponent is throwing a right- or left-handed pitcher.
"We're two different styles of catchers, but at the end of the day, it's about achieving the same goal," Hancock said.
Beyond contributing to the River Bandits' team success at the plate, Hancock and Porter work to help Quad Cities pitchers craft solid outings.
Much like his own offensive effort, Hancock sees growth in the pitching staff he works with.
"Our pitchers all seem to be finding routines that work," Hancock said. "Even in 'A' ball, they're finding ways to come together and are finding ways to feed off of the success each of them are having."
That starts with meetings between the pitching staff, the catchers and pitching coach Steve Luebber.
With the number of opponents limited largely to five division foes and each series lasting six games, there are opportunities to center discussions around opposing hitters and situational opportunities against those hitters.
"All of our pitchers are settling in. They've gained an understanding of what they can and can't do at this level against the caliber of hitters they are seeing," Hancock said. "Like we all are, they've been working on the things they need to do to take that next step in the organization."
Pitchers Angel Zerpa and Drew Parrish made that move during the first half of the season, mastering the consistency needed to be reassigned to Double-A Northwest Arkansas.
"In reality, that's what we are all looking for, that consistency," Hancock said. "It's what you work on every day."