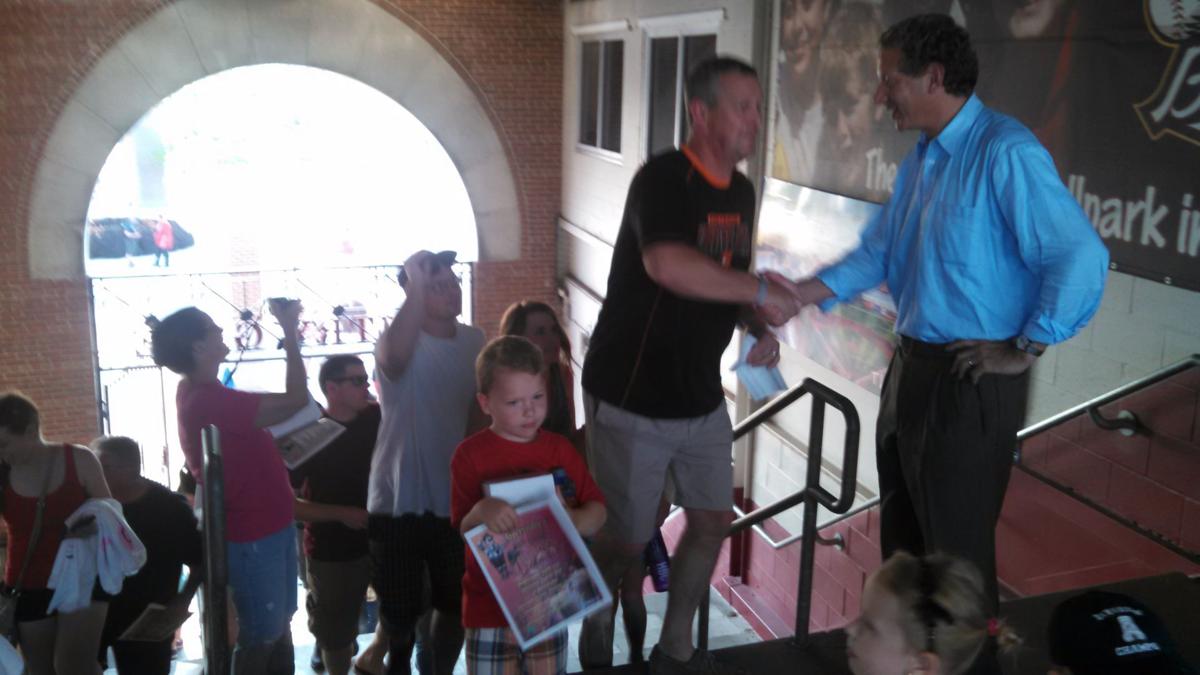 Quad Cities River Bandits fans can expect a few changes inside Modern Woodmen Park this season when professional baseball returns to the Davenport riverfront.
Tickets for the 60 home games for the new High-A Central affiliate of Kansas City Royals will be available starting at 10 a.m. Friday, 12 days before the River Bandits' May 11 home opener against Cedar Rapids.
Changes that will impact fans include temporary adjustments because of COVID-19 guidelines required by Major League Baseball and cash-free opportunities designed for guests to reduce interpersonal contact if they prefer.
"I'm so eager to welcome people back to the ballpark," River Bandits owner Dave Heller said. "It's been way too long since our last home game and it will be great to see people again. Our players feed off the energy of our fans, and they create a great home-field advantage."
With ample room surrounding the playing field and the ability to offer standing room tickets to make up for the lost seating, Heller said Modern Woodmen Park will open at normal capacity for the 2021 season.
Social distancing will be in place in seating areas, and all fans will be required to wear face coverings while inside the ballpark, where gates will open 45 minutes prior to the day's scheduled first pitch.
Major League Baseball requirements because of COVID-19 concerns will impact what seats are available. This season, no fans will be allowed to sit in the first two or three rows throughout the entire ballpark, both in box seats and bleacher seating areas.
"It is an MLB requirement that we will have to abide by," Heller said, adding the outfield grass berm seating areas and deck areas should be available as usual.
The River Bandits staff will clean and sanitize Modern Woodmen Park and its seating areas frequently.
MLB guidelines for the upcoming season will also prohibit fans from collecting autographs from players in the dugout areas.
Heller said the River Bandits will encourage, but not require, fans to use cashless transactions at the ballpark.
"We understand that some people prefer to use cash and we want them to feel welcome at the ballpark. We also understand that some people want to limit contact, and we will encourage them to make cashless transactions that hopefully will create shorter, faster lines," Heller said.
Fans will be able to use credit or debit cards, or a reloadable Bandits card available at the ballpark, to purchase nearly everything at River Bandits games.
The cards can be used to cover the cost of game tickets, parking, concessions and souvenir items as well as tickets for amusement rides at Modern Woodmen Park.
To encourage the use of the Bandits card, for every $20 loaded onto a card it will be good for $22 in purchases.
The River Bandits open their 120-game season Tuesday at South Bend, but will play the first of 10 six-game home series — each running from Tuesday through Sunday — when Cedar Rapids visits on May 11.
The Quad Cities club expects to unveil a busy promotional schedule later this week that will include 13 fireworks displays and nine bobbleheads, among a number of giveaways.
Tickets will be available online at riverbandits.com, by calling the River Bandits box office at 563-333-2737 or during regular business hours at the Modern Woodmen Park ticket window.
Fans who purchased tickets or had vouchers for games during the canceled 2020 season may exchange them at the River Bandits box office for tickets or vouchers to any 2021 home game.