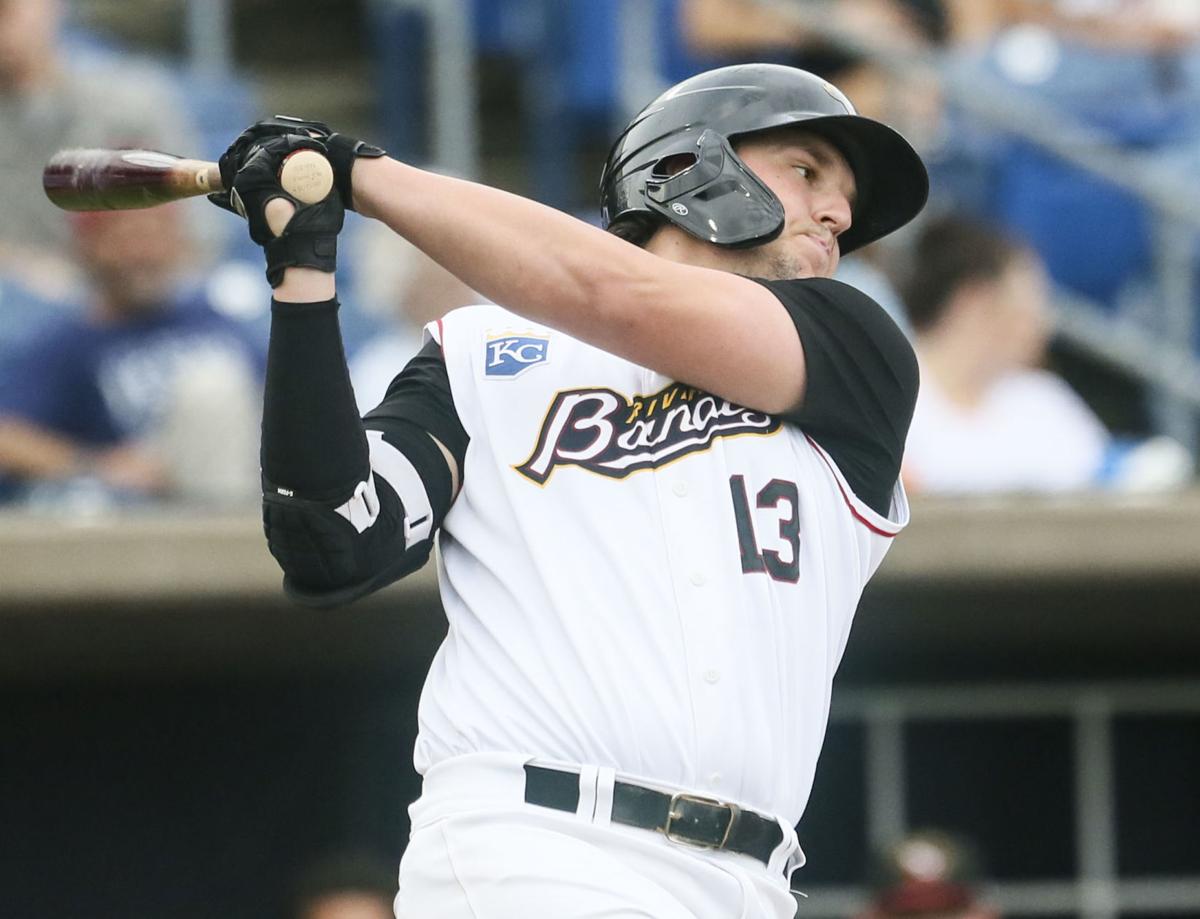 Vinnie Pasquantino tries to keep it simple.
The Quad Cities River Bandits first baseman never looks too far ahead, never lives in the past.
"I try to never be satisfied," Pasquantino said. "We still have two-and-a-half months left in the season and every day is an opportunity to have some good at-bats, play some good defense and help my team win."
Pasquantino is doing just that.
Named Friday by the Kansas City Royals player development office as the organization's Quad Cities player of the month for June, Pasquantino is putting up some big numbers for the River Bandits.
In addition to batting .268 for Quad Cities, he leads the High-A Central League with a .571 slugging percentage, ranks second in the league with 53 hits, third with 15 doubles and 13 home runs, fourth with 39 RBIs and is tied for eighth with three triples.
In the month of June, the statistics were even better for the Old Dominion graduate from Moseley, Va.
Pasquantino hit .346 with 13 doubles, three triples and four homers during the second month of the season, but he remains a student of the game.
Part of the education Pasquantino receives is delivered in the experiences and thoughts others share during the offseason when he co-hosts a podcast with journalist and broadcaster Alex Feuz.
In 63 episodes since 2020, their podcast "A Whole New Ballgame," has featured the stories of people in and around the game.
Featured interviewed guests have included former major leaguer Darryl Strawberry, Boston Red Sox play-by-play voice Dave O'Brien, NBC Sports Bay Area digital correspondent and podcast host Jessica Kleinschmidt, University of Iowa baseball and basketball player Connor McCaffery, front-office personnel and some of the game's top prospects.
The podcasts are available on Apple Podcasts and virtually everywhere podcasts can be found.
During the past two offseasons, a pair of podcasts have been released most weeks. No podcasts are produced during the season.
"When I agreed to be part of it, I wanted to limit it to the offseason so that I could focus on my own season when it was that time," Pasquantino said. "Alex has his own things then as well, so it has worked really well."
Pasquantino was approached about being part of the project shortly after the 2019 season, when the 11th round draft selection began his career by batting .294 over 57 games with short-season Burlington (N.C.) in the Appalachian League.
Feuz was supposed to broadcast games for the team in 2020 and the club was looking to pair him with a former Burlington player to interview players who had competed there in the past.
"I was coming off of instructional league and heading into the offseason, it was something that sounded interesting. It was Alex's idea and it was something we started and it has just kept going," Pasquantino said.
"Alex does the heavy lifting, all of the production-type things, and he does a great job with that. It's been a fun experience."
A communications major at Old Dominion, Pasquantino has found it all to be beneficial in a number of ways.
In preparing for interviews, he formulates the questions he wants to ask and then learns from the answers he receives.
"I'm learning with every interview. We're talking with people for a short time, but we're talking to them about major events and experiences in their lives," Pasquantino said.
"I'm learning a lot about what drives people, how they have created their own success stories, and there are things I'm learning that I try to apply to my own personal situation."
Those words, those experiences of others, are helping Pasquantino progress as his first full-season assignment in baseball continues.
After joining the rest of the country in sitting out the 2020 season because of the COVID-19 pandemic, Pasquantino puts to use what he has learned from his coaches — dating back to the defensive mindset of Chris Finwood at Old Dominion — and from those he has interacted with off the field.
"There was a real anxious feeling coming into this season, just about getting back to normal," Pasquantino said.
"I think it was that way for the players, the coaches, the fans, the PA guy who hadn't done his thing for more than a year, I think everybody was anxious. I'm proud of my team and the way they have handled returning to action."
Pasquantino sees that in the way the River Bandits compete and the way they prepare daily for competition.
"There is always work to do. That never changes in baseball, but I think we all enjoy coming out to the ballpark and working together to make something good happen as a team," Pasquantino said. "That is always the top priority."