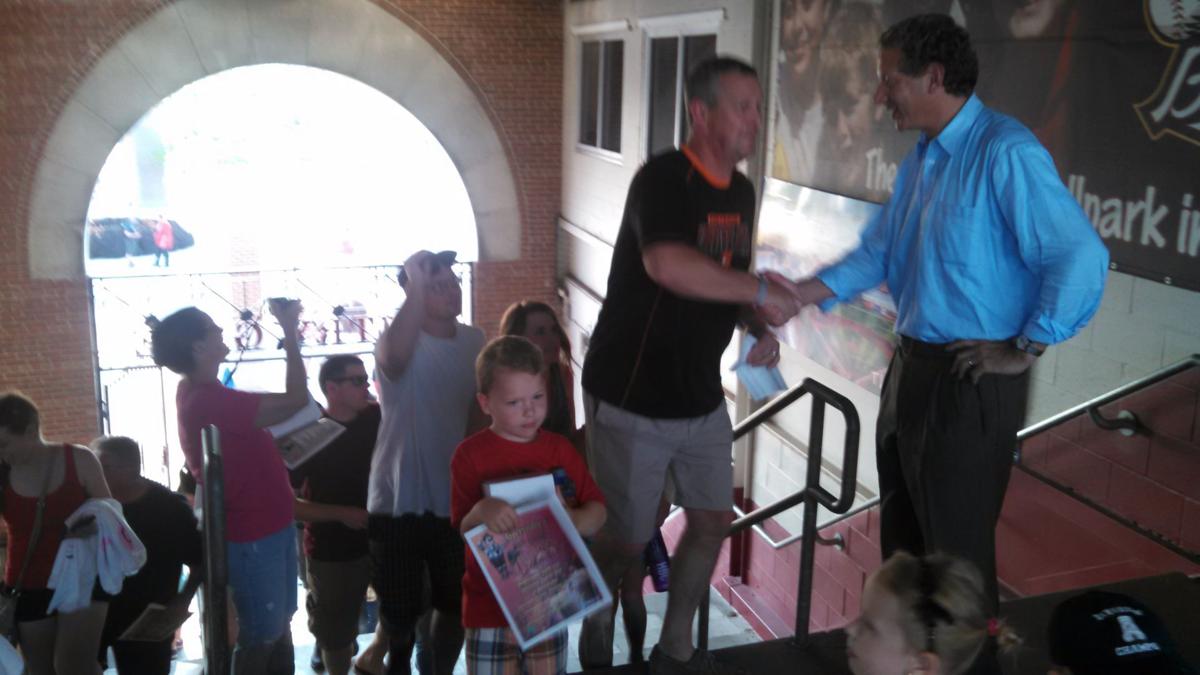 No schedule has been drawn up and no contract is in place, but Quad Cities River Bandits owner Dave Heller said he has once again been assured that Midwest League baseball will return to Modern Woodmen Park in 2021.
U.S. Sen. Joni Ernst (R-Iowa) informed Heller during a recent phone call that she had spoken with Major League Baseball officials who had assured her that Midwest League clubs in the Quad-Cities and Cedar Rapids "are definitely not being contracted" when minor-league baseball plays its next season.
"She reiterated what Sen. (Charles) Grassley had told us earlier, that the River Bandits will be around in 2021 and into the future," Heller said. "It's very reassuring to hear that in what has been a very trying year."
While the River Bandits did appear on at least one initial published list of contraction candidates, Heller said he believes a number of factors continue to benefit the Quad Cities club.
"The quality of the ballpark, the quality of the market and the amenities available around the ballpark in downtown Davenport along with the fan support are all a part of it," Heller said. "Those things, the support of the Quad-Cities community, all point to our continued existence."
While major-league teams began a shortened regular season in July, there have been no minor-league games played by any of the nation's 160 affiliated minor-league teams in 2020 as a byproduct of the COVID-19 pandemic that initially shut down professional baseball in mid-March.
Still working to reshape its own season, Major League Baseball informed Minor League Baseball on June 30 that it would not be providing players for the current season.
That decision came as negotiations between the governing bodies of major- and minor-league baseball on a Professional Baseball Agreement — the contract which ties Major League Baseball and Minor League Baseball — continue to be at a standstill.
The current contract between the two groups expires on Sept. 30 and there has been no movement toward an agreement.
Major League Baseball has proposed eliminating 40 of the existing 160 minor-league affiliates as a way to streamline organizations and provide current players in farm systems with improved pay.
At stake is the existence of a number of teams around the nation, including Midwest League clubs in Clinton and Burlington.
Grassley, in an earlier interview with the Quad-City Times and Dispatch-Argus, said that he had been told by Dan Halem, the deputy commissioner of Major League Baseball, that Iowa-based minor-league clubs in Davenport, Cedar Rapids and Des Moines (Chicago Cubs' Triple-A affiliate) were not on the list of clubs under consideration for elimination.
At that time, Grassley said he was told by Halem that he could make no assurances about the future of affiliated baseball in Clinton and Burlington.
While no Midwest League games have been played at Modern Woodmen Park this summer, the Davenport riverfront ballpark has continued to be an active place.
Social-distance requirements have limited attendance, but 130 baseball games have been played since June on the field at Modern Woodmen Park.
Most of have come during weekend youth tournaments already scheduled to be played on diamonds in the Quad-Cities. With some facilities closed because of the coronavirus situation, local tournaments have added additional teams to their fields and Modern Woodmen Park has been able to host games for teams with players 14 years or older.
The facility has also hosted several Iowa high school games and when baseball isn't being played, the River Bandits have hosted a Movies at Modern Woodmen Park series benefiting the Genesis Foundation on Friday and Saturday evenings and other events such as business meetings and receptions.
"We're finding ways to keep Modern Woodmen Park a busy place and we'll continue to do so while still looking forward to the day when we can welcome fans back to River Bandits games," Heller said.