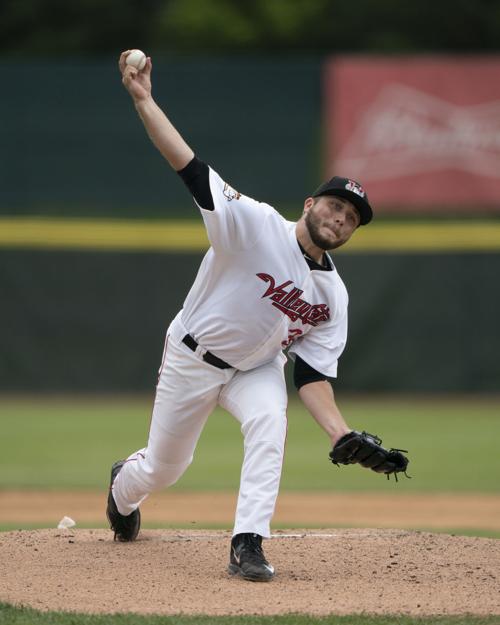 Cole McDonald spent the offseason looking forward to the possibility of pitching for the Quad Cities River Bandits this summer.
A successful rookie season with short-season Tri-City had positioned the former Iowa pitcher, a 15th-round draft choice of the Houston Astros in 2019, for an opportunity to build on his first experience in professional baseball.
But instead of challenging hitters in the Midwest League, the New Hampton, Iowa, native finds himself pitching off of a makeshift mound in a shed at a farm just down the road from his new bride's family home near Pleasantville, Iowa.
"It's a pretty good set-up, a decent mound, has some turf on the floor," McDonald said. "I'm able to get some work in."
For now, that's as good as it gets for the 6-foot-1 right-hander.
The start of his first full season in professional baseball has been put on hold, initially by the COVID-19 pandemic that brought spring training to a halt in mid-March and now as baseball owners and players at the major-league level attempt to figure out how to safely bring the game back at that level.
"The later it gets, I'll be surprised if we end up having a season this year and that's disappointing," McDonald said.
"I was looking forward to getting the chance to compete for a roster spot with Quad Cities. It would have been a step forward and a good chance to be back in Iowa and pitch close to home for my family and friends. Maybe someday. It would be pretty cool."
Instead, McDonald's days are filled with work designed to help continue his development.
Bill Murphy, Houston's minor-league pitching coordinator, checks in regularly, as do the Astros strength and conditioning personnel.
McDonald receives workout plans each week and is able to use some weight training equipment belonging to his wife's brothers to help him train.
"I'm getting in the work I need to get in and doing what I can to improve. That's important," McDonald said.
He left instructional league last fall with an objective of developing his slider and improving mechanics to help his velocity.
Those were among things McDonald concentrated on during the offseason while living in Iowa City.
The Astros want him to gain about three miles per hour on his pitch velocity, gains that would put him between 92 and 95 miles per hour on average.
"That's a realistic goal and my slider, I feel like I'm making some strides with it," McDonald said. "It was good to get back to Iowa City last fall and be in familiar surroundings with the coaches there and the technology that they have to help me. It was a good situation."
It followed a solid start for McDonald after Houston selected the Hawkeyes' regular series-opening pitcher in last June's draft.
After signing with the Astros, the last nine of his 10 appearances last season came with Tri-City in the New York-Penn League.
He finished the year with a 1-0 record and 2.39 ERA in 26.1 innings of work, striking out 29 batters and walking 15.
Equally important, it provided McDonald with a foundation to build on.
"The experience at Tri-City opened my eyes to pro ball and allowed me to adjust as a player as I learned how pro ball works," McDonald said.
"It was a good experience and looking at how the Astros work as an organization, moving guys primarily level to level, I felt like I was in a spot that with a good spring I could have started in Quad Cities this season. That was the goal."
That became the goal as McDonald worked his way through the season last summer in New York.
"The biggest thing I took from last season was some confidence. I learned I can perform and that I belonged," McDonald said. "Facing the guys that I did and having success, it was a good start in how it gave me confidence in my abilities."
He learned from Murphy and others, developing a willingness to take their suggestions and apply them on a regular basis.
"There were mechanical things at first where I wondered if the change would help, but then over time, you would see results and gain an understanding of why they were making the changes they made," McDonald said.
That growth was facilitated by the mindset the Astros encourage concentrating on the process and not necessarily the bottom line.
"It wasn't necessarily about having to come in and win the game. It was more about having a plan, sticking to it and not losing sight of the long-term objective," McDonald said. "That took the pressure off in a lot of ways, not getting caught up in wins and losses. For all of us, it was about improvement."
McDonald carried that objective into the offseason, arriving at his first spring training feeling ready and prepared.
"I came into spring feeling like I had improved. I felt great. I only had the chance to throw live once before everything happened and it went well," McDonald said.
"I was excited for the season. To have everything postponed, it's been disappointing, but I don't want it to be a lost season. Everyone is in the same boat, so all you can do is keep working, keep the focus there so that when it comes time to play again, you're ready."
Be the first to know
Get local news delivered to your inbox!