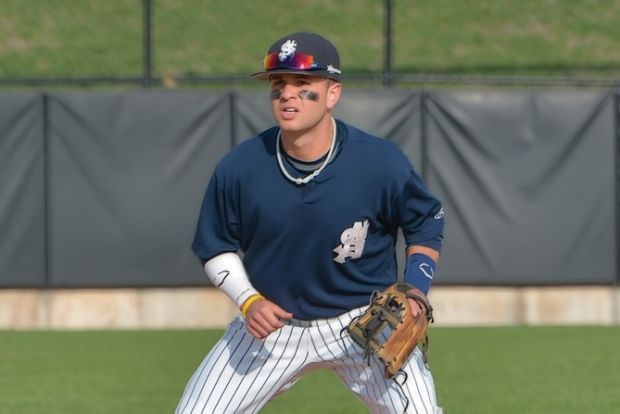 It took a seven-hour detour over the dusty highways of the Southwest to get there, but J Golden has found a home in professional baseball.
The player of the year in the Midwest Collegiate Conference this spring as a senior shortstop at St. Ambrose, Golden is now playing the infield for the Bisbee Blue of the Pecos League after signing with the independent team over the weekend.
"It feels good to be back on the field again. It took a little longer than I hoped, but getting out there this summer and getting some experience was pretty important to me,'' Golden said. "I didn't want to sit out this year and then try to get back into it.''
Golden arrived in the southeastern Arizona town located 92 miles southeast of Tucson early this week, although that was not his original destination.
He initially anticipated playing for the Las Vegas Train Robbers, based in Las Vegas, N.M., and Golden flew to Albuquerque late last week with intentions to sign with that team.
"I was on my way to join them in Roswell, N.M., when I got a text from the coach at Bisbee (Loras College graduate Sean Repay), wanting to know if I had signed with anyone yet. I told him I was on my to do that with Las Vegas and he said he wished he had gotten in touch earlier,'' Golden said.
Golden called the coach of the Las Vegas team to tell him what had happened and was surprised at the response.
You have free articles remaining.
"He told me that I should go ahead and sign with Bisbee because they had a better shot at making the playoffs. I call the Bisbee coach back to see if their offer was still available and he said it was so I turned the car around and headed to Arizona,'' Golden said. "The drive was definitely culture shock for a guy from the Midwest.''
Golden drove the 426 miles to Bisbee, signing with the Blue on Sunday and taking the field for the first time on Monday when he started at shortstop for a team which is 30-24.
Told that he can expect to play at least every other game, Golden is part of a roster which includes four former minor-league players and players from all college levels ranging from Division North Carolina State to junior colleges.
The Las Vegas team he considered joining is currently 14-37 as it works its way through a 70-game schedule.
"The season here runs until around the first of August and my hope is put myself in front of as many scouts as possible. Being on a playoff team should help that and that's what the coach at Las Vegas said,'' Golden said.
"Coming off of the season I had at St. Ambrose, I want the chance to build off of that and show people what I'm capable of doing. I feel like I'll get that chance here over the next few weeks.''
Golden will work as an assistant coach at Central Methodist University in the fall and coaches there have been supportive of his pursuit of a professional playing opportunity.
"They've been flexible with things, and if I'm a few days late getting down there because of the season they are OK with that,'' Golden said.
Golden, a Davenport Assumption and Black Hawk graduate who hit .377 for the Fighting Bees this spring, is one of two former St. Ambrose players to sign with Pecos League teams this week. Infielder Matt Page signed to continue his career with the Douglas (Ariz.) Diablos.