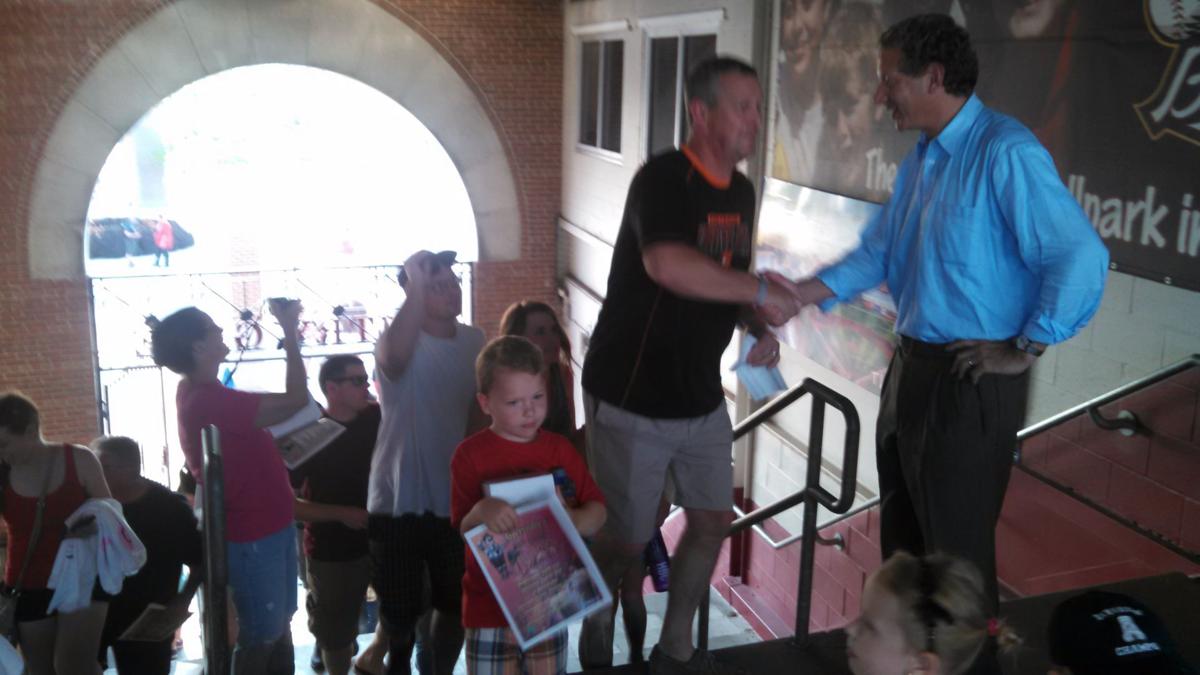 Moving one step closer to the return of professional baseball at Modern Woodmen Park, the Quad Cities River Bandits now have a schedule for the 2021 season.
Major League Baseball announced schedules for all 120 developmental league teams on Thursday, including a 120-game schedule for Quad Cities which begins May 4 at South Bend and follows with a home opener on May 11 against Cedar Rapids.
"It's been 17, 18 months since the last first pitch here at the ballpark and we're excited to finally have some dates in front of us and be getting that much closer to the start of the season," River Bandits general manager Joe Kubly said.
There are a multitude of changes for the River Bandits this season, ranging from the previously announced new affiliation with the Kansas City Royals to changes in the structure and name of the league Quad Cities competes in.
The schedule will include standardized starting times for home games, a move to a six-game series against opponents and a league-wide off day on Monday of each week.
There will also be some nuances in the 2021 schedule that are a byproduct of the COVID-19 pandemic. Those included reduced competition against teams from the other division, a later start to the season and a later conclusion to the season with the regular season scheduled to wrap up on Sept. 19 with a game against South Bend.
"A lot is changing, but we are trying to simplify things as much as possible for people," Kubly said.
That includes a 6:30 p.m. start time for all weekday and Saturday home games and a 1 p.m. start time for all Sunday home games. The only exceptions to that will be on July 3 and July 4, when games are scheduled to begin at 6 p.m.
The Quad Cities club, a part of the Midwest League since 1960, will now be part of the 12-team High-A Central League, a collection of former Midwest League teams that will move from Low-A to Advanced-A classification for the upcoming season.
As the league moves from 16 to 12 teams, the River Bandits will be part of a West Division which includes Beloit, Cedar Rapids, Peoria, South Bend and Wisconsin. The parent clubs of Quad Cities' division rivals are the Marlins, Twins, Cardinals, Cubs and Brewers, respectively.
The River Bandits will host two six-game series against each of their division rivals in 2021 with each running from Tuesday through Sunday and an off day each Monday.
In addition to opening the home schedule against Cedar Rapids on May 11-16, Quad Cities will host Beloit on June 1-6, Wisconsin on June 15-20, Cedar Rapids on June 29-July 4, Peoria on July 20-25, South Bend on July 27-Aug. 1, Beloit on Aug. 10-15, Wisconsin on Aug. 24-29, Peoria on Sept. 7-12 and South Bend on Sept. 14-19.
According to Major League Baseball, which trimmed the number of minor-league clubs from 160 to 120 this year, the changes are designed to improve the health and wellness of players by reducing travel and increasing the number of off days during the course of the season from 11 to 19.
There will be no more commuter trips for teams, who will now use two buses as they travel from city to city.
One of the COVID-related nuances for 2021 includes just one series against a team from the East Division. Quad Cities will play that series on the road, visiting Dayton for a series beginning on May 25. No East Division teams will visit the River Bandits this season.
River Bandits single-game tickets for the season will go on sale April 19. Fans who purchased tickets or vouchers for games during the canceled 2020 season can exchange those for tickets to 2021 games at the River Bandits' box office once tickets go on sale.