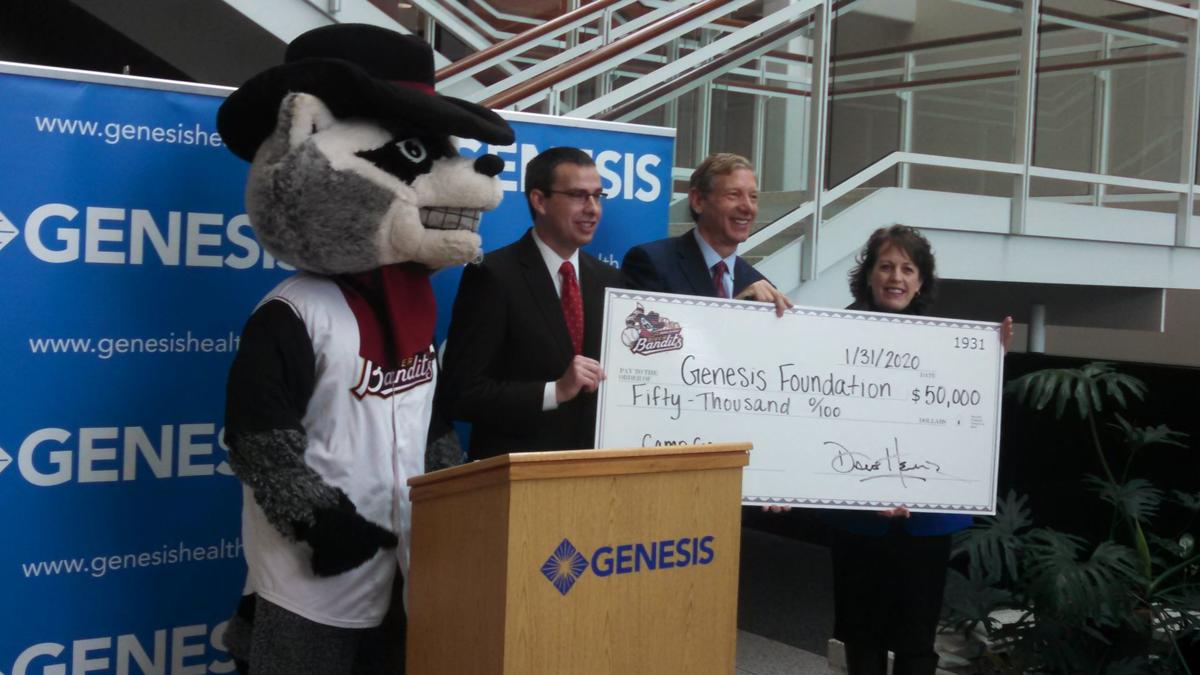 Jackson Ruiz, a fourth-grader from Eldridge, stood behind a podium Friday morning at Genesis Medical Center and talked about what he learned last summer during a week at Camp Genesis.
Ruiz gained an understanding of the cancer his grandfather was dealing with, discovered that he wasn't the only young person going through the same thing and had a chance to step away from it all for a couple of days and just be a kid.
The camp, held annually at Camp Shalom near Maquoketa, is a collaborative effort between Gilda's Club Quad-Cities and the Genesis Health System Cancer Care Institute.
Children entering fourth through ninth grades whose families are affected by cancer have a chance to attend the camp for free in part because of donations like the $50,000 the Quad Cities River Bandits presented to the Genesis Foundation on Friday.
"This is why we do what we do," River Bandits owner Dave Heller said. "We do it for Jackson and other kids like him who are a part of our community."
Roby Smith, who co-owns the River Bandits with Heller, invited Ruiz to throw out a ceremonial first pitch at a Quad Cities game during the upcoming season for sharing his story of how the camp benefited him.
He accepted the offer and said he will work on delivering a strike when he gets his chance to participate in the pregame ritual at Modern Woodmen Park.
"This is our home, our community and we do everything we can to help make this place the best it can be," Heller said. "We're proud to wear Quad Cities across the front of our jerseys."
Joy McMeekan, executive director of Gilda's Club Quad-Cities, said the camp benefits kids forced to grow up quickly as they deal with cancer in either their immediate or extended families.
"Support like this does make a difference in the life of a child," McMeekan said.
Camp Genesis is one of four groups involved with health initiatives benefiting kids who will receive funds from the Midwest League team through its gift Friday.
The team also supports the Flu-Free Quad-Cities program, which provides free flu shots for over 10,000 school children annually, the Genesis neo-natal care unit and the Family Connects program, which sends nurses to the homes of newborns in the region.
Dollars donated include funds raised through proceeds of tickets sold for amusement rides at Modern Woodmen Park.
"Because of the support of Dave, Roby, the River Bandits and our other community partners, Genesis is able to provide beneficial projects to improve health in our communities," said Missey Gowey, executive director of the Genesis Foundation.
Be the first to know
Get local news delivered to your inbox!