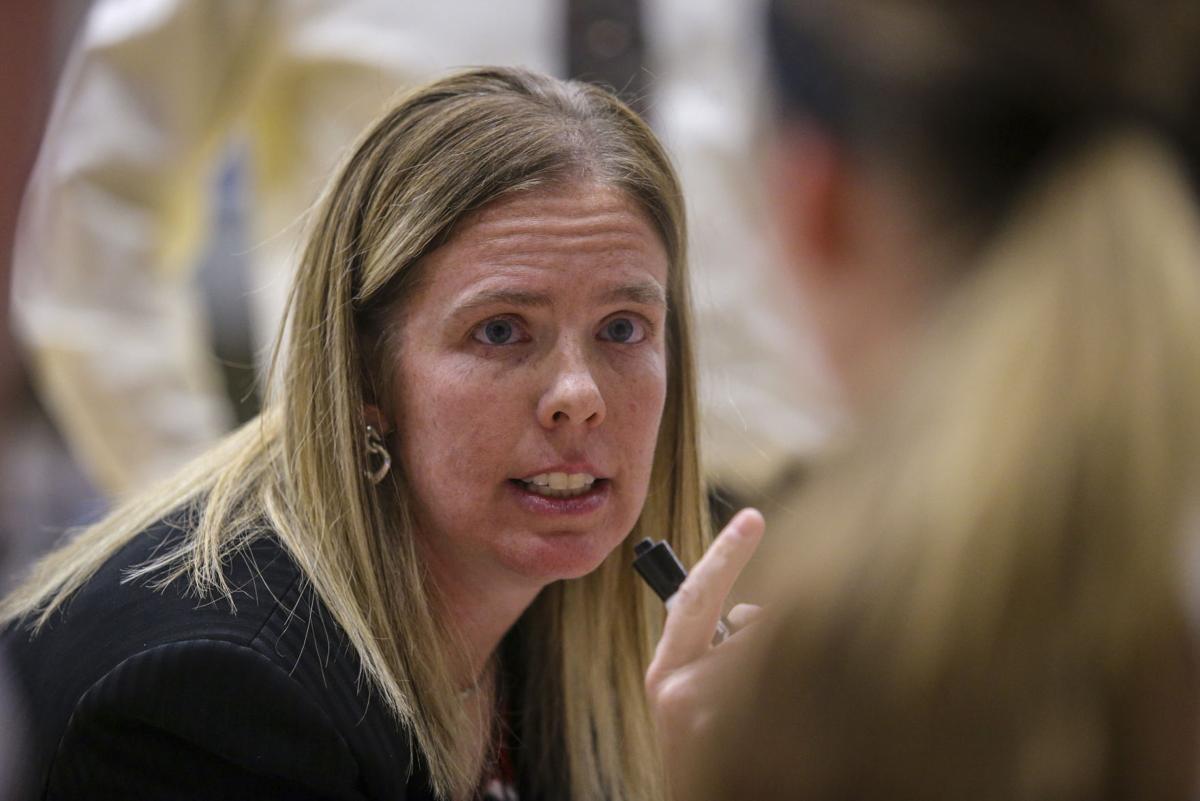 St. Ambrose women's basketball coach Krista Van Hauen celebrated a birthday Wednesday.
The performance of the Fighting Bees aged their coach even more.
Shooting less than 20% from field in the first and fourth quarters, St. Ambrose still had one last shot but it also didn't drop in a 53-51 Chicagoland Collegiate Athletic Conference loss to Cardinal Stritch at Lee Lohman Arena.
"As frustrating of a loss as I've had at St. Ambrose," Van Hauen said. "We just didn't execute the game plan."
Instead, the Fighting Bees watched Wolves' Timeah Stotts score on a drive with 0.5 seconds remaining to break a 51-51 tie that Kylie Wroblewski forged by hitting two free throws with 2 minutes, 19 seconds remaining.
Although St. Ambrose had a foul to give, Stotts drove to the basket untouched for the game-winning basket.
"We talked in the timeout that we wanted to foul. We didn't get it done," Van Hauen said.
Advancing the ball into the frontcourt for the inbounds with one last timeout, the Fighting Bees did get the ball into Wroblewski's hands under the basket, but her shot at the buzzer did not drop.
The miss capped a 3-of-18 final quarter from the field in a game where both teams struggled to find the basket.
The Fighting Bees shot just 29.5% for the game and mustered only 14 points off of 18 offensive rebounds while the Wolves overcame 32.8% shooting to earn the win.
The misses started early.
St. Ambrose hit 2-of-15 shots in the opening quarter as it fell behind 17-7.
Cardinal Stritch connected on 2-of-18 shots in the second, allowing the Fighting Bees to take a 26-23 lead at the half.
St. Ambrose closed the second quarter on a 14-2 run that included nine of the team-high 11 Wroblewski scored while seeing her first playing time since undergoing surgery to repair a finger broken during a game against St. Francis (Ill.) on Dec. 19.
Cleared to return to practice on Friday, Wroblewski provided St. Ambrose with a spark, hitting 4-of-7 shots, collecting six rebounds and three assists in 18 minutes of action.
"First game back, Kylie gave us what she could. She wanted to come back this season. She wanted to compete," Van Hauen said.
The Wolves (8-10, 6-4 CCAC) used a run of 14 unanswered points midway through the third quarter to build a 41-32 lead, a margin the Fighting Bees trimmed to 41-40 on a buzzer-beating 3-point basket by Maddy Cash at the end of the quarter.
Cash, who finished with 10 points, knocked down another 3-pointer to give St. Ambrose (10-7, 5-5) a 45-43 lead with 8:08 to play.
Baskets by Kara Shimko and Stotts, who led Cardinal Stritch with 13 and 11 points respectively, erased what proved to be the Bees' final lead of the game.
Camry Dillie, a freshman from Davenport North, scored eight points, had a team-high eight rebounds and had a pair of steals while making her second career start for the Wolves.