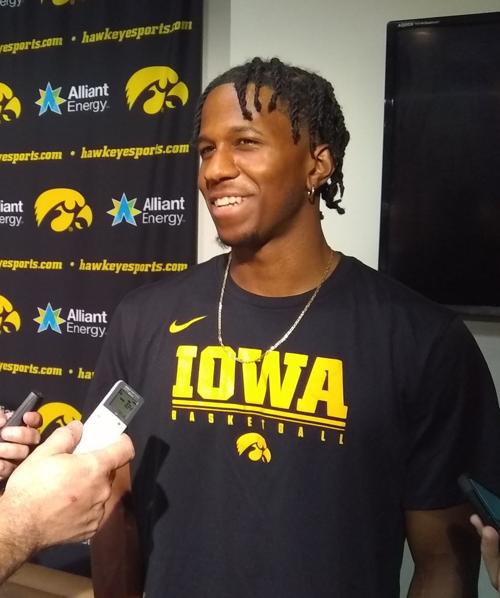 IOWA CITY — Bakari Evelyn has only been on the University of Iowa campus for about three weeks, and he said his new teammates on the Hawkeyes basketball team have gone above and beyond to make him feel welcome.
He admitted it might take just a little more time for him to feel totally comfortable.
"I'm definitely part of the team, but I still feel new here," Evelyn said.
But if anyone can overcome that feeling of newness, it's Evelyn. He's had plenty of practice. He played at two different high schools, and Iowa is his third college.
He actually sees that more as a positive than a negative.
"I've been through the ringer," said Evelyn, who spent the past three seasons at Valparaiso University after beginning his college career at Nebraska. "I've been around and have seen some different things. It's kind of prepared me for this."
Evelyn, a 6-foot-2 guard who spent most of his high school years in Detroit, is the first graduate transfer ever accepted by the Iowa basketball program.
Head coach Fran McCaffery isn't a big fan of the rule that allows players to transfer without sitting out if they have earned a degree at their previous college.
But he knew he needed some depth in the backcourt with Jordan Bohannon's status uncertain following offseason hip surgery.
You have free articles remaining.
Evelyn could be a big help if he is the Bakari Evelyn who averaged 12.6 points and 2.9 assists and shot 38.3 percent from 3-point range for Valpo during the 2017-18 season.
Last season, Evelyn started less than half the games for the Crusaders and fell off to 8.4 points, 2.1 assists and 30.6-percent 3-point shooting.
"Last season I still was dealing with some things," Evelyn said. "I just had the (foot) surgery about two months before the season started, probably two or three, so I was really fresh off it. But now going through that whole season, going through the spring and now being here in the summer, I feel ready."
He said he now feels "physically great."
"Probably the best I've been in my college career," he said.
Evelyn said he chose Iowa for a combination of reasons. He saw there was an opportunity for playing time, and he remembered how much he liked McCaffery and assistant coach Sherm Dillard when they were recruiting him out of high school.
He also admitted he liked the idea of getting back to the Big Ten after spending his freshman season at Nebraska.
He also attracted interest from Wisconsin and Minnesota, although the only other school he visited besides Iowa was New Mexico State.
"I grew up watching the Big Ten …," he said. "My mom went to Ohio State and my dad went to Michigan State. In some ways, it was just kind of bound to happen."
The fact that the Hawkeyes play an up-tempo style didn't hurt. Valpo slogged along at more of a slow pace.
"I definitely love to play fast-paced and get up and down, and that's definitely what we play …," he said. "I think it will fit my style of play."