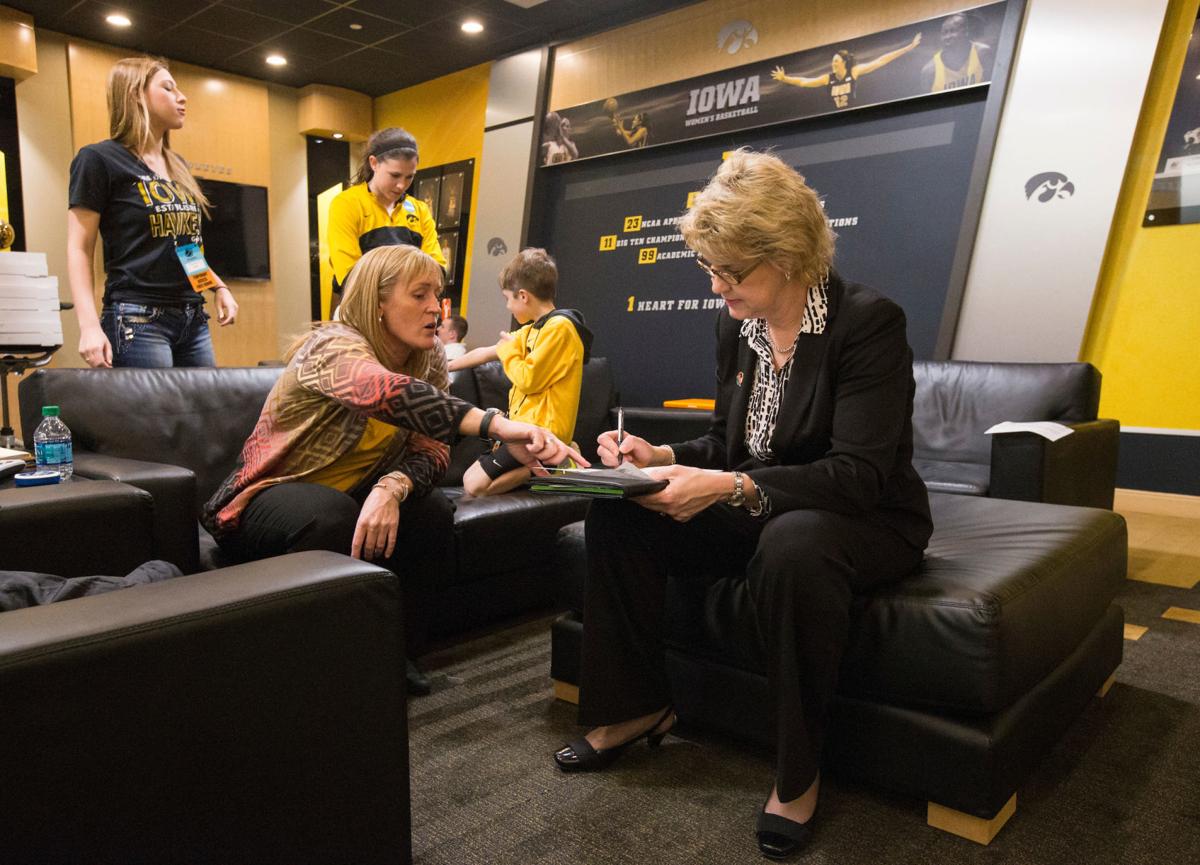 After 29 years as a college basketball assistant coach, long-time Iowa assistant Jenni Fitzgerald is taking on a new role on the Hawkeye staff.
The North Scott graduate from Long Grove will serve as a special assistant to head coach Lisa Bluder under a staff realignment announced Monday that includes the promotion of Abby Stamp to an assistant coaching position.
"After being in Division I basketball for the past 33 years – four as a player and 29 as a coach – I have decided it is time to take a step back from coaching and assume a different role within our basketball program,'' Fitzgerald said in a statement announcing the change.
Bluder said the newly-created position will allow Fitzgerald to remain with the program without some of the time demands that her previous role of associate head coach entailed.
"With the change, we have found a way for Jenni to take a step back but keep her expertise within our program,'' Bluder said. "I am excited to have Abby begin her journey as an assistant coach. She is a loyal Hawkeye and has a very talented basketball mind.''
Fitzgerald has been part of the Iowa coaching staff for the past 19 seasons, following Bluder and Iowa's other associate head coach, Jan Jensen, from Drake to the Big Ten.
Collectively, they have coached Iowa to 18 postseason appearances, including 13 NCAA tourney berths.
Fitzgerald's responsibilities have included coaching perimeter players, off-campus recruiting and most of the program's film breakdown and scouting.
During her tenure at Iowa, the 2018 Quad-City Sports Hall of Fame inductee has been the position coach for 14 players who earned all-Big Ten honors 31 times, including 11 first-team selections. Six of those players have earned all-district honors, with Samantha Logic, Cara Consuegra, Kachine Alexander and Jaime Printy earning all-American recognition.
"I have been incredibly fortunate to coach so many wonderful players over the past 29 years and I don't know if I can truly put into words how much coaching at the University of Iowa has meant to me,'' Fitzgerald said. "… I'm excited to take on this new role within our basketball program and help keep Iowa women's basketball moving forward.''
Stamp, a Hawkeye letterwinner from 2005-08, is being promoted to an assistant coaching position after spending the past 10 seasons on the Iowa staff. She has worked the past two years as Iowa's director of player development after spending eight years as the program's director of operations.
Kathryn Reynolds, a letterwinner at Iowa from 2011-15, will replace Stamp as the director of player development after working the past two seasons as Iowa director of operations. The search for a new director of operations is ongoing.
Be the first to know
Get local news delivered to your inbox!