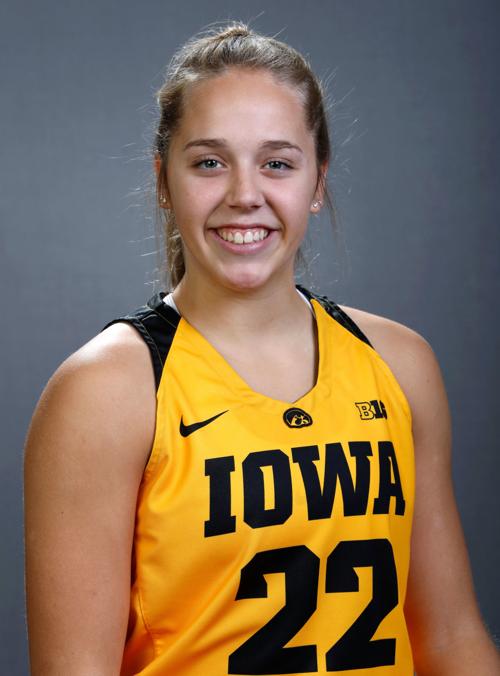 IOWA CITY — In a season-opening 85-53 win over Florida Atlantic, the Iowa women's basketball team found plenty of reasons to celebrate and plenty of room to improve.
Shortly after unveiling a banner at Carver-Hawkeye Arena recognizing the Hawkeyes' 2019 Big Ten tournament championship and NCAA Elite Eight run, Kathleen Doyle became the 37th Iowa player to reach 1,000 career points.
At the time she reached the milestone, hitting the second of two free throws with 2 minutes, 35 seconds remaining in the opening quarter for the seventh of her team-leading 15 points, Doyle had other things on her mind.
"It's pretty cool, having it announced and everything, but at the time we were down a few points. I was just looking to get us back in the lead,'' Doyle said.
Doyle's two free throws helped the Hawkeyes cut into an early 15-9 deficit against the opponent from Conference USA, a margin Iowa erased with a run of 10 unanswered points to close the first quarter.
"Kathleen stepped up and made two good defensive plays that we turned into high-percentage scores at a time when we needed that," Iowa coach Lisa Bluder said. "She's given us a lot of over the past four years, and she helped us get things headed in the right direction."
Bluder, who has opened the season with a win in each of her 20 seasons at Iowa, liked the balance the Hawkeyes had with Doyle leading a group of five Iowa players in double figures, and she liked the 18 assists her team recorded on 23 field goals.
"We had good contributions from a lot of players," said Bluder, whose team pulled away from a 38-29 halftime lead.
The Hawkeyes picked up 14 points from sophomore post player Monika Czinano, 12 from Alexis Sevillian and double-digit scoring efforts from two freshmen.
Gabbie Marshall knocked down 3-of-4 shots from 3-point range on her way to an 11-point game, and McKenna Warnock finished with a double-double, matching her 10 points with an equal number of rebounds.
"For my first college game, it felt good to come back in the second half after picking up a couple of quick fouls and finish better," Marshall said.
Fouls and turnovers were an issue for both teams. The Hawkeyes and Owls combined for 53 fouls and 49 turnovers, creating what Bluder simply labeled "a long game.''
Iowa turned the ball over 24 times, but the Hawkeyes helped themselves to a 31-of-40 effort at the free throw line — three attempts shy of an arena record — and limited Florida Atlantic to 22.4-percent shooting.
"It wasn't a pretty game by any stretch, but it is the beginning of the year," Bluder said. "We do have to work on taking care of the ball and our fouling, not putting people at the line."
Bluder will take the 40 foul shots her team attempted, though, calling it in part a byproduct of the new perimeter-based offense Iowa is installing this season.
"It wasn't a pretty game, but we'll take the win. It was our first game," Doyle said. "We're installing a new offense, and it takes time. We'll get better."