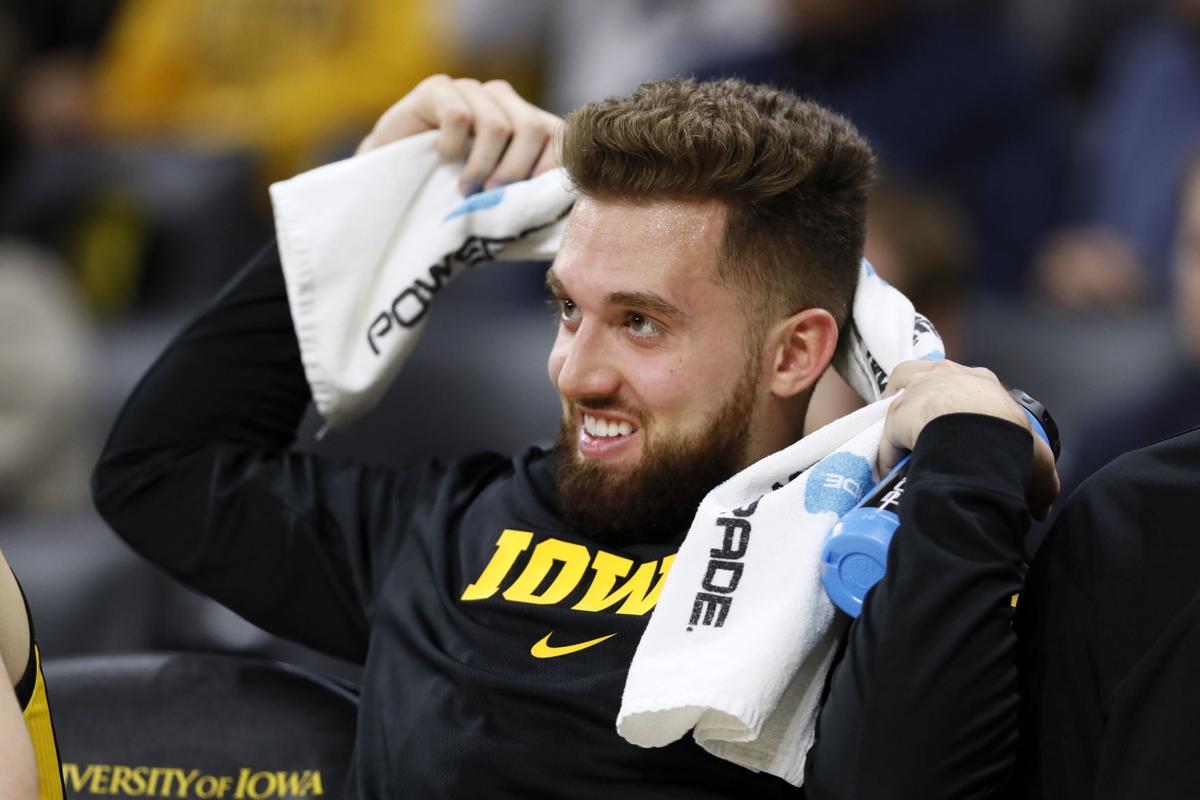 IOWA CITY — As Jordan Bohannon drove to the basket with about eight minutes remaining in Iowa's season opener Friday night, he got bumped by a defender and went down hard.
When the play was over, Bohannon stayed down, lying there motionless for a few seconds.
The senior guard underwent major hip surgery in May and is trying to work his way back into shape. Bohannon admitted that his mother probably was "gasping a little bit'' as he laid there and many Iowa fans were just as worried. Could this be a setback in his recovery?
Naw. Just a veteran move. Just taking a moment to gather himself.
"In your fourth year, you kind of learn to do little things like that,'' he said.
"Peter Jok did the same thing when I was a freshman. He kind of taught me when you're in the middle of a game and you get knocked down and they call a foul, stay there for a little bit. You get a little chance to catch your breath. If you're tired, you get to stay there a little bit. It's a little thing I learned from a veteran.''
As it is, Bohannon came through the game unscathed and will be ready to test himself further today when the Hawkeyes host DePaul at 7 p.m. in the first of this week's Gavitt Games.
Bohannon admitted the days following games have not been fun. He was very sore after Iowa's exhibition against Lindsey Wilson College last week and he probably felt about the same way Saturday.
"That's to be expected,'' he said. "I'm ahead of the timetable so I'm still taking one day at a time.''
He said he knows it will be tough in these next few weeks with the first few games of the season coming just a few days apart.
You have free articles remaining.
"I'm just going to continue to take one day at a time,'' Bohannon said.
When he is not in the game, Bohannon has been riding an exercise bike on the sidelines to stay loose. He also has been careful to ice the hip down thoroughly after games.
Those around him like what they've seen of his progress.
"He's getting there,'' Iowa coach Fran McCaffery said after Friday's opening 87-60 win over Southern Illinois-Edwardsville. "He had a really good week health-wise and practice-wise.''
Sophomore Joe Wieskamp said he could see a big step up in Bohannon's play between the exhibition and the opener.
"I think in the exhibition game he was just trying to spread the ball around and get the young guys involved,'' Wieskamp said. "He looked like he was back to being himself tonight.''
Bohannon, who scored nine points in 19 minutes in the opener, said that's exactly what he was doing in the exhibition, occasionally passing up open shots. Another thing he picked up from Jok.
"I just tried to get the young guys involved and get their feet wet,'' he said. "I know when I was a freshman, Pete kind of did that with me. I know that meant a lot to me as a freshman, just to have a guy like that to look up to.''
However, Bohannon may need to do a little more against DePaul in what figures to be a much more competitive game than what the Hawkeyes faced last week.
The Blue Demons were 19-17 last season under coach Dave Leitao and they have added some new pieces to the puzzle.
"They have a transfer from Kansas (Charlie Moore), a five-star recruit (Romeo Weems), the transfer from Illinois (Jalen Coleman-Lands),'' McCaffery said. "They had a good year and Dave has a good feel for what he wants to do.''