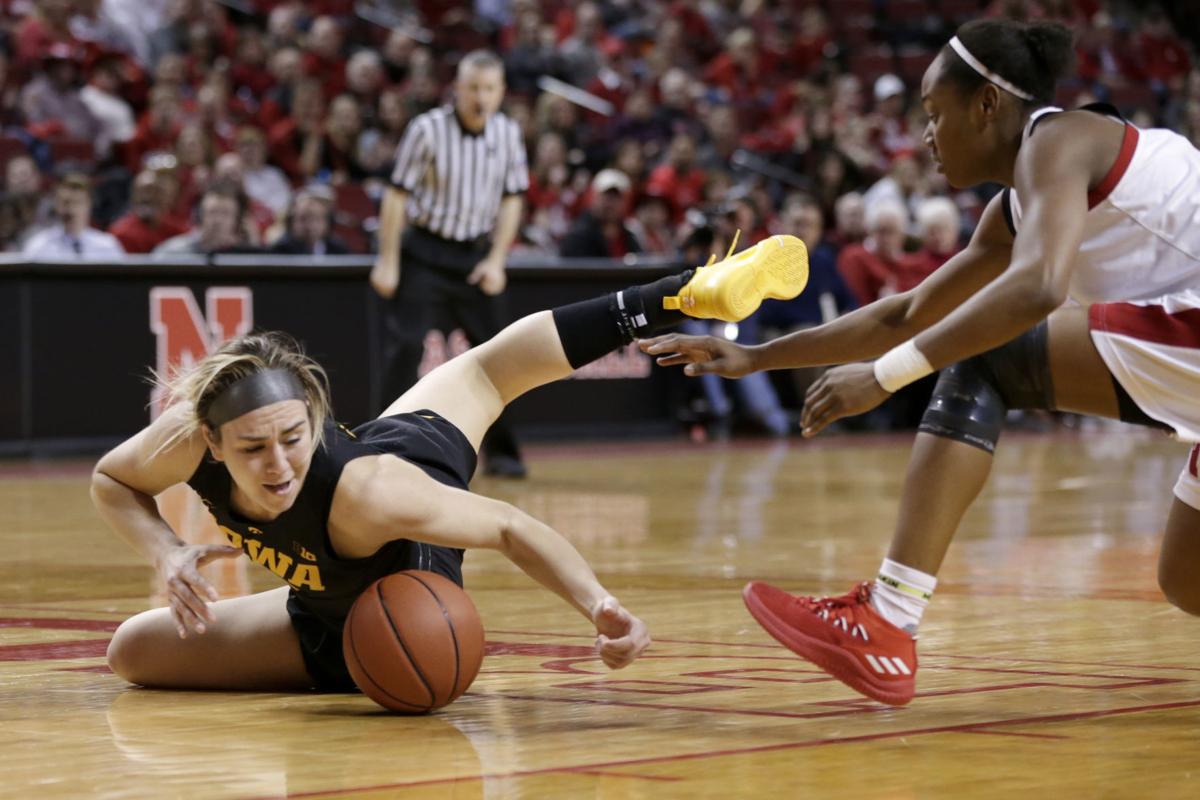 IOWA CITY — Reaching a bye in the schedule after playing a string of 17 straight Big Ten games provides Lisa Bluder with time to reflect this week.
The Iowa women's basketball coach may be preparing to participate in a Senior Day ceremony for the 35th time in her coaching career, but she conceded Wednesday they never get any easier.
"I have three kids of my own, and you work every day to prepare them to go off into the world on their own and be successful. To me, this is the same," Bluder said. "The players, they become like your kids. They're family."
Bluder fought off a few tears as she discussed what the three players who will be honored at Sunday's 3 p.m. regular-season finale against Northwestern have meant to the Hawkeye program.
Each has traveled her own journey to reach this point.
Megan Gustafson has developed into an all-American post player during her time at Iowa, Tania Davis has overcome a pair of torn anterior cruciate ligaments to return to her role this season as a starting point guard and Hannah Stewart has thrived as a first-year starting forward this season after previously coming off the bench.
Collectively, they form a senior class which has improved its record each season on its way to a 22-6 start and No. 12 national ranking this season.
"This is a week you never want to see get here because these players, they mean so much," Bluder said. "… You think about that last regular-season home game, playing for a chance to finish unbeaten at home and those three seniors, what they've done together. You just want it to end the right way."
In Gustafson, Bluder references her workmanlike approach to the game. She pointed to a 29-point, 20-rebound performance at Nebraska on Monday when the senior outscored and outrebounded the entire Cornhuskers' starting five as an example.
Davis will be remembered as fighter, working her way back onto the court after lengthy rehabs following each of her surgeries.
"She didn't have to come back after her second surgery. She could have stayed on scholarship, earned her degree, but she wanted to be back out there," Bluder said.
After missing more than her share of playing time the past two years, Davis said she made it a goal this season to be on the court playing meaningful minutes on Sunday.
"Just a few more days, knock on wood," Davis said. "It really was one of the goals I put down on paper in the preseason, to be out there on Senior Day."
Bluder praised Stewart's resiliency and appreciates her emergence as one of Iowa's on-court leaders this season.
As much as her teammates, she appreciates the journey.
"We've been part of four very different teams the last four years," Stewart said. "Been through some highs, been through a few lows, but we've stuck together and developed a bond which has helped us have the type of season we're having now."
Gustafson, Davis and Stewart have helped the Hawkeyes build a 14-0 record at Carver-Hawkeye Arena this season, still working to become the first Iowa team to have a perfect record at home since Iowa's Sweet 16 team in 2015 won all 18 of its home games.
Moving one step closer to that objective is where the Hawkeyes are at as they catch their breath this week, then prepare for their first match-up of the season against Northwestern.
"It seems strange that here we are at the final game of the regular season and we haven't played them yet," Bluder said, in some ways welcoming a fresh late-season challenge.
"Northwestern (on Tuesday) night beat Indiana by 20, the same team that beat us last week, so that catches our attention and gives us plenty to work on this week."